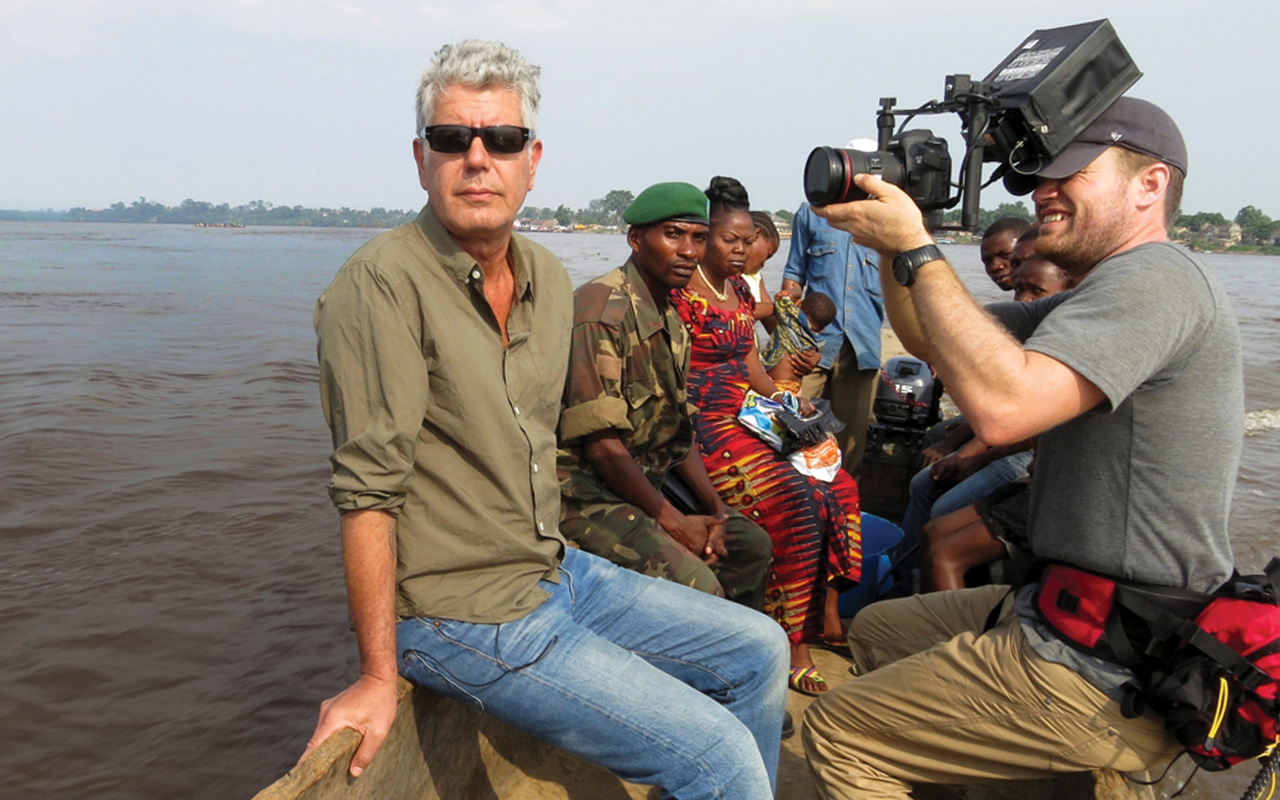 Celebrity Chef Anthony Bourdain was found dead at age 61 at Le Chambard Hotel in Kaysersberg-Vignoble, France on June 8, 2018. His body was discovered by fellow chef, Eric Ripert, who had been filming an episode of Bourdain's travel show with him. Ripert became concerned when Bourdain missed dinner the night before and breakfast that morning. His death was ruled a suicide by hanging.
Four years later, people around the world continue to be disturbed, perplexed and saddened by the untimely death of a man whose traveling series, 'Parts Unknown,' reached virtually every corner of the world – weekly. Some of Bourdain's fans thought they knew and understood a man who was candid about his flaws, fears and insecurities.
Yet when those vulnerabilities and fears overtook him, the world struggled to come to terms with an intelligent, successful man taking his life in the prime of his career. Everything seemed to be going well for him: he spoke about being deeply in love with an Italian woman, and his life appeared to be sparkling with fireworks and accolades.
I've spent the last four years re-watching Bourdain's hit series, 'Parts Unknown,' in an effort to gain more insight into a man who was seeking to understand his fellow human-being.
Bourdain shunned materialism, superficiality or anything flashy or pretentious. He wanted to visit the backstreets of the world and delve into the underbelly of life. 'Parts Unknown' used food as a prop to break bread with regular, hard-working people, and Bourdain's narration was provocative, insightful, fascinating, and sometimes disturbing.
One of his closest friends, Los Angeles artist David Choe, said emphatically, "Parts Unknown was almost never about food. It was about Tony learning to be a better person."
Bourdain was sometimes cynical. He made sharp, wry quips wherever he went. In one quick retort to an audience, he said, "I'm not this cute cuddly person. I'm the antidote."
His words were accurate. He questioned societal norms and refused to conform to behaviors or structures for which he had no respect. Bourdain was a voracious reader, and he constantly sought to understand the meaning of life. Tragically, that understanding appeared to have eluded him because he had more questions than answers, and the questions seemed to have mounted in the last years of his life. Bourdain's brain was complexly wired.
In a November 2016 episode of Parts Unknown, filmed in Buenos Aires, Bourdain attended a psychotherapy session on camera where he admitted to feeling isolated – like Quasimodo, the hunchback of Notre Dame. He talked about having trouble connecting with others. The episode delved deeply into his struggle to find happiness. He said:
"I'd like to be happy. I'd like to be happier. I should be happy. I have incredible luck. I'd like to be able to look out the window and say, 'Yay, life is good.'" Bourdain went on to convey to the therapist that he never feels that life is truly good – and then he modified that response by saying that he has sporadic moments where he feels that life is good.
In that Argentina episode, he also shared that he would spiral into depressions over menial things like a bad burger. He described a recent situation where he was in an airport and ordered an airport hamburger that turned out to taste lousy. He described the scene like this,
"Suddenly, I look at the hamburger and I find myself in a spiral of depression that can last for days."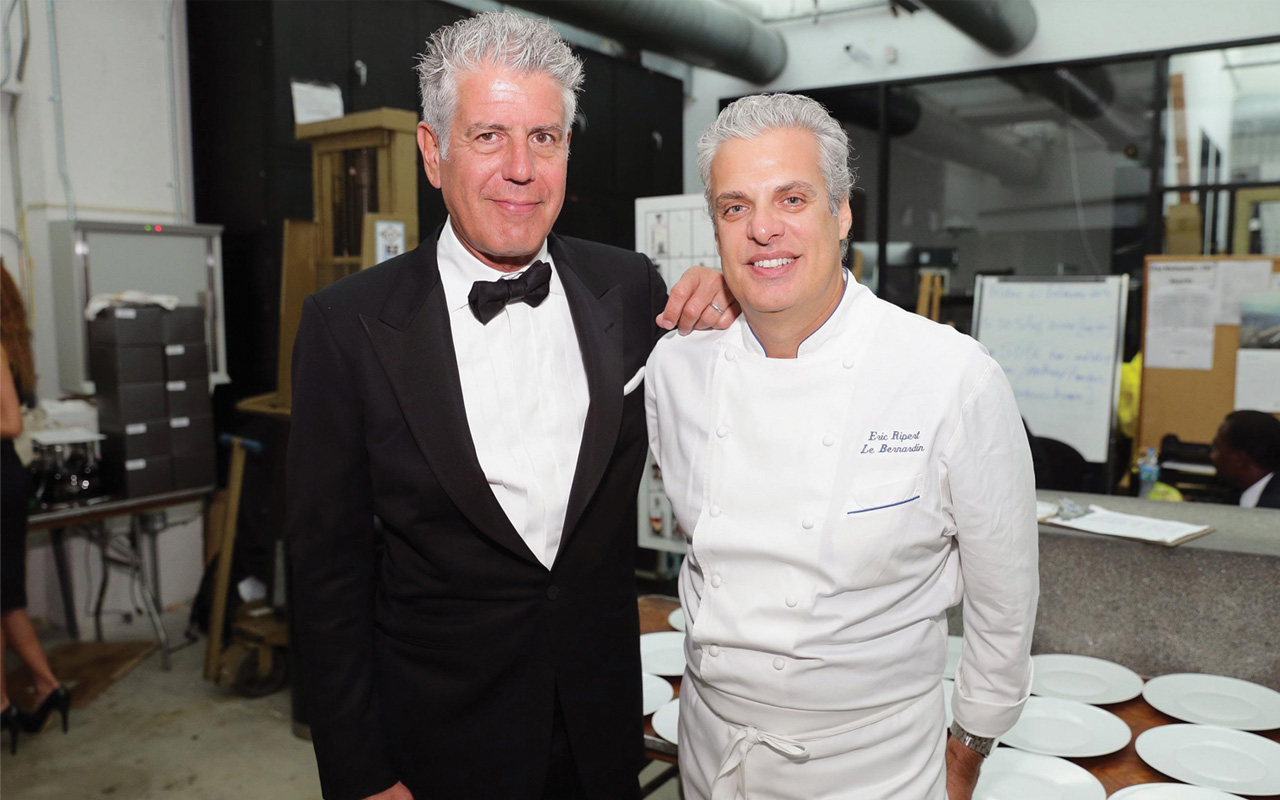 Bourdain also told the therapist about a recurring nightmare he had that involved being stuck inside a large Victorian-style hotel that was like a maze of corridors, hallways and rooms. He felt trapped and unable to work his way through to daylight because he was lost in the darkness of the maze. More concerning was his comment about desperately wanting to go home – away from the Victorian building – but never being able to remember where home was.
Bourdain also shared with the therapist his own perceived inadequacies:
"I communicate for a living, but I'm terrible at communicating with people I care about. I'm good with my daughter. An 8-year-old is about my level of communication skills, so that works out. But beyond that, I'm terrible."
There's no doubt that some of the episodes shot for Parts Unknown took Bourdain down exceedingly difficult paths. When he visited Massachusetts to cover the area's opioid epidemic, all the memories of his own heroin addiction in the 1980s came flooding back. It's tough to face demons like that.
In 2022, a documentary on Bourdain's life and death called 'Roadrunner: A Film About Anthony Bourdain' (HBO Max; CNN Films; Focus Features) was released. The film covers his rapid transformation from New York chef to celebrated author to globe-trotting television host. A central theme throughout is Boudain's incessantly restless mind which he seemed unable to turn off. Peace eluded him. The documentary delves into Bourdain's passions and inner struggles and attempts to consolidate a much deeper picture of him by interviewing friends and family – who knew him well.
Morgan Neville, the Director of Roadrunner did a comprehensive job. In a CNN interview, he offered this analysis of Bourdain:
"I watched 'Parts Unknown' off and on, and liked Tony. I found him a funny, complex, smart guy who is really kind of an ambassador for curiosity, I guess … I felt like the work he was doing was important work; that what he was doing was humanizing people on the far side of the planet and showing the commonalities and talking about breaking bread with people and what all these things mean."
Neville goes on to describe Bourdain as a shy, nerdy guy who read books incessantly and worked in the kitchen on his feet 12 hours a day, six days a week for 20 years.
Neville says, 'The 'Kitchen Confidential' version of his early life is great and it's funny and it's romanticized, but I don't think you quite understand Tony's shyness and his kind of geekiness, his gangliness too. Once the world opened up to him and he could travel all the time, those things that he had always wanted became the new defining principles of his life. He had been a heroin addict; he had written about that and that the rigors of the kitchen had kept him on the straight and narrow."
Bourdain had said, "Inside here (the kitchen), I'm safe, but outside that door, that's what scares me."
And yet, despite that explicit fear, he made the decision to leave the kitchen behind, and travel the world in Parts Unknown. Neville talks about how that change must have frightened Bourdain.
"He was suddenly wading out into dark waters, and he didn't know what was going to be there. He was becoming unmoored from the things that had really anchored him for a long time. Some of the things he found on the way were really energizing and exciting – but part of it – I felt like he never really found a new mooring."
Other people argue that, in fact, Bourdain had already found new moorings – not in his travels – but back home in New York. He got married and had a child, and those things appeared to be his anchor when he wasn't filming Parts Unknown. He also immersed himself in jiujitsu and writing. These were all positive pastimes. But Neville concludes,
"There was a restlessness that I think Tony really unleashed that he could never turn off."
Neville talks about Bourdain trading one addiction for another:
"Travel was a drug; an addiction. While travel is amazing and great, and so many of the things he espoused were amazing, traveling 250, 270 days a year is not traveling, it's running away. I think that's something that Tony never really came to terms with. I know he thought about it. He negotiated a book contract to go take a one-year sabbatical and take his family and live in Vietnam and write a book about it. He had these escape plans he could have made in his life. But he never made any of them. He never did one less episode a year. I think there's something about the addiction to travel and to experience that became its own self-fulfilling obsession."
Bourdain never did anything in half measures. It was all in or nothing. People loved him; some even revered him. His honesty within the context of his complexity was a characteristic that transcended borders and cultures. This was a man who was relatable. He engendered love and he also caused a lot of pain – although never intentionally.
One of Bourdain's colleagues and friends said, "Reality was never going to live up to how he pictured it."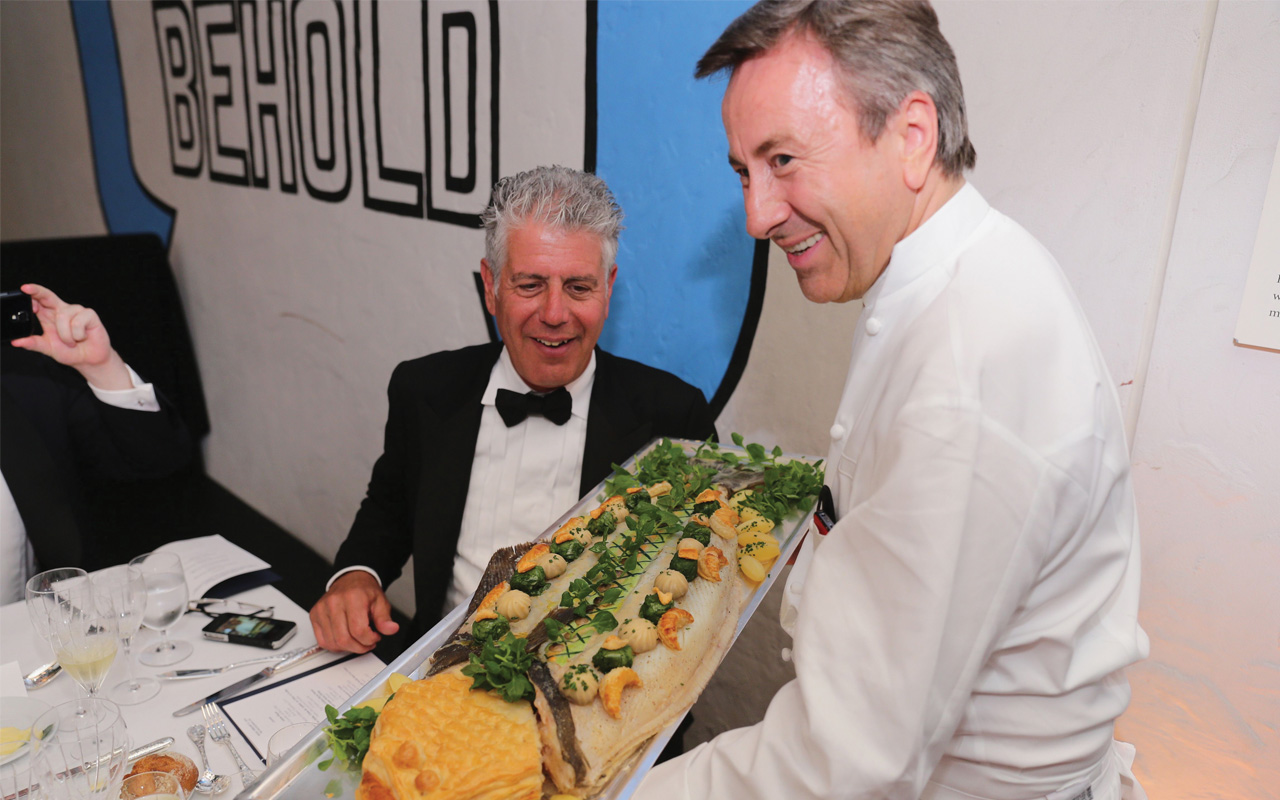 World-renowned chef, Eric Ripert, traveled extensively with Bourdain and became one of his closest friends. He describes him as "very curious; very respectful of other people's cultures. He encouraged us to go beyond the tourist resorts; to venture into the everyday lives of ordinary people in different countries to fully experience their culture through sharing their food."
After studying every one of Bourdain's travel episodes, I drew up my own conclusions after watching his visit to the Democratic Republic of Congo in Africa. He had long wanted to visit the setting of one of his favorite authors, Joseph Conrad, who wrote the famous novel, 'Heart of Darkness' in 1899.
In 'Heart of Darkness', the central character, Marlow, journeys up the Congo River to meet Kurtz, reputed to be an idealistic man of great abilities. Marlow is the riverboat captain with a Belgian company that trades in the Congo. On his journey up the Congo River, he encounters widespread brutality involving the local Congolese people at the hands of the Belgian authorities. The cruelty and squalor of imperial enterprise contrasts sharply with the impassive and majestic Congolese jungle that surrounds the white man's settlements, making them appear to be tiny islands amidst a vast darkness. In part three of 'Heart of Darkness', Kurtz cries out, "The horror! The horror!" which is a final judgment of his own life, his actions and the cruelty of humankind and imperialism. Through this line, Kurtz also points out his fate, which looks profoundly affected by the events he has encountered during his escapade to the Congo.
Bourdain was clearly traumatized after his 2013 Congolese journey. He said with an impassioned voice,
"I've had something of a multi-decade obsession with the Congo – a personal dream to travel the Congo River. It is written that I should be loyal to the nightmare of my choice. I think I now understand what that means. And for my sins, I got my wish."
Bourdain goes on to describe the Congo as "the most relentlessly f***** over nation in the world." He also goes on to relay his personal experience while filming and the dangers he and the film crew encountered: "We were extorted, detained, and threatened daily. The Congo is a place where everything is fine – until it isn't. Every man has a breaking point. And in retrospect, perhaps this is ours."
Many people have speculated that Bourdain's intense love relationship with Italian actor Asia Argento took him down. He met her in 2016 while filming in her hometown of Rome. He was instantly smitten by his newfound love and gushed about her in interviews and on Instagram. He even pushed for Argento to direct an episode of Parts Unknown. Experts contend that Bourdain turned a lifelong addictive personality to another addiction – and that in of itself is loaded with problems. Bourdain's intensity took him to extremes. He couldn't feel in the mid zone, and after paparazzi photos surfaced of Argento with another man, those closest to him surmised that he felt a deep sense of betrayal.
The original Rock Star of the culinary world ended his life tragically four years ago. This brilliant cultural icon, who was a champion for the working class and an advocate for the poor, became an inspiration for people to get out of their comfort zones and immerse themselves in the richness of life. He was a massive success story – and yet it was his acutely curious and truth-seeking brain that activated his demise. Bourdain was an 'all or nothing' personality type with an exhausting work schedule, but his friends contend that it was emotional pain that finally outsmarted him.
At a particularly pivotal moment, Bourdain's heart appeared to have been invaded by overwhelming darkness – the "Heart of Darkness" type of darkness – and its shadows overtook him.
Looking back, I recognize that it was Bourdain's essential honesty – coupled with his vast insights into humanity – that compelled us to travel with him and listen to his observations. And just like Anthony Bourdain, we are all seeking to know and understand more about our life journey. The best way forward is to believe in the light beyond the darkness – even in our most fearful moments. Bourdain was loved by so many people who would have wanted to reassure him of that hope.
Acknowledgments: CNN. Roadrunner: A Film about Anthony Bourdain. Explorepartsunknown.com