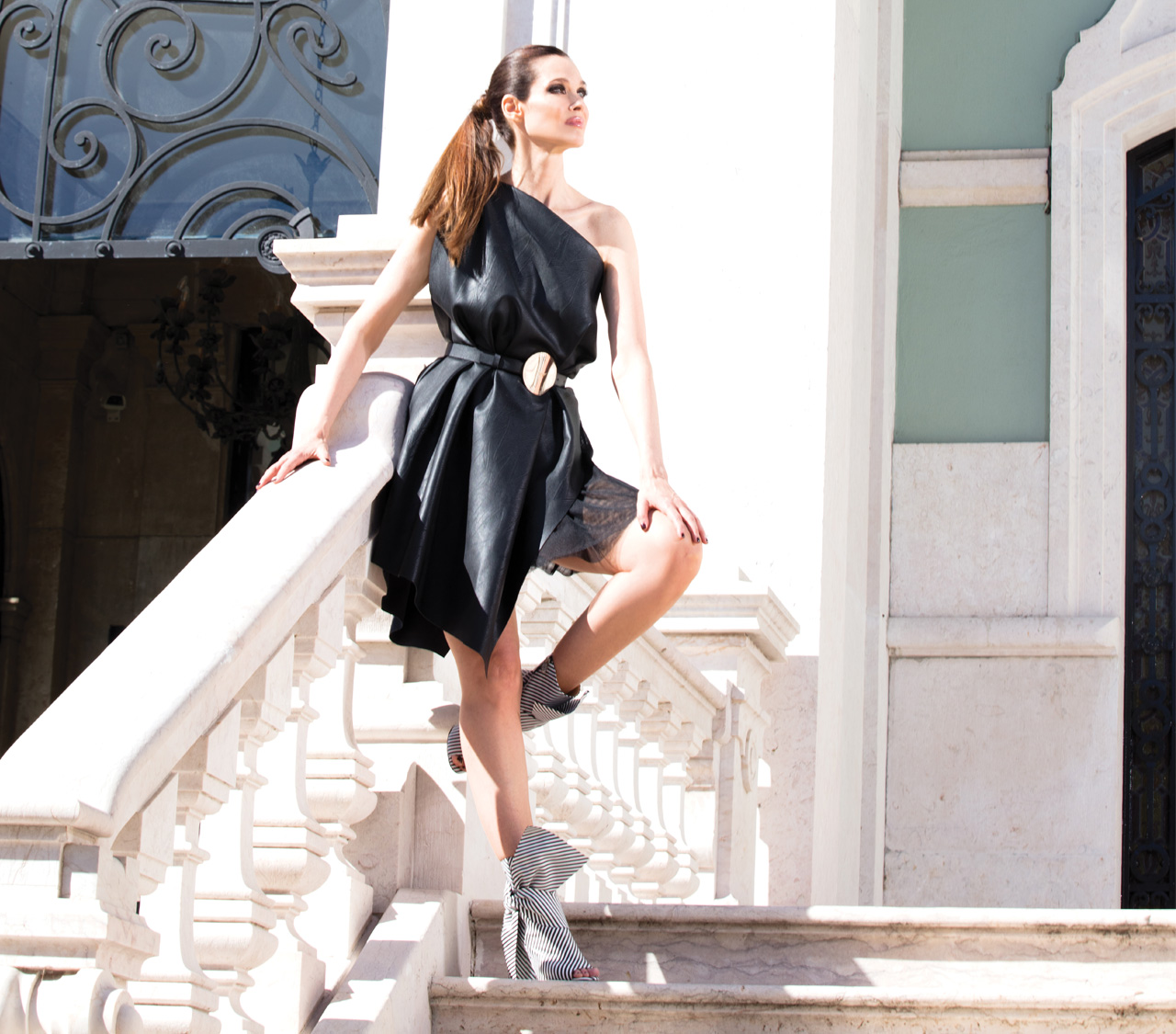 When the Carol Alt Cover shoot was confirmed earlier this year, we combined multiple elements to transport you to a dream-like James Bond world – set in a beautiful part of Europe. The artistry behind this sumptuous shoot in Portugal was elevated by the inimitable beauty of Carol Alt and the sensitive eye of photographer, Ezequiel De La Rosa. The result was an exquisitely beautiful 007 palette in the heart of Bond land.
With the photography firmly intact, our next assignment was to capture Carol Alt's extraordinary life story. I booked our interview for 10:00 one Tuesday morning, and not only did Carol promptly supply me with all the preliminary information I needed, but she showed up with precision timing. From the inception, Carol displayed all the facets of respect. She understands that other people's lives matter; that being organized and thoughtful is about being courteous. Her explosive successes as an elite Supermodel have never given her a sense of entitlement; nor have her subsequent successes as an award-winning actor, best-selling author, health advocate and entrepreneur changed who she is. Carol Alt has retained the solid values of her New York fire fighter dad and home-making mom.
Elite modeling agency kingpin, John Casablancas, famously quipped to an Editor, "Why do you like working with Carol? She's no fun. She doesn't party," and he responded, "because when I book Carol, I know the job will get done." As we begin chatting, Carol is quick to modify the notion that her career has been a smooth run. "Oh no," she corrects. "I'm the Babe Ruth of the modeling industry and like Babe Ruth, people remember my hits – not my strikes." Unlike girls who come from very privileged families, Carol had to work over 30 fashion shows per season, and financial necessity demanded that she never turn down work opportunities. Her schedule was comprised of 7-day work weeks with clients expecting 20-hour day and night commitments. That level of performance and pressure amplified Carol's robust survival traits.
But the reason Carol Alt is as successful as she is to this day goes way beyond her discipline and work ethic. She is a visionary, and that talent is wrought from the creative juices of an artist. It's an innate ability to think beyond the confines of a prism; to imagine where a thread can lead and the myriad of possibilities that permeate from a thought or idea.
We begin talking about Carol's childhood, and her gratitude for the stable, loving foundation her parents provided:
"I grew up with one brother and two sisters," she says. "My dad was a fire chief in The New York Bronx. He was also in the military. My mom worked for TWA and then became a stay-at-home mom when she had the four of us. She handled motherhood beautifully and raised four disciplined kids. She was very strict with us, although she needn't have been with me because I was already very disciplined. My siblings are terrific; they're loving and giving. We always wanted to please our parents. My brother idolized my dad, particularly for his leadership qualities. A great leader makes you want to do something because he's convinced you that it's good for you – when it's really good for him. Dad was both impulsive and disciplined – just like me. We were taught that our actions bore consequences. I once broke a watch, and my parents insisted that I get a job at age 13 to pay for the broken watch – so I went to work in a bakery. I was a tomboy and played lots of sports in school and that prohibited me from fitting into the beauty queen stereotype of that time. I hung with the boys – not the girls. I had good grades and tried out for a military scholarship – but back then I believe they preferred to award them to boys, so I lost out on the scholarship on the first year. I was disappointed, but I thought that once they got to know me, I would get it."
Carol followed up by joining ROTC (Reserve Officers Training Corp) to prove herself right. A year later, she was awarded the scholarship.
While waiting for her application to be reviewed by the Army for the scholarship, Carol turned 18 years old and was eligible to waitress. She describes the sequence of events like this:
"I was thrilled to get the job as a waitress, so when a photographer approached me to model, I turned him down flatly. He followed me around the restaurant all night until, out of exasperation, I took the number of the agency he was offering. Due to a twist of fate, I ended up calling someone at Ford Models who then called Wilhelmina as well as Elite. Everyone told me to lose weight, but it was the quirky agents at Elite who asked me if I was a Sagittarius, and when I said 'yes', the agent said, 'chain that girl to the chair!' I looked no further for an agent. That was it!"
Carol started working the next day for Italian Bazaar, and she even got her first cover. It was not a smooth road, however. After being called 'too big for the clothes' and reprimanded about her haircut and big eyebrows, she got on the set anyway and blew them all away.
Carol remembers intricate details about the ground-breaking paths that had twists and turns in her career. One of them was this story:
"I was working for Vogue with Irving Penn – an exceptionally well-respected photographer – and it was well known that he needed silence and a sense of propriety while working. That atmosphere was killed by a loud phone that kept ringing in the studio – with fifty different people asking for me. After that disruptive experience, John Casablancas (the head of Elite) happened to be in town, and I relayed to him how frenetic the studio was when I was working with Irving Penn – and how he'd probably never want to work with me again. It was then that I suggested to John that one person needed to take charge of a model's job offers and bookings, and only that representative should be making the call. John agreed and initiated that change in the industry."
Carol's career exploded, and she remembers the pace like this:
"Almost immediately, I was working seven days a week while also taking acting classes for commercials, walking classes for runway, and speech classes – it was endless. My days were literally from 9 am till 3 am. There was little sleep. When I was on location, I was at the beck and call of the client almost 24/7. This was a new era in modeling and the demands were rigorous. It was more than a full-time career."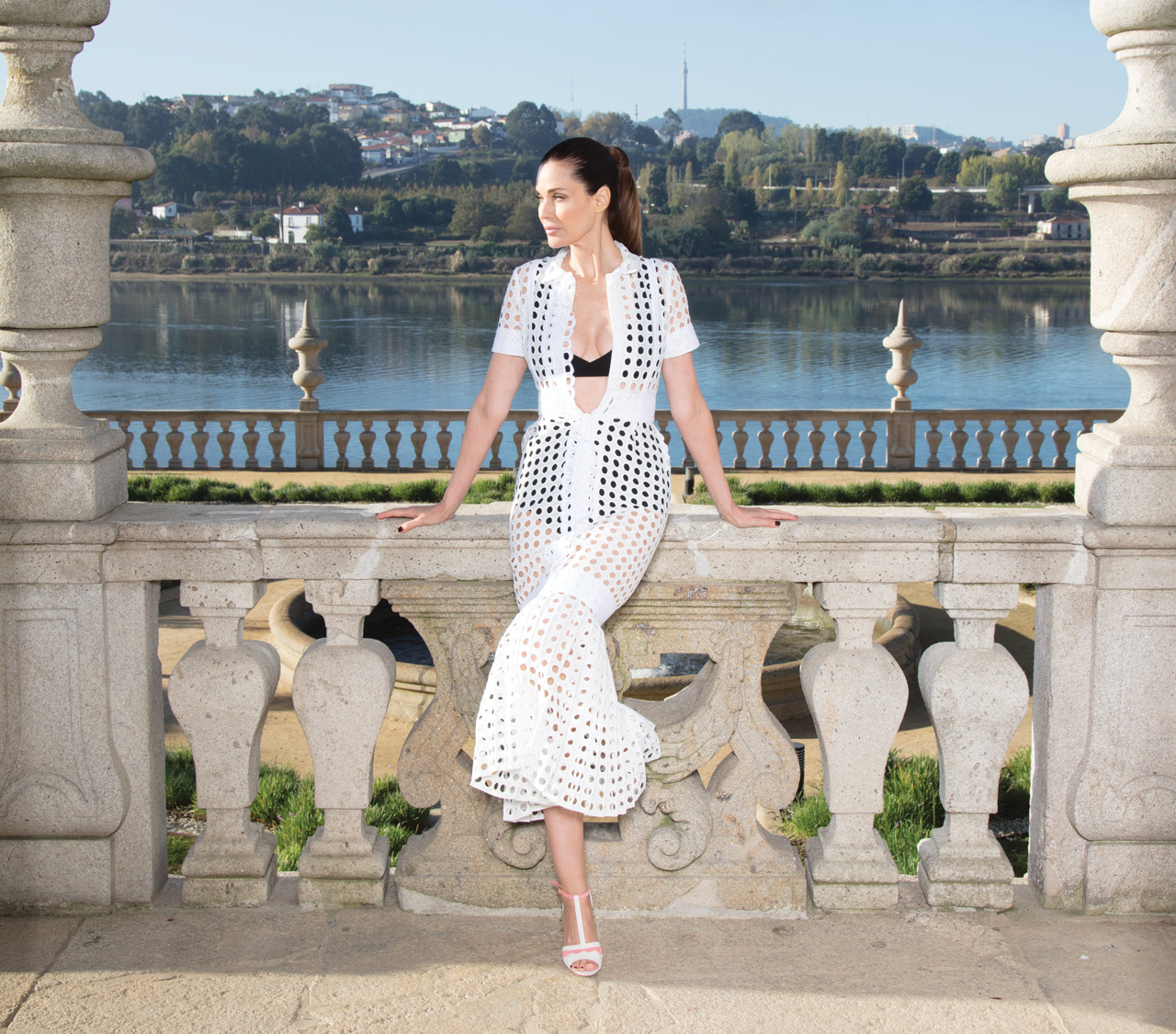 "We had to work in harmony with the flamingos' flight patterns. We shot when they landed, and we suspended shooting when they took off in flight. The problem was that we had to be dead still and silent while we waited for them to come back"
I ask Carol how she responded to Elite's John Casablancas' statement that she was the model who started the super model era. She offers this perspective: "Necessity is the mother of invention. Everybody had their opinion on who was a super model. Christie Brinkley, Cheryl Tiegs, Kim Alexis were the already famous models when I walked in. After my career took off, John decided to create a super elite of his super models. It was another strata, and I was the first model in it. John was a visionary in the sense that he recognized that we could make a lot of money. The model wars were in full throttle. Johnny's gift was that he was a great pivoter. If I look back, I too developed the art of pivoting. I was never so invested in something that I had to hold onto it rigidly. I always had Plan B and Plan C. I ended up getting the scholarship I always wanted, and if modeling didn't work out, I was destined to head to law school."
We continue our conversation on the art of pivoting, and Carol fast-forwards to 2008 when she was on NBC's Celebrity Apprentice:
"When I was on Celebrity Apprentice, I worked with 5-time Olympic gold medalist, Nadia Comăneci. Interestingly, she never had a Plan B. Her success was honed from there being only Plan A. During one episode of the series, we had to go somewhere, and the place wasn't open. I turned to Nadia and said, 'we have to have a backup plan if they don't open'. It was a philosophy that was foreign to her, and I respect that and am certainly not casting aspersions. It worked for her in her career. I just know that I became a bold risk-taker in my career because I always had Plan B as a back-up if the risk didn't pay off."
We discuss highly successful people. Carol's boyfriend of over 20 years is Russian ice hockey player Alexei Yashin. He was one of the first players to be traded to the NHL (National Hockey League) from the KHL (Kontinental Hockey League). For elite athletes like him – there usually is no Plan B. They are wholly, unidirectionally devoted to their sport at world-class levels, and in Alexei's case, it truly paid off. In 2020, he was inducted into the IIHF (International Ice Hockey Federation) Hall of Fame. Carol and I agree that everyone functions differently, and she concludes with, "I just know that I work better with options."
Carol featured nine times in Sports Illustrated and was on the cover twice. She refers to one of the covers as her Queen of Kauai cover. I ask her about that experience – in particular – the Swimsuit Issue – which is a highly coveted once-a-year cover spot considered the arbiter of supermodel succession. She explains:
"Back in the 1980s, Sports Illustrated was a sports magazine for men, and the swimsuit issue became controversial, and nothing sells like controversy. I worked with Jule Campbell – a veteran at Sports Illustrated and she came up with the concept of the bathing suit issue – and they never looked back. It was a monumental hit. Jule's genius lay in what she captured. She went for the wholesome girl-next-door look with no accessories. I remember being in this magnificent setting in Kenya where we traipsed through jungles and then came out onto a lake with beautiful flamingos. I was wrapped in a towel, my hair was curly, there was minimal makeup, and we moved with speed before the sun went down. The concept worked. It was a phenomenon. Bathing Suit Illustrated tried to copy Sports Illustrated Swimsuit edition but they went a different route from Sports Illustrated and it never stole any of SI's thunder. What Jule did was always a work of art in a beautiful setting."
I suggest that Carol's athleticism must have served her well there and she agrees whole-heartedly.
"Oh yeah…we climbed waterfalls. It was heavy-duty action. I even remember being allowed to fly the airplane in Africa. We started off in Nairobi, then headed to Rangoon, and then Ferguson's Gulf with the flamingos."
Carol summarizes the definitive highlights of that period.
"There are so many people I am grateful for," she says with genuine appreciation. "Patrick Demarchelier landed me the Lancôme shoot. It was a great contract and Patrick and I worked so well together that we took the cosmetic company to number 1 worldwide. That was so thrilling. Lancôme replaced me with royalty and brought in Isabella Rossellini, but I never lost a beat and went straight to Covergirl and took them to number 1. That was very satisfying. I loved working for Sports Illustrated and am immensely grateful to Jule Campbell. I just did an interview at her house. She's now 93. We recounted how she had taken me to Alaska. It was there that I tasted the best nacho chips of my life! We shot on Ruth's Glacier. I didn't know how to ski, and as I watched everybody jumping out of the helicopter and powder skiing on virgin snow, I wished I could have joined them. I credit Jule with taking me on my two most favorite trips: Alaska was one, and then doing the Kenya cover and going on that African trip was amazing. We had to work in harmony with the flamingos' flight patterns. We shot when they landed, and we suspended shooting when they took off in flight. The problem was that we had to be dead still and silent while we waited for them to come back. It's amazing to work harmoniously with nature like that. I vividly remember dancing with some of the people from the Maasai tribe in Kenya. There was the smell of the ochre, and just then, the guide came up to the photographer and said, 'you better get Carol out of there – now!' The photographer remonstrated with the guide and said we were almost done, but the guide insisted. Apparently I was doing a mating dance, and one of the tribesmen was waiting to covet me! I only found out later that this was the case. Shooting in Africa was one of the best experiences of my life."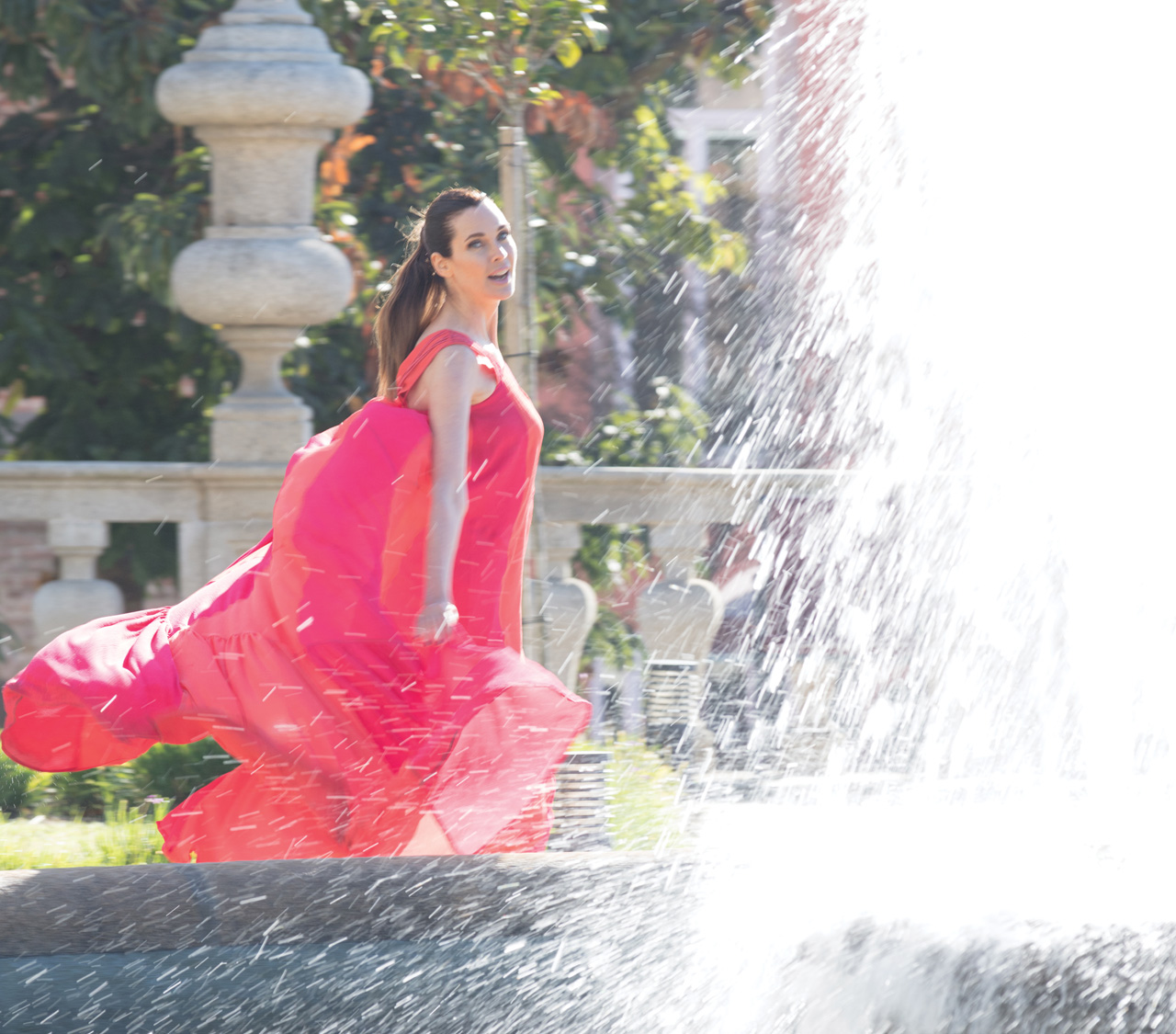 "After a 22-year relationship with Alexai Yashin, he is still my baby. He's such a sweet man and he's been through so much"
Change is part of life and being adaptable is a necessary survival mechanism. Carol gives a first-hand account of the changes she's witnessed in the past few decades, and the advice she now gives to aspiring models.
"When the Iron Curtain came down, the floodgates of Europe opened. There were these amazingly beautiful Russian women who superseded the American models – and – they didn't play by the rules. When I set about writing my books, 'This Year's Model' and 'Model's Inc.', the objective behind them was never to make money. It was about protecting young girls and being a role model to them as they made their way in the industry. I really wanted them to hold onto their moral values."
Carol's prolific modeling career continues to this day – thanks to a more enlightened era of people recognizing the beauty in women over the age of 25. At age 50, Carol posed for one of Playboy's 2008 covers after the magazine agreed to no longer show nude photos of women. Her decision was largely in celebration of the healthy choices she has made in life. Her diet consists mostly of raw food, and readers were appreciative of the results.
We discuss the technology revolution in the last 10 years – and the birth of the influencers.
"Influencers come in every shape and color," Carol explains. "They are a very diverse group – and their popularity is based on them having a powerful message that the younger generation can hook into. Their success is derived from the quantity of followers they have on social media."
Carol's acting career includes over 45 movies, mini-series and television series in the USA and abroad. She was in 'Amazon' – the number 1 dramatic syndicated series according to Variety. She was featured in Wood Allen's 'I Love Rome' and Howard Stern's 'Private Parts'. Carol received a Lifetime Achievement Award for Women in Comedy in 2016 and for Women in Films in 2020. She has 3 European Emmys, one European Oscar, the Mont Blanc Award, and the Golden Ticket Box-Office Award for DiLaurentis films – for the most box office sales in one year.
I'm interested to learn more about Carol's experience with Woody Allen at the helm in 'I Love Rome'.
She says thoughtfully, "I saw a very intelligent, driven man who was very present, and gifted at what he did. He was generous, collaborative, and never arrogant or nasty. He was also kind and empathetic because he knew what it was like to be an actor. When we were on the set, Woody would walk in and give his appraisal on a performance with a softly-spoken voice: 'that was very good,' he would almost whisper. He would also say, 'faster' – referring to the speed of the delivery of the words. He was encouraging but he also gave us direction. He knew exactly what he wanted, and the precise words that were centrally important to the movie."
When I ask Carol to describe what it is about acting that she loves, she responds with passion in her voice: "One of my directors last year said it best to me. He said, 'I write this character, and when you come on set – in front of the cameras – I see this character come alive.'"
We converse about the interpretation of a character, the breaking down of scripts, as well as technique in acting.
"I'm a collaborative actor, she explains. "I prepare thoroughly so when I get on set, if there's something else the director wants from me, I'm able to bring it. I have that innate capacity to pivot. I also recognize that I'm only one small cog in the wheel. I can't see the whole wheel, so I am more than willing to bow to the people who see the whole wheel. Being a good actor is a weird mix: it's important to have enough of an ego to be confident enough to get in front of a camera and put a creation together that people would want to see, but your ego becomes sublimated when you recognize that you have to fit into the big picture. The greatest compliment that an Editor ever paid me was when he said, 'you cut like butter'. What he meant is that the attention to detail in my performance made it easy for him to cut my scenes together."
"You have to be aware of so much on set," Carol continues. "It's a great collaborative effort, but at the same time it's such an individual process. Acting is very lonely. I work on my script; I break down my scenes. I have a coach. When I'm on set, I am emotionally invested in what can be a very difficult scene. Rape and murder scenes require you to dig very deeply. If you work with an actor like Robert de Niro and you understand him, you leave him alone when he's walking from his dressing room to the set. He's totally in character. If you interfere with that, the intensity will dissipate. Therein lies the loneliness in acting. You are in this vortex, you deliver in front of the camera, and then you go back to your dressing room and prepare for the next scene. It's a very singular existence."
I wonder about Carol's favorite movies.
"I have favorites for different reasons, but certainly the most difficult movie I ever did was an 8-part mini-series on Anna Karenina. It was intense for multiple reasons: I had a room at the top of the hotel that had windows on two sides, and I closed the curtains. I literally pinned up poster boards that listed one line that described every scene and I put it in an emotional color. Anna Karenina started out pure white and then went through every emotion on the color spectrum. At the end, she was pure black. When you're doing 890 scenes, the directors can jump from scene 312 to scene 749 in the same day, and I have to know every scene and where it fitted into Anna's emotional pattern, and where she's going from there in order to move into the next pattern – so that it cuts like butter. Also, bear in mind that it was written by Leo Tolstoy in the 1800s and we had to bring it up to the 1960s, the 1970s. It's about Imperial society, and after Anna and her lover flee to Italy, their lives are affected by the context of the environment. They're in Rome and that's where the Pope resides. It's my job to understand all of that. It takes a ton of research and an understanding of so many facets."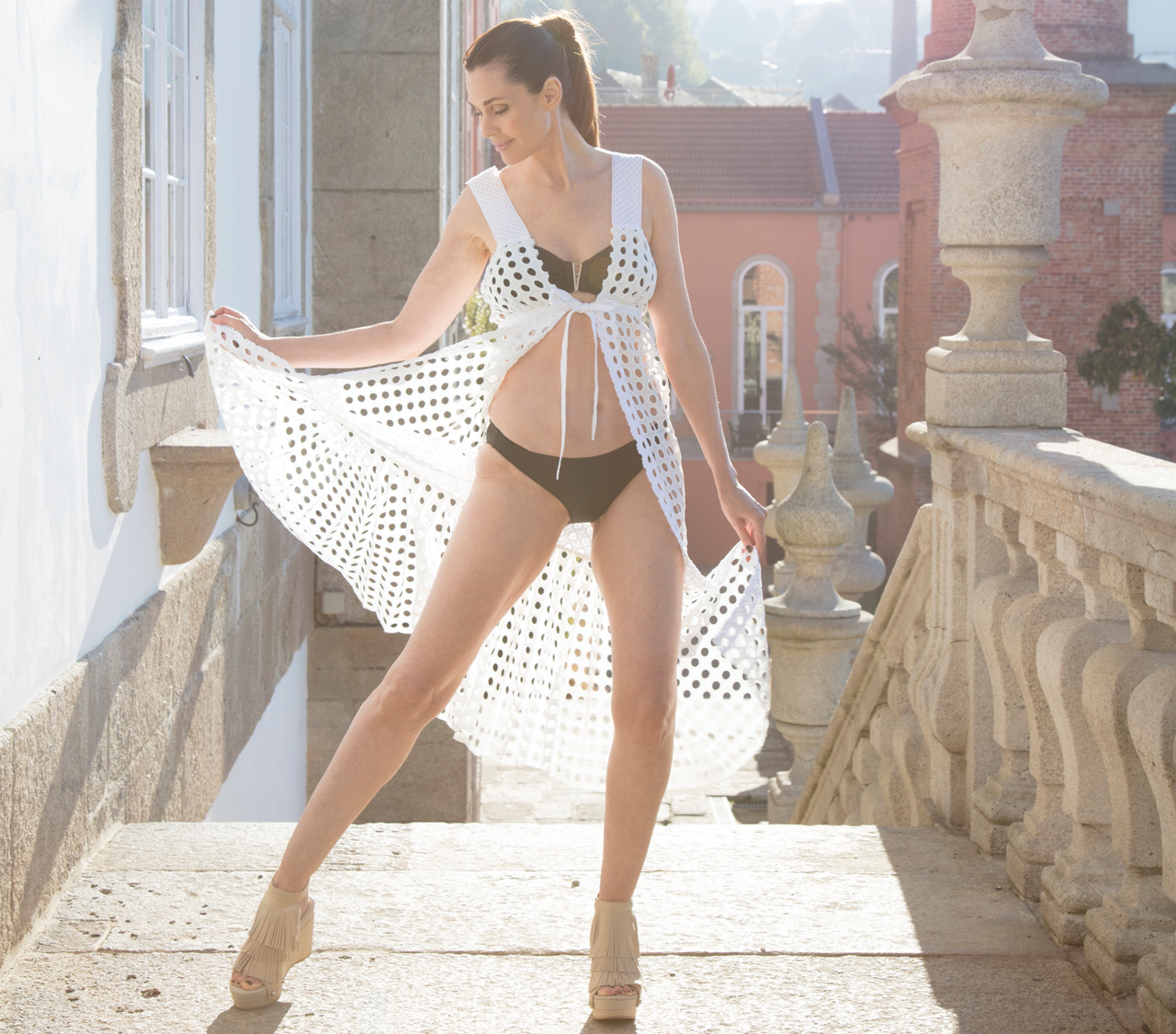 "The body regenerates and rejuvenates from two main things: essential fatty acids and essential amino acids. I find that these nutrients are best raw because when you cook something, the bio-essential nutrients in the foods are less available for absorption"
Carol has a doctorate in Alternative Health Studies. She's a keynote speaker on the important topic of health and speaks extensively at health conferences and at graduations. Her voice takes on an earnest resonance on the subject.
"I have worked with some of the greatest doctors in the world," she emphasizes. "When it comes to health and nutrition, misinformation is our biggest enemy. The body regenerates and rejuvenates from two main things: essential fatty acids and essential amino acids. I find that these nutrients are best raw because when you cook something, the bio-essential nutrients in the foods are less available for absorption. Having a certain amount of raw food in your diet is critically important, and you want to minimize the short-chain carbohydrates like pasta, breads and crackers. Long-chain carbohydrates found in vegetables are a better source of carbs."
"When my boyfriend, Alexei, changed his diet," she continues, "he never got sick mid-season. I got him onto eating a steak with salad and cold-pressed olive oils before a hockey game. In my view, a bagel and cream cheese before a game is not the answer to good performance. The body in motion needs usable proteins and good oils. 96% of our brain is made up of fat. Not all fats are the same: there are cooked fats in which the molecular structure has been altered – which makes them less available to the body and not as digestible. That's why they get stored and that's why we gain weight. Cold-pressed fats like olive oil and fats in avocados that are unprocessed and unpasteurized are great for the body; so are some nuts. There's good cholesterol and bad cholesterol. Raw salmon (sashimi or seared) is a great source of good fat. Cooked salmon is not the same as raw; the key is not to overcook it to the point where the nutrition is diminished."
We chat briefly about long-time boyfriend Alexei Yashin. In 1999, Carol was shooting the movie 'Amazon' – about an airplane going down in the Amazon. She was invited to the NHL (National Hockey League) Awards that year and, of course, Alexei was there. Carol describes their meeting as "love at first sight. He walked over to me, and that was it!"
Carol's affections for Alexei are clearly entrenched after 22 years of a relationship.
"We talk to each other virtually every single day. He's still my baby, and he's such a sweet man and he's been through so much. There was that incident when an opposition player skated over his arm, and they thought that his career was over because of the damage. I got to work on him and helped him to rebuild his arm. The right foods are so powerful for the body. I always tell people that the right food is the best medicine that they'll ever take on a long-term basis. Alexei came back after a month; he could do a slap shot but not a wrist shot, but he was passing the puck like crazy. They called him in for the playoffs and his recovery was incredible. He overcame what could have been a career-ending injury."
Carol's beauty secrets are firmly tied into food and nutrition as well:
"For me, it all comes down to fats, she says. "The body works in a hierarchy. If you are giving your body essential fatty acids and essential amino acids, they're going to repair the body and take care of it. Once the body is able to digest and absorb the food, repairing becomes the next most important factor. The last thing on the list is vanity. Your skin, hair and nails will suffer if you aren't giving your body what it needs to repair and rejuvenate. I put on my face the same things I eat because whatever you put on your skin, you absorb into your body. I use coconut oil and olive oil mixed in with my own raw skincare line."
Andrea Bocelli does a charity event every year outside his hometown of Lajatico in Tuscany, Italy. The charity rebuilds schools and pays for education amongst impoverished communities. It's an incredible charity and this is his biggest fund-raising event of the year. It's an exquisite open-air concert in the mountains. I ask Carol how she became involved in his charity work and she supplies the details:
"Andrea asked me to come over to Italy with a first-class ticket and a purse. I said to him that I wanted to donate that purse of money back to his foundation – keeping a small piece to donate to my animal charity in the USA. I was with Shelter Chic and then I switched over to the Washington Heights Cat Sanctuary – but it takes in dogs too." Carol raises money, buys food for the animals, and if she makes an appearance somewhere, all proceeds go to the charity. She says with a sense of accomplishment, "My lawyer adopted two cats! My own two cats make me laugh all the time."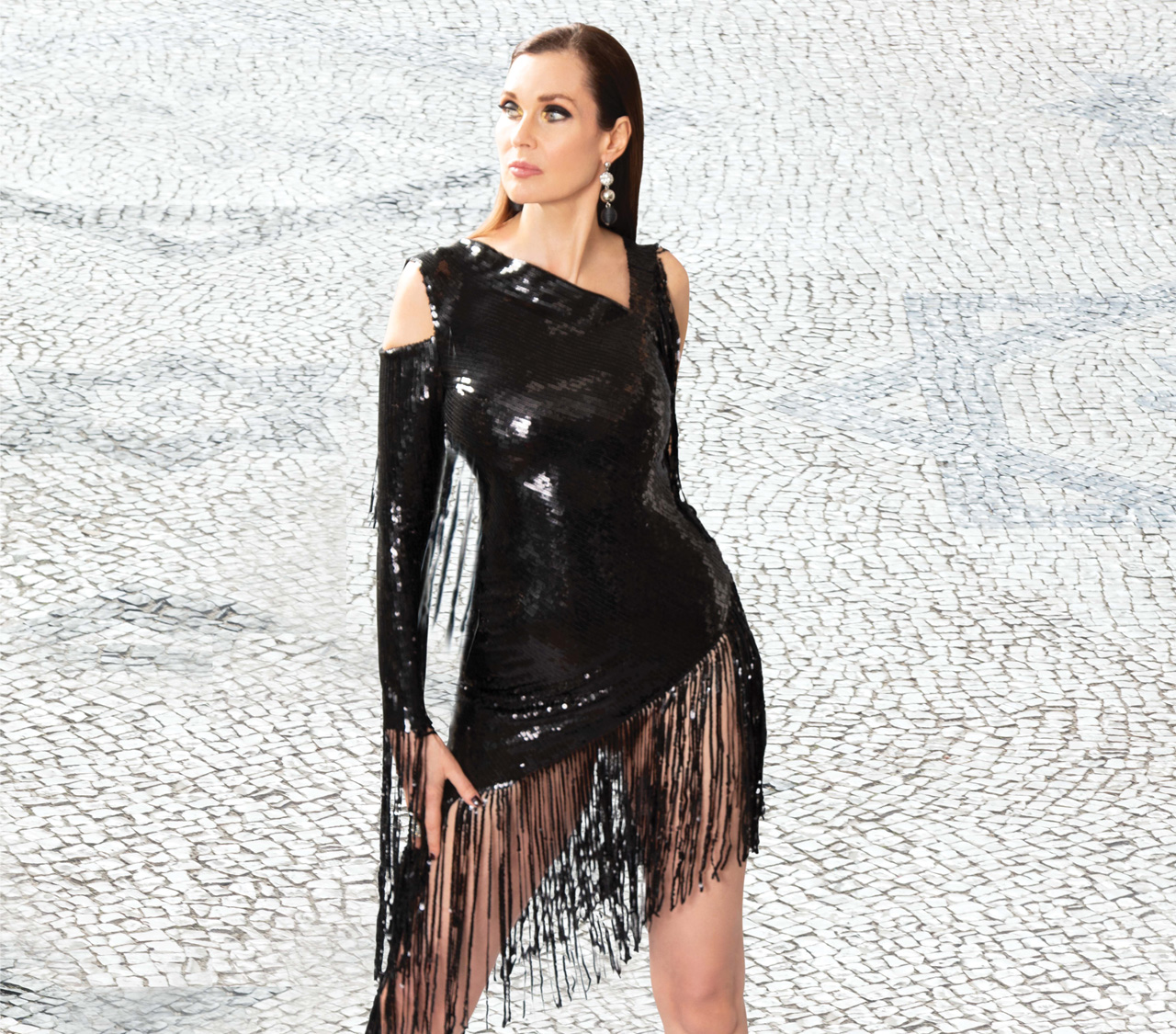 "I still have a great love for Italy. That was my first trip out of the USA and it had a deep impact. I love the Colosseum. I picked up Italian so easily and immersed myself in the culture and the language. I even dream in Italian"
We end our interview with Carol sharing the details of her daily life. Her favorite food dish is rare salmon over salad with cold-pressed olive oil. She also loves cold-pressed, unpasteurized raw milk cheese. She interjects excitedly with…. "But wait! I also make great raw muffins! The recipe is to die for. I had juiced apples for a liver cleanse, and I didn't want to throw anything away and that's how my apple muffins came about."
With Carol's recent cover shoot visit to Portugal intact, I ask her about her impressions of the place.
"The love of my life had a house in Portugal," she says, "and I've always been too busy to go there so when I got this opportunity, I jumped at it. Portugal is spectacular. I loved the people and there were so many interesting things to see. I particularly enjoyed learning about what they think, how they eat. We had the best time."
We expand those thoughts to the rest of Europe with Carol emphasizing, "I still have a great love for Italy. That was my first trip out of the USA and it had a deep impact. I love the Colosseum. I picked up Italian so easily and immersed myself in the culture and the language. I even dream in Italian and I can even do interviews in Italian!"
As for Carol's bucket list, she says, "I'm doing my bucket list right now. I want to be a substantial part of my next movie where I can be highly creative on the production side – possibly with writing or directing."
Wisdom is one of the great rewards of longevity on earth. Carol offers this piece of wisdom from her years of experience:
"I have learned to listen to my gut. If you listen to that feeling in your stomach, the universe is usually telling you something. Wisdom and understanding come from so many places. My German, French, Scottish gene pool usually propels me to react immediately to situations – without first stopping to hear. I've learned to take a step back. I've also realized in life that when I make mistakes (and I do), there is much to be learned from those mistakes. I'm truly the babe Ruth of the modeling industry. Some things have worked out and some things haven't. People remember that I started posters and calendars, and it resulted in a cottage industry. I did the first exercise videos. I was the first model on the internet. But I've also pitched shows that didn't come to anything – but if I didn't swing, I'd never hit."
"I was very ill 5 years ago," Carol shares, "and I asked God when I was dying to save me. I also promised that in return I would do anything he needed me to do. His answer to me was to go the raw food route. After that, I sold three raw books off the bat and started my Alternative Health Show on Fox TV – 'A Healthy You and Carol Alt'. I'm the great grandmother of the health movement and I know from experience that raw food is critical to restoring health. It saved me. All of us can turn over a new leaf and lead a restorative life."
Carol Alt's story is a testament to that new leaf. She positively glowed in Portugal with sparkling eyes, radiant skin and thick, glossy hair. She's confronted life's challenges with a set of adaptation skills second to none. Our cinematic hero, James Bond, also possesses an irrepressible survival instinct, and those strengths are compelling.
Instagram: @modelcarolalt