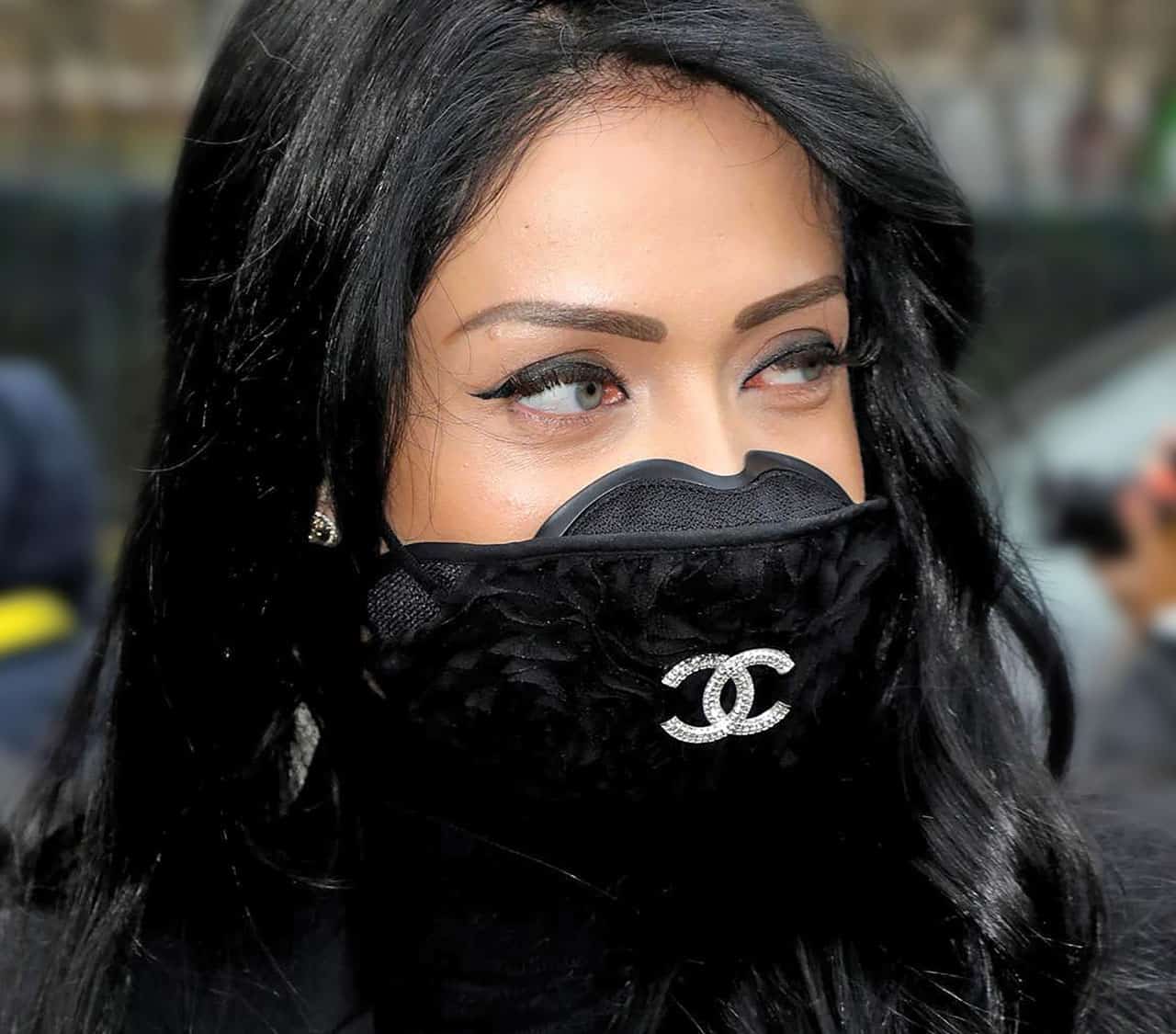 I fretted like never before as the deadline for this article was drawing near. Writing about fashion has always come easily to me. Cool subjects would pop up in my mind with no searching effort, in the simplest circumstances. I used to see the fashion angle in almost anything – a movie, a book, a welcome gesture in a restaurant; a scarf disappearing through the closing doors of an elevator; a vintage handbag lost in a metro station downtown Milan. There was a fashion twist everywhere, a story, something interesting to tell you about. Even in the dire contexts that we faced quite a few times in the last decades, fashion would manage to bring about – at least to me – a reassurance of normality and ongoing ingenuity. In the weeks after the coronavirus outbreak hit China and then Italy, I lost this lightness completely.
I stared for hours at the screen, anxious and idealess. Wandering on news sites didn't help either. At home in a locked-down European city, I couldn't think for the life of me of any regular fashion topic, no matter how novel or interesting, that wouldn't sound foolish a month later when you'd read it. It's clear by now that things won't improve anytime soon. Of course, we'll get back to normality sometime this year. Mankind is resilient that way. But it won't be the normality we left behind. And we won't be the same either. The unfolding global health crisis will have a seismic effect on our life and culture, changing profoundly each and every part of it, fashion included.
When COVID-19 spread to Italy just as the Fall-Winter 2020 ready-to-wear shows were beginning, the industry's first reaction was one of doubt rather than precaution. Giorgio Armani was the only Italian fashion house to change plans for its event, attuned to the rising health concerns. Armani Show was held without an audience, with models walking around inside an empty showroom, in an "atmosphere drenched with subdued romanticism", as the designer described it. At the end of the show, as a "message of love" for the country where the coronavirus outbreak began, twelve Chinese models stepped onto the runway wearing pieces inspired by Chinese culture, from Armani's couture Spring Privé 2009 and 2019 collections. Giorgio Armani closed the eerie event waving and thanking an invisible audience. The rest of Milan's runway shows went ahead as planned. A wave of panic followed the showgoers to Paris, where face masks became de rigueur, more presentations were canceled, and several fashion editors rushed to book impromptu return flights. And then all hell broke loose.
China's Shanghai Fashion Week scheduled for March was postponed indefinitely. Ralph Lauren canceled his April show. The Copenhagen Fashion Summit was pushed until October, while H&M's Global Change Award Gala was called off altogether. Cities known as fashion epicenters worldwide declared a state of emergency one after another, with their local fashion houses deserted. Fashion media companies, PR agencies, marketing firms instituted work-from-home policies for their employees. Shoots were postponed open-endedly. Galas, fundraisers, press previews, trade shows, and any work-related travel were canceled
Fashion manufacturing has been heavily disrupted by shortages of fabric (sourced in northern Italy) and by its crucial dependence on China. It doesn't take too much for fashion's supply chain to come undone.
Fashion manufacturing has been heavily disrupted by shortages of fabric (sourced in northern Italy) and by its crucial dependence on China. It doesn't take too much for fashion's supply chain to come undone. Regardless of how trivial it sounds, with zippers in short supply, for instance, we'll see most likely a comeback of buttons not only in the fall-winter designs but also in the 2021 spring-summer collections. Around the world, emerging designers fear a cash crisis and an uncertain future, as they don't have significant amounts of capital to rely on for survival and reinvention. Small brands brace up trying to figure out how long they can manage their employees, incoming orders, and bills if the crisis continues beyond the second quarter.
The Resort season, one of fashion's most lucrative gatherings, which brings together editors, influencers, brands, and major clients to locations across the world, is off. Gucci, Prada, Burberry, and other major brands canceled their May cruise shows. Deprived of the traditional person-to-person sale appointments, designers turned to digital platforms to promote and sell their merchandise. Wholesale buyers struggle to place orders online for clothing that they are not able to touch or feel. Luxury buying and selling, a predominantly in-person exchange, is nose-diving. The future of the fashion show as a concept is on the table. Ironically, after the environmental movement has been pressing the designers for over a year to question whether they really need to do a fashion show to sell their products and build their brand, it took the coronavirus just a few weeks to expedite a nay decision.
Consumer confidence and travel have been drastically hit as well, with no way to foresee how long it will take to recover. Chinese buyers accounted for 40 percent of the $305 billion spent on luxury goods globally last year, according to Jefferies Group, so retailers in key luxury hubs like Paris, Milan, London, Tokyo, or New York are already counting the costs of a significant decline in Chinese tourists this year. It's a pause for everyone, filled with uncertainty, paranoid rumors, and dread.
Deprived of the traditional person-to-person sale appointments, designers turned to digital platforms to promote and sell their merchandise. Wholesale buyers struggle to place orders online for clothing that they are not able to touch or feel.
"At a time of crisis, we have to think about a radical reset," said Anna Wintour, the artistic director of Condé Nast and editor of Vogue, pondering the future. But the industry isn't so sure about its ability to survive and move forward through the pandemic. However it will unfold, it is cautious to say that this crisis will have a negative wave impact on the fashion industry until at least mid-2021. And we talk here only about the tangibles affected.
How about the elusive effects? Can we name the impalpable lost in the process? If we stay with fashion, it was odd to see at the shows the fist and elbow bumps pantomime replacing the hand-shake or the double-cheek kiss, the insiders' sweet standard. On a global scale, we found out pretty soon that the worshipped isolation within the social media cocoon is fun only when it is self-imposed. When it's enforced from afar, we long to hold hands, kiss our loved ones hello and good-bye, embrace a friend, give a high five to a colleague, or blow a raspberry to a giggling toddler. Touching makes us human. Touching is the most direct way to communicate empathy, to keep our emotions alive and our mental health in check.
So. There are lessons to learn from the coronavirus crisis if we want to. For one thing, we are more interconnected than we've been led to believe and depend vitally on one another. No man is an island and it truly takes a village to survive. Maybe it's time also to realize that we have no control whatsoever, and the most we can do is do our part, soulfully and diligently, while we remain mindful and contained.
It was this insight that gave me the idea of a decent fashion topic to share with you at this time. In a humble attempt to bring a smile on your face and a glimpse of normality, I'll say just a few words about one of this summer's fashion staples – the vest. You heard me right. The vest doesn't want to go west. Timeless and versatile, it's a sartorial survivor that signifies impeccable structure, clarity, self-possession, and stamina. It is non-coincidental, then, that the vest is making such a comeback this year. We can wear this embodiment of poise in a wide range of looks and fabrics, from casual to smart and everything in between.
Ladies and gents alike. From the charming sweater vest of preppy fashionistas, or the utility vest with cargo pockets, to the zipped-up puffer one or the halter leather vest sported by Bella Hadid. Single-button or double-breasted. With or without lapels. Buttoned-up or unbuttoned. Over a shirt, a T-shirt or flying solo. With jeans, trousers or chinos. From the low-cut dandy waistcoat to the teeny-tiny vest made famous by Kate Moss at Glastonbury Music Festival in 2005. Fifteen years down the road, Kate's undisputed style signature is back in a cleaned-up version, introduced by Kaia Gerber on the Saint Laurent Spring 2020 runway. The iconic image of a stone-faced Moss trudging the grounds of Glastonbury in short-shorts, a single vest, crossbody bag, and knee-high muddy Hunter boots, was replicated by Gerber with 2020's flair and fearless determination.
The whole idea is that the vest makes us look put together, self-confident and on top of things. Now, more than ever, it's essential to feel this way. It's also key to act this way. For we'll need all the help we can get to be back in the saddle. If a cool little fashion item can restore some of our confidence, why not?
With everything we've been going through this year so far, finding our new normal will be nothing else but an uphill battle. As JFK said once, "The Chinese use two brush strokes to write the word 'crisis.' One brush stroke stands for danger; the other for opportunity. In a crisis, be aware of the danger–but recognize the opportunity." Even if it lies only in the lessons we've learned. While I'm certain it's not going to be easy, I'm hoping it's going to be worth it.