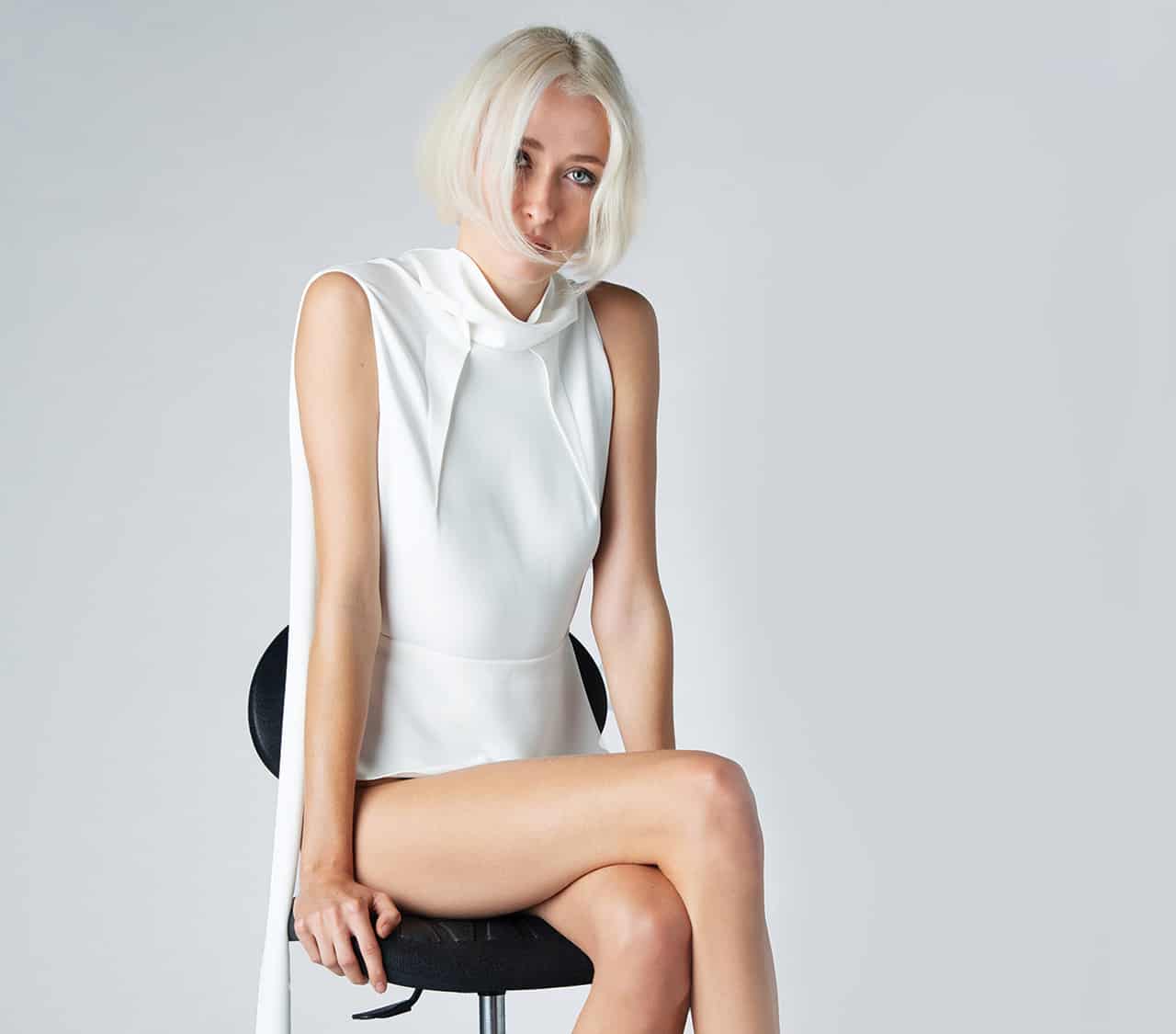 The last project I had to take care of before the end of 2020 was a team photoshoot on location, for a company interested in enhancing its brand image and refreshing its existing portfolio. It happened that the subject was an all-women media team, whose seasoned CEO wanted a mixture of formal and informal portraits, able to give off a professional company impression, as well as to capture the wide array of emotions, personalities, and motivations of the team members. Nothing complicated, I thought, with the proper planning and flexibility on my end, a good makeup artist, and an experienced photographer in charge. Well, as best laid plans go, this was easier said than done.
First, the weather was lousy. A sloshy winter day filled the office with a dirty, depressive light. Then, the ladies came to the photoshoot after several weeks of working from home, with only phone calls or Zoom meetings counting as intra-office communication. The dynamic of the room was awkward; the interaction felt fraught with a million unspoken tensions. With the logistic of social distancing in place, everyone was wearing a mask except for the proximate subject of the lens, who you could tell was weighing up the immediate professional benefit of the new portfolio versus the potential risk of exposing herself to the virus.
The first takes after setting up the lights looked awful, phony, and forced – all plastic smiles and lifeless eyes, like snapshots of flight attendants at the end of a turbulent long-haul flight. No honest or organic imagery in the test photos, only moody inertia and palpable misery. It was then when I realized, in a panic, that the solution able to change the atmosphere and save the day was at hand, thanks to the thorough planning – and in came the costumes. Thank goodness that I'd asked the team members to come prepared with a few outfits, for different seasons and occasions, whatever they considered representative for their style, professional journey, personal expression, and fashion flair. Once the women changed into their carefully chosen attires and shoes, put on the matching accessories, and stepped into the light, a sense of possibility and hope infused the room. What they were wearing and how it was put together said a lot about them, and referenced something relevant about their work narrative, persona, and life. In the end, we pulled off a great photoshoot, animated and genuine. Fashion proved once again its huge psychological pay-off: the simple truth that clothing affects much more than how other people perceive us (this is, in fact, subsidiary); it influences how we think about ourselves and keeps us focused on who we ultimately want to be.
At the end of the terrible 2020, the reiteration of the idea that there are things outside us that we can look at and experience, which can help us move on in the direction that we seek by triggering the qualities and attitudes that will take us there – was both soothing and invigorating. It helps to understand that wearing pajamas or sweats all day doesn't foster a proficient mind or preserve self-esteem; and that the clothes we choose to wear have the power to disperse our anxieties, slow our anger, get us back on our feet, and fill us with hope. Truth is, fashion helps us find direction and, stepping into 2021, a new direction is the one thing we long for the most.
Naturally, people grumbled about the Spring 2021 collections, frustrated with the flawed fully-digital or digi-physical fashion shows in an industry that thrived on tradition, heritage, full social immersion, and status-quo. Months of social isolation and maniac online-shopping drove everybody nuts, wishing desperately to experience again something live, real, exciting, and tangible.
Fashion designers all over the world intuited the need for corporeal and change, and delivered, for the first time in a long time, styles that looked like clothes meant to be worn, thoughtful and realistic, at the same time forgiving and elegant for stressed bodies at rest, chic and intelligent. In the middle of a global crisis, designers shared their vision of a strong and better humanity, wised up to its new priorities, full of hope and a newfound respect for life.
The Spring-Summer 2021 season features a less eccentric fashion, with a nod to the clean minimalism and stylish restraint of the 1990s. It is a contemporary, tailor-made homage paid to Helmut Lang, the legendary creator of the unisex designs that fit perfectly with all genders and generations. The lines are simple, sharp, and graphic, with long layers that drape on the body to offer comfort and ease without sacrificing grace and elegance.
Pants are a powerful staple, from short shorts (the shorter the better, a look between high-waisted panties and shorts) to oversize trousers with maximum swoosh effect. They are meant to create a dramatic look no matter the time of the day you wear them or the fabric they're made of – be it heavy silk, cotton, diaphanous jersey, or smooth leather. We get to see again the low-rise pant and so-called stylish sweatsuits as appropriate designs for our laidback present work routines, as well as the tracksuit pants with matching hoodies as sophisticated attires to toss on for a socially distanced occasion in the city, day or night.
Happily marrying practicality and form, the sportswear wardrobe combines new energy with traditional function in the biker leather jacket, which is making a comeback in a few different versions: classic, with logo print, with a bourgeois twist, or futuristic and oversized.
Like any spring, in any era, there is exuberance, romance, and true grit in the air – the very fabric of hope that, well, springs eternal. Drawing a proud silhouette, perfect for cutting through the chaos of the world, strong, wide shoulders show off in their most dramatic versions, sharp and padded; puffy, balloon sleeves follow in a close second, injected with boisterous volume. The romantic bohemian style skips completely the folklore influence, in favor of the sheer grace and femininity given by long transparent dresses with shimmering movements, or by lavish petal patterns on quintessential, luxurious materials.
Another playful style from the 1990s book of fashion is the fishnet, explicit and minimalist as well, adding a contemporary beat through its in-your-face sensuality. We get to wear fishnet dresses, jumpsuits, blouses, and even pants, revealing with lovely irony our reinvented working identity.
A handful of trends that haven't gotten the chance to be worn out last year are carried over in 2021, shaping it up to be quite a stylish year – the logomania of 2020 continues with collages, patchworks, and neon effects; sugar candy tones bring over a summer rose-tinted vibe; the silver glow seeps into the upcoming season via moveable spikes, strappy details, sexy ribbing in mesh, crystals, and sequins; and the all-pervading trench coat is here to stay, not only in its traditional neutral tones of beige but also in many vivid block colors.
Shoes are also comfy and covetable, the best option at the crossroads between fashion and wellbeing. The top trends, all born out of convenience and isolation-induced laziness, are represented by chunky lug sole boots (preferably in black), sturdy sneakers (particularly white ones), platform sandals, ballet flats, Velcro sandals, and fancy flip-flops. A ray of hope for style is squeezed in by the chain and jewelry details that are making their way into footwear, aiming to make 2021 the year of over-accessorizing in the best way possible.
Bottom line, 2021 looks like a year of reconciliation in the wake of an abysmal crisis – with the planet, with each other, with selves. All the politics of survival are in position: opposites attract; edgy goes hand in hand with sweet; soft and frilly compliments sharp and defined. Brutal wake-up calls trigger understanding and acceptance morphs into attitude. The new attitude is self-evident in all Spring-Summer 2021 runway reports I've watched. It shows in the models' body language and the chosen backgrounds. All pictures are taken outside, even when "outside" is staged in a studio; all models are on the move, standing up tall, breathing freely, going places, determined and hopeful.
This can only mean one thing: that we found again our footing and know what we seek. We may continue to stay safe behind masks, whereas in another sense let our masks drop. We may still work from home for a while, feeling lonely and displaced. But 2021 spells the end of the top-only fashion style for slouching on the sofa in front of a screen, as well as the end of our old self-sabotaging ways. After all, spring is hope and revival, both of life and of dignity. We got the memo. It reached something inside us, the deepest it has ever got, and we changed.
Of course, the question of whether we do ever truly change, who we are and what we do, always remains open. Who knows? But as a veteran actress once said, 'Listen, I wish I could tell you it gets better, but it doesn't. You get better.' So now we are, aren't we? Better, I mean.