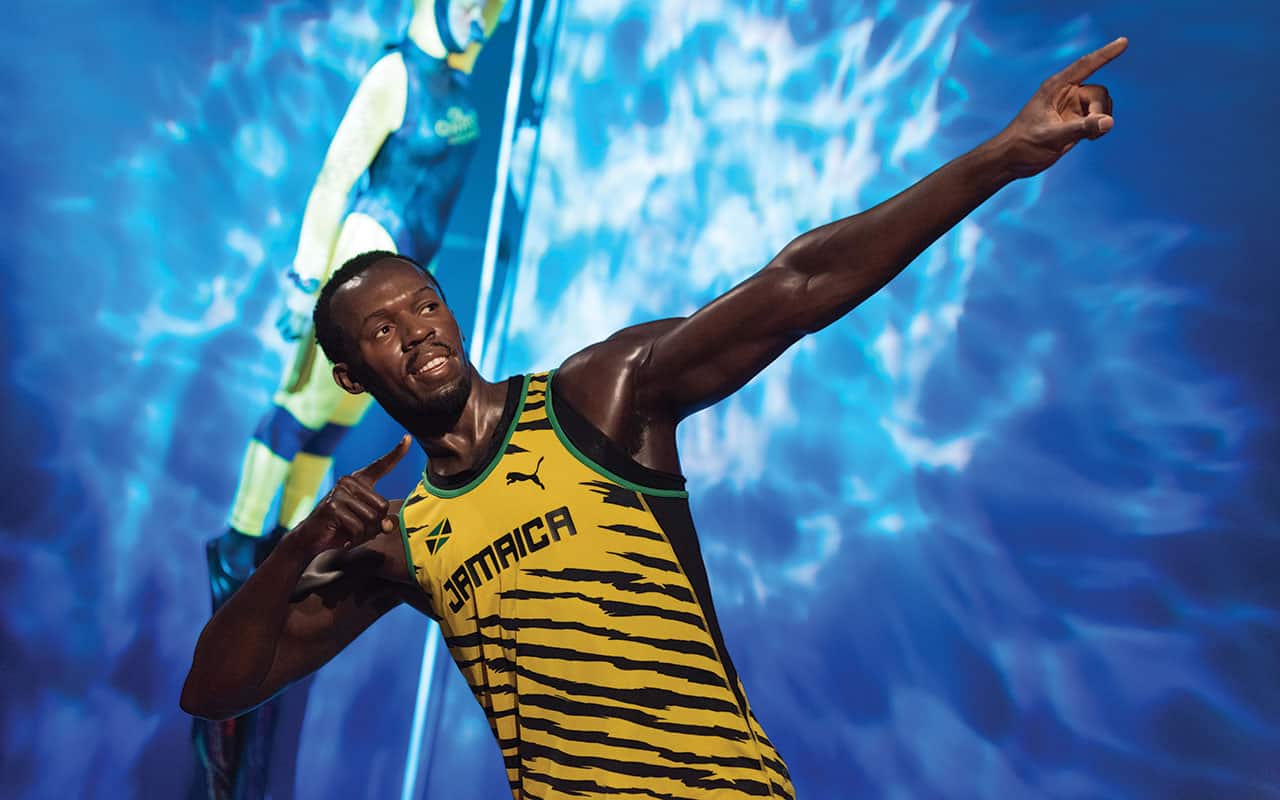 Covid-19 robbed the world of the 2020 Olympic Summer Games. I decided to convert that sense of loss into celebrating the fastest Olympic champion who thrilled billions of people in the last three consecutive Olympics.
Considered the greatest sprinter of all time, Usain Bolt is a world record holder in the 100 meters, 200 meters and 4 X 100 meters relay. He is an eight-time Olympic gold medalist, and the only sprinter to win the Olympic 100-meter and 200-meter titles at three consecutive Olympics – 2008, 2012 and 2016. He also won two 4X 100 relay gold medals. His worldwide fame rocketed with his double sprint victories in world record times at the 2008 Beijing Olympics.
Bolt's achievements as a sprinter earned him the nickname 'Lightning Bolt', and his awards include the IAAF World Athlete of the Year, Track & Field Athlete of the Year, and Laureus World Sportsman of the Year four times.
Despite his massive genetic abilities, few of us know that Bolt's accomplishments were far from easily won. To begin with, he was born in 1986 in rural Jamaica with Scoliosis – which is the abnormal curvature of the spine. While making an S shape with his finger, he explains,
"My spine is really curved bad. That's why I have to keep my core and back strong. When I was younger it wasn't really a problem. But you grow and it gets worse, so I have had to work hard. The early part of my career, when we didn't really know much about it, it really hampered me because I got injured every year."
Bolt describes how much he's had to struggle through the injuries. Bitterly cold ice baths are continuous treatments he has had to endure throughout his career. He also regularly visits a clinic in Germany to have his injuries analyzed and treated by Dr. Müller-Wohlfahrt.
Will we see Bolt in the postponed Tokyo Summer Olympics? He says no and that he's done. But he sure gave us a brilliant ride as we ran with him for three consecutive Olympics.
His long-time coach, Glen Mills, whom he regards as a second father, has walked alongside him all the way. Mills has taught Bolt how to pace himself, and how to relax into being a true champion. Also right there beside him is his lifelong friend from Jamaican school days, NJ Walker, whose loyalty and commitment to Bolt is unsurpassed. NJ is his Manager, and their very close bond has been an important component of Bolt's athletic success.
Mills and NJ know him best, and with them, he has been able to successfully handle the pressure on the track. Once he's away from it, NJ is that trusted buddy who will take a bullet for his friend, and help him to decompress. Bolt's unrestrained laughter – particularly when he is around his closest friends – is an important stress release. His sense of humor is always on fire, and it is so clearly illustrated in the way he entertains himself and the people around him.
Bolt's first taste of success was in 2002 when he won the junior world championship gold medal in the 200-meter race – in front of his ecstatic fellow Jamaicans. As he ran over the finishing lane, his instinct was to turn to the stadium, and salute his supporters. They went nuts – and that's when the phenomenon of Usain Bolt began. It was impossible not to love this young man. He was tall, strong, and he displayed an instantly loveable personality.
By 2004 when Bolt turned professional, his injuries began to mount, so in came a medical team of doctors including chiropractors and physical therapists who attended to his back and hamstrings. His Scoliosis affected his hips and that in turn affected his hamstrings. It all had a chain reaction but Coach Mills knew exactly what exercises Bolt needed.
By 2008, Bolt's explosive speed became apparent to the world when he ran in New York. The 2008 Beijing Olympics were just around the corner, and he was about to display his true capabilities. His roommate and Olympic teammate, Maurice Smith, describes the drama and the elation as Bolt stole the show in Beijing. His friend reveled in the moment, and surged ahead of the competition. Thus began the first of Bolt's world record-breaking performances. His joy in front of the crowds had him dancing – and his fans lapped up everything about their new hero.
When I attended the London 2012 Olympics, the Olympic stadium was packed to capacity whenever Bolt was scheduled to run. There was an electrical excitement that I'd never experienced before. The rapturous applause from the crowds on week two – the track and field week – reached a history-making crescendo whenever Bolt ran – and the roar of the crowd permeated throughout the suburbs of London. Friends of mine who lived a few miles from the Olympic stadium said that they could hear the crowd roaring for Bolt from their homes – three miles away.
At the world championship trials for the Rio 2016 Olympics, Bolt sustained an injury that necessitated his withdrawal. His medical team determined that it was dangerous to proceed, and he went straight to Germany for treatment.
Given all the challenges that he'd been through, his arrival at the 2016 Rio Olympic Games fast became the most significant Olympic moments in history. As he emerged from the tunnel – out into the stadium – to run the 100-meter final – the stadium crowd noise was so powerful that it caused a reverberation in the ground. When he crossed the finish line with superhuman performance, the world united in that extraordinarily thrilling moment. The kid from a poor family in rural Jamaica had accomplished extraordinary feats that elated billions of appreciative people. As one of Bolt's friends aptly said, "everyone felt like they were running with him. They could escape their 9 to 5 lives."
Another Jamaican said: "Although Bolt was born relatively poor in terms of economics, he was rich in talent, rich with life, rich with substance. To see someone like that rise to this Olympic gold medal achievement – that's what the world needs."
At the Rio Olympics, as Bolt soaked up his own history-making achievements, he shared his elation generously with the crowd by striking his signature BOLT pose. He said of that moment in Rio,
"I was born to be an athlete. That was my moment, and I knew it was going to be great. It was a million-dollar feeling."
Bolt ignited the Olympic stadium at Rio 2016 every time he stepped out. His strength was exhilarating to watch. The graceful fluidity of his body was a locomotive masterpiece.
"People feel like what I accomplished was easy. It wasn't. It took a lot of hard work and guts. I found the drive. My goal to have it all matter – kept me going. I achieved what I set out to do. I'm sad that it's over, but I'm also relieved because it's done. This chapter is closed, and I can now relax."
Bolt's fellow Olympic athletes describe him as a down-to-earth guy who is a great team player.
"He always stays in the Olympic village with the team. He loves the team environment and the energy; he's a man who needs very little; just needs to sleep, train and eat to prepare for the race. He leads a Spartan existence."
Another fellow athlete said,
"He gets into this dormant quietness. I think he goes through all the vulnerabilities in his head; the insecurities, game plans, race plans."
Tennis legend, Serena Williams describes Bolt like this:
"He's in the same category as Mohammed Ali; as Michael Jordan, and Pelé.
He's reached what no other athlete has been able to reach."
The admiration is mutual amongst some of those greats: Brazilian soccer legend, Pelé, calls Bolt his "idol".
Will we see Bolt in the postponed Tokyo Summer Olympics? He says no and that he's done. But he sure gave us a brilliant ride as we ran with him for three consecutive Olympics.
Acknowledgments: "I am Bolt" Documentary by Benjamin Turner. Netflix