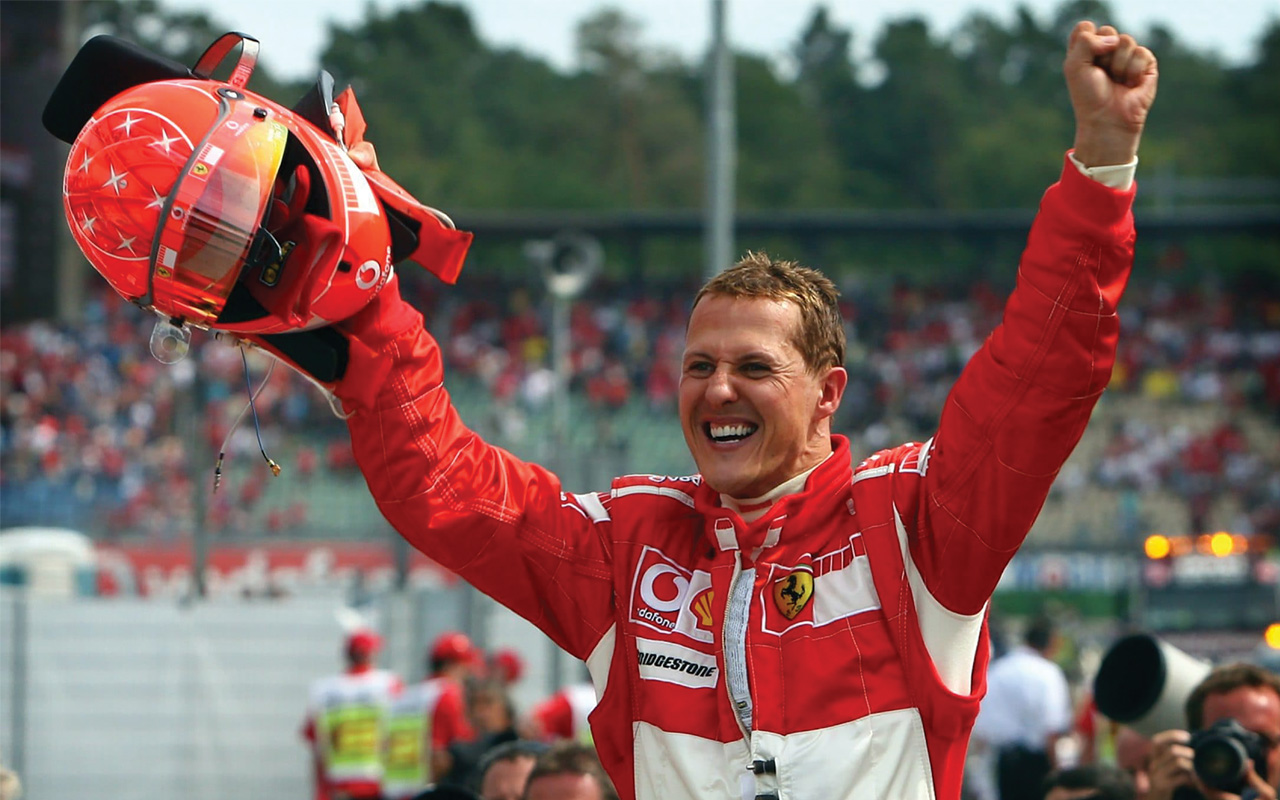 "You have to become one with the car. You should know exactly how much stress you can give it – because there's a limit always – and you should be careful like with everything you like in life. You have to have that feeling not to go over the top – nor under it. If you do that, then both the car and I will be satisfied. That's 100% perfection and that's my target – to always reach 100%. I'm just that type of person. I couldn't live with anything lower." ~ Michael Schumacher
Formula One racing in 1991 had some established huge names: Brazil's Ayrton Senna was World Champion; France's Alain Prost was with Ferrari. But everyone knew that there was a young German named Michael Schumacher making his way up the ranks, and there was an air of palpable excitement. His father recounted how it all happened:
"Luck got him through to Formula One. A driver had dropped out and they needed a new one."
From the inception, Michael was a sensation. This clean-shaven, boyish 23-year-old literally exploded onto the scene – competing with highly experienced, tough men. Benetton chased after him and signed an agreement. It was the beginning of a legendary career.
Michael won his first Grand Prix at the 1991 Formula One World Championship. The German fans had waited a long time for a victory like this, and they were elated. What is significant about their new hero is that he came from a relatively poor family. The Schumachers didn't have the finances for an expensive sport like Formula One but as a teenager, Michael sensibly planned how to work his way through the system without a large bank account.
Former Formula One journalist James Allen describes Michael as a "hard-boiled professional from a very young age. He knew that any misstep along the way would have been the end of everything."
As Michael exploded onto the racetrack, Ayrton Senna was the world's preeminent Formula One champion. Michael quickly developed the reputation as Ayrton's rival and challenger, and on 1 May 1994, nobody could have foreseen the tragedy that unfolded before everyone's eyes: Ayrton Senna was killed in the San Marino Grand Prix after his car crashed into a concrete barrier.
As he was airlifted away, none of the other drivers realized how serious the situation was – including Michael who had witnessed other crashes that appeared to be more severe than this one. Michael went on to win the 1994 San Marino Grand Prix, but with news about Ayrton Senna undetermined, the aura on the podium was subdued, and the traditional champagne burst suspended. Two weeks later, the worst-case scenario was announced: Michael would learn that Ayrton Senna was dead. With his passing, Michael was the new number one figure in the sport. Given his humanity, this was no time for rejoicing. A man he respected enormously had lost his life, and the harsh realization of just how dangerous Formula One racing was – became a point of mental anguish. Michael began looking at various parts of the racetrack with thoughts of, "this is a point at which you could be dead," and his sleep was interrupted with much anxiety. It was no way for a champion to go forward.
Corinna Schumacher, Michael's wife, describes how Michael came out of that conundrum, and experts term this ability the mark of a champion:
"He's a master at blocking things out. He was able to focus so intently on what he was doing that he blocked out everything else. He is mentally very strong."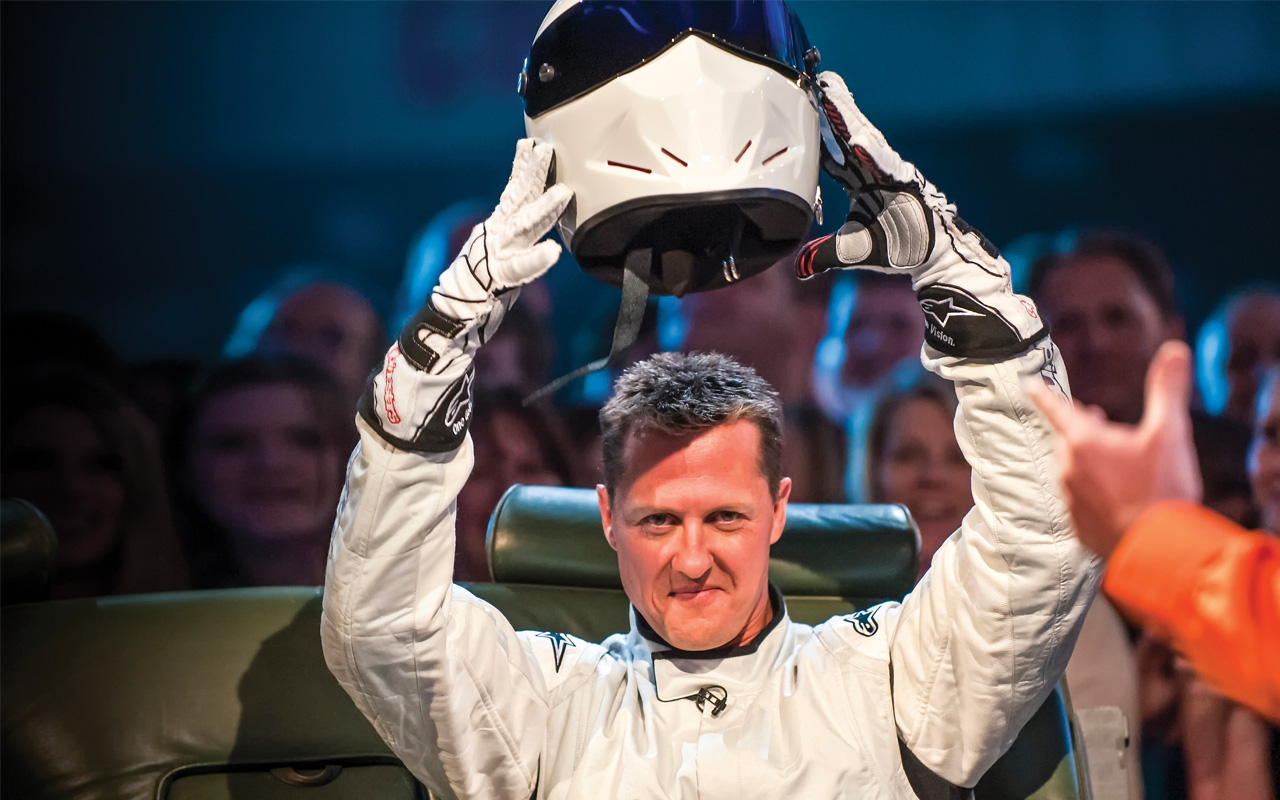 From the inception, Michael was a sensation. This clean-shaven, boyish 23-year-old literally exploded onto the scene – competing with highly experienced, tough men. Benetton chased after him and signed an agreement. It was the beginning of a legendary career
British Formula One racer Damon Hill and Michael Schumacher duked out the following Grand Prix races. Then came a major change in Michael's career. Ferrari approached him. They'd had some fallow years and looked to Michael to win some big races for them. He was advised, "If you become a World Champion in a Ferrari, you can throw away your passport." In Italy, Ferrari was a religion, and the expectation on any driver who takes up the challenge to represent Ferrari – is massive. Things were not smooth motoring. There were problems from the inception and Michael was a realist. But he was also a relentlessly hard worker. He'd spend late nights with the mechanics doing everything possible to iron out the problems. He was a team player with every cog in the wheel, and the Ferrari mechanics felt that they had a partner in him – whose fame didn't prevent him from joining them in the garage – oil and all.
In 1996 in Barcelona, Spain, Michael's true genius in the sport was displayed in the driving rain. It's incredibly difficult to drive at over 200 mph on a wet track with water spraying and shrouding your vision. He excelled in these conditions and went on to win the race. He had officially taken Ferrari back to World Championship level – a challenge he relished.
In 1997, a contentious incident occurred in Spain while Michael was competing against Canadian Jacques Villeneuve. Michael hit Jacque's vehicle during the race although he didn't view it that way. He was immensely competitive and experts describe that full-throttle competitiveness as almost incomprehensible. It was a drive to achieve perfection as he raced against himself and his own standards. After a disciplinary hearing, the governing body disqualified Michael from the 1997 Championship – and that was hard to swallow. Michael sought this time to unwind with his close-knit family and friends.
There are many theories as to why the Schumacher Ferrari partnership worked out so well. Corinna Schumacher attributes the great unity the team enjoyed to Michael's personal touch. He made the chef who cooked his pasta feel special; he thanked everyone sincerely, and each person, no matter their role on the team, felt important. There was great mutual respect and trust between Michael and every person at Ferrari. This was despite the fact that many people viewed McLaren as the better car – mechanically. McLaren's 'Flying Finn', driven by Mika Hakkinen, was like a rocket ship, and its presence delayed Michael's dominance in the sport. Ferrari had to work feverishly to match the Flying Finn. It was a combination of Michael's driving brilliance and Ferrari's efforts that eventually brought about the victory they had long sought. Mika said of Michael, "he had no fear. He didn't stop to think that he or I could get hurt."
In 1998 at the Belgian Grand Prix, Schumacher's third season with Ferrari, he was once again up against the front-liners – McLaren. Britain's David Coulthard was in the race and Michael hit him in the rear. The weather was wet and a heated exchange followed in which Michael asserted that David had taken his foot off the throttle in wet weather – and therefore hitting him was unavoidable – while David saw the fault in Michael rear-ending him. It was yet another disappointing year with Ferrari.
1999 was Michael's fourth season with Ferrari and he had his first serious accident. Despite his injuries and while being carried away, he waved from behind a sheet to let his family know that he was going to make it. It was a heart-stopping moment – one in which his wife firmly believed that guardian angels were on his side.
Michael's champion mentality re-asserted itself after a calamitous 1999 year. In order to win a World Championship, Ferrari had to win every single race. The pressure was massive. In 2000, Michael's fifth season with Italian motoring religion, he began the season victoriously while wearing a great deal of emotion on his sleeve. After beating McLaren's Mika Hakkinen, and while Mika was sitting next to him at a press conference, Michael broke down in tears, and Mika requested that they be given a break from the press conference.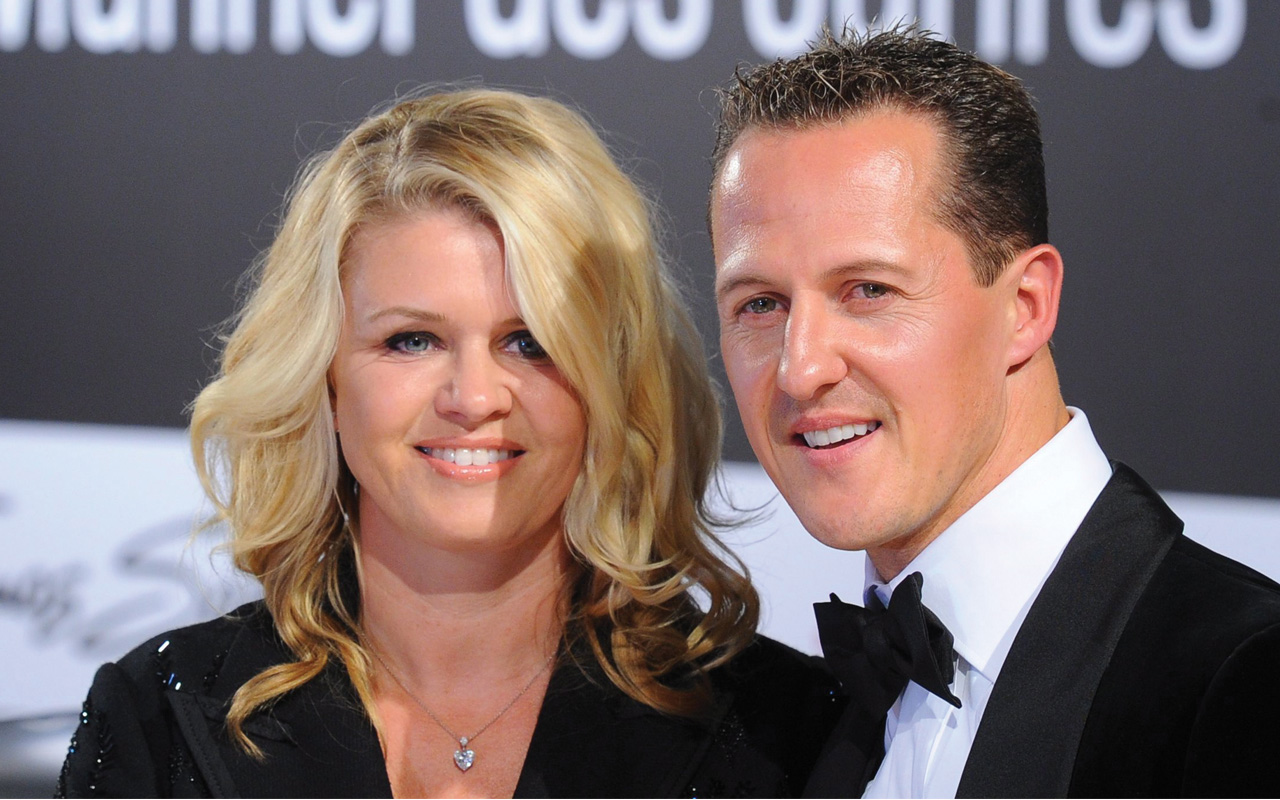 The World Championship title showdown took place in Japan in 2000. It would turn out to be Michael's most important race in his Formula One career. At this Japanese Grand Prix, the last two laps were riveting to watch as Mika Hakkinen and Michael tussled for dominance. Michael won, and his victory pulsed through every member of the team who had watched five years of rollercoaster emotions. The podium presentation was drenched in elation, ecstasy and relief. Formula One sports commentator James Allen said of that moment: "Michael had nothing to prove any more. Whatever came after that victory was a bonus, and it allowed him to continue to drive with a sense of new-found freedom. There was a beauty in the brilliance of the execution and the team's execution – to win on a sustained level year after year. The proof of that is how rarely it has happened. What Michael and the team achieved from the period 2000 – 2004 – not giving an inch to the opposition – was absolutely incredible."
Sportswriter Richard Williams describes Michael like this: "He was incredibly exciting to watch through the sheer speeds he achieved. It was a style that depended on 100% concentration, 100% commitment. He did become untouchable in his periods of dominance and some people think about them as golden ages – which they were. Five championship years in a row; people will always remember that."
Other experts describe Michael's immense talent at going into a corner at 150 mph knowing that only his immense skill was going to get him out at the other side. It's a special gift and he did everything he could to exploit that natural talent. He didn't waste anything. Others describe him as fearless and having the charisma of an extraordinary leader.
After retiring from racing in 2006, Michael enjoyed extensive family time as a devoted husband to Corinna, and children, Gina and Mick. He loved his family passionately and intensely. The same energy and commitment he gave to racing was evident in every aspect of his life – including privately. People gravitated to Michael because of his life-affirming energy and zest for life. The family's exhilarating, action-packed adventures were led by Michael's energy and love for life, and it seemed like he had put racing aside completely. But that competitive spirit called to him in 2010 when he made a comeback – driving for Mercedes-Benz. By the end of his career, he was a 7-time World Champion.
David Coulthard describes Michael both professionally and privately. Professionally he was "uncompromising, fast and determined. Privately he was a family man and a completely different person because there was no competition."
On December 29, 2013 while skiing in Meribel France, fate dealt Michael the cruelest blow. In less than optimal snow conditions, he had an accident, and his injuries were severe. In the 2021 Netflix documentary, Corinna describes Michael as "still here – different – but he's here, and that gives us strength, I find. We do therapy, we do everything to make Michael feel better and to make sure he's comfortable, and to make him feel our bond, our family. No matter what, I will do everything I can; we all will. We are trying to carry on as a family – the way Michael likes it and still does. We are getting on with our lives – and private is private – as he always said. It's very important to me that he continues to enjoy his private life. Michael always protected us and now we are protecting Michael."