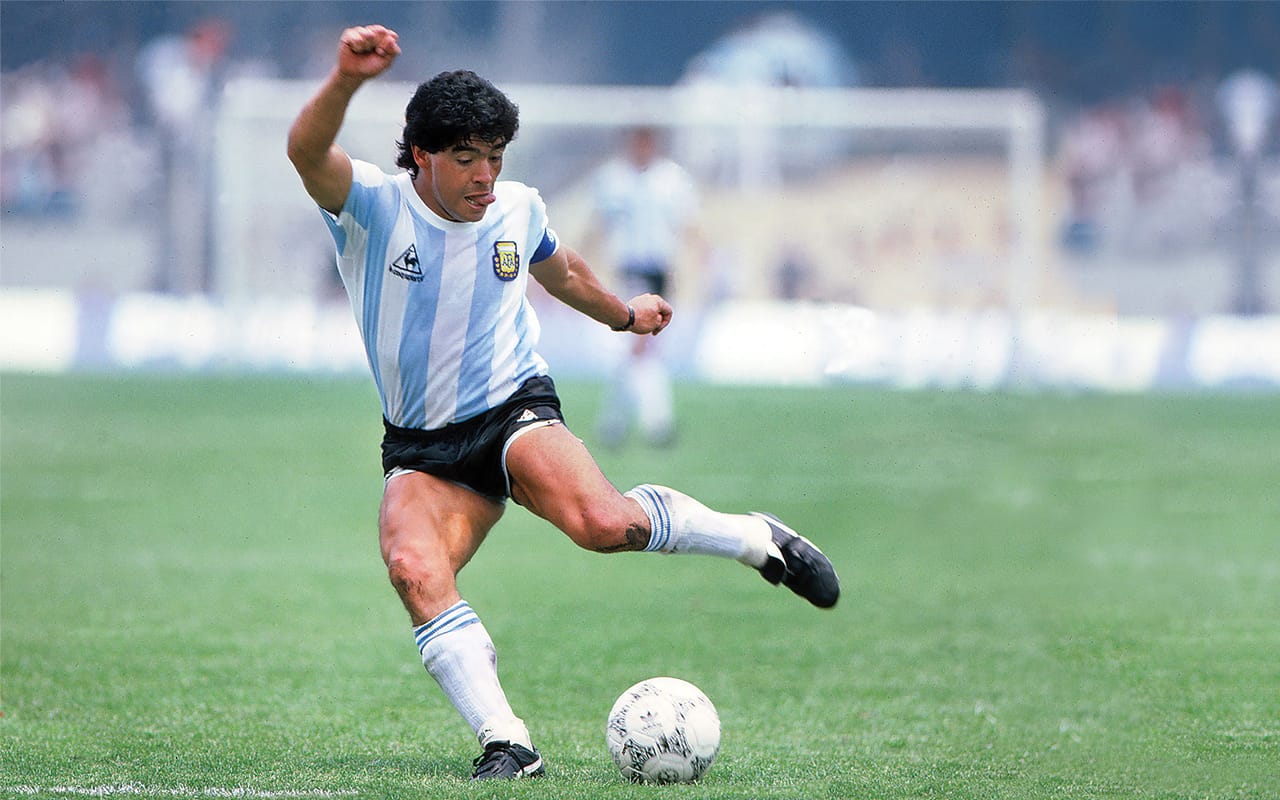 On November 25, 2020, the world lost a brilliantly talented football player, Diego Maradona. This Argentine legend made his mark before the age of intense media and sponsorship, causing him to be overshadowed by another Argentine legend, FC Barcelona's, Lionel Messi. However, it was Messi who always dreamed of playing at the level of the late Maradona. Lionel stated, "Even if I played for a million years, I'd never come close to Maradona…He's the greatest there has ever been."
But behind the outer veil of Maradona's legendary career lay a darker shadow – and the extent of that darkness only emerged after his retirement from professional football. Excessive drug usage plagued Maradona for most of his adult life.
The beginning of this "flawed" genius' life starts here: Diego Armando Maradona was born on October 30,1960, in Villa Fiorito in the province of Buenos Aires, Argentina. He was born to Diego Sr. and Doña Tota, and was one of eight children who grew up in abject poverty. Despite the Maradona family's daily struggles for survival, they provided the security of a closely-knitted family. Diego's father was a humble factory worker and bricklayer, while his mother stayed at home full time.
Diego was given his first soccer ball when he was three by his cousin, and slept with it under his shirt for the first six months, in fear it would be stolen. At first his family was skeptical about his passion for football, and wanted him to focus on his studies; however, it was not long until they realized that Diego was made to play the beautiful game.
Diego joined his village's local team at age 9, and led them to victory by winning 140 straight games. Not only did his skills stand out at such a young age, but his smaller stature made him a marvel to watch. People were amazed at how this boy, much smaller than most dominant players, was able to weave, dribble and outplay his taller opposition. This dark horse aspect of Maradona started to attract the intense eyes of the media.
His career took flight as he participated on the men's Argentine national team. Still to this day, he is the youngest person to ever play for the men's national team, at age 16. He was not eligible to play in the 1978 World Cup, as he was deemed too young. However, he did represent his country proudly, playing in the under 20 men's team, and winning the junior World Cup that next year. Maradona's reputation sparked the attention of the most elite Argentine Club in Argentina's history, Boca Juniors. He was invited to play for this world-class club in 1981 and during his first year, won the league championships. Maradona appeared to be invincible at this stage in his life.
The nimble maestro of the middle was ready to take his first steps into the spotlight of the football world, landing him at one of the world's most prestigious football clubs, FC Barcelona.
Being the new player to the European football scene, one would assume Mardona would struggle adjusting to the more structured European system; wrong, Mardona became FC Barcelona's leading scorer, insuring that they won the Copa del Rey, and Copa La Liga.
That season, Maradona became established as a household name, and his rapidly-soaring reputation would strike fear into all his opposition players, and inspiration to his supporters. However, Maradona's club hopping was not over. After his 1982 season with Barcelona, he was acquired by Italy's Napoli FC, a team that brought him in to save their reputation. He would settle at Napoli – playing with them till 1991 where he led the team to the top of Italian Football, winning league titles in 1987 and 1990.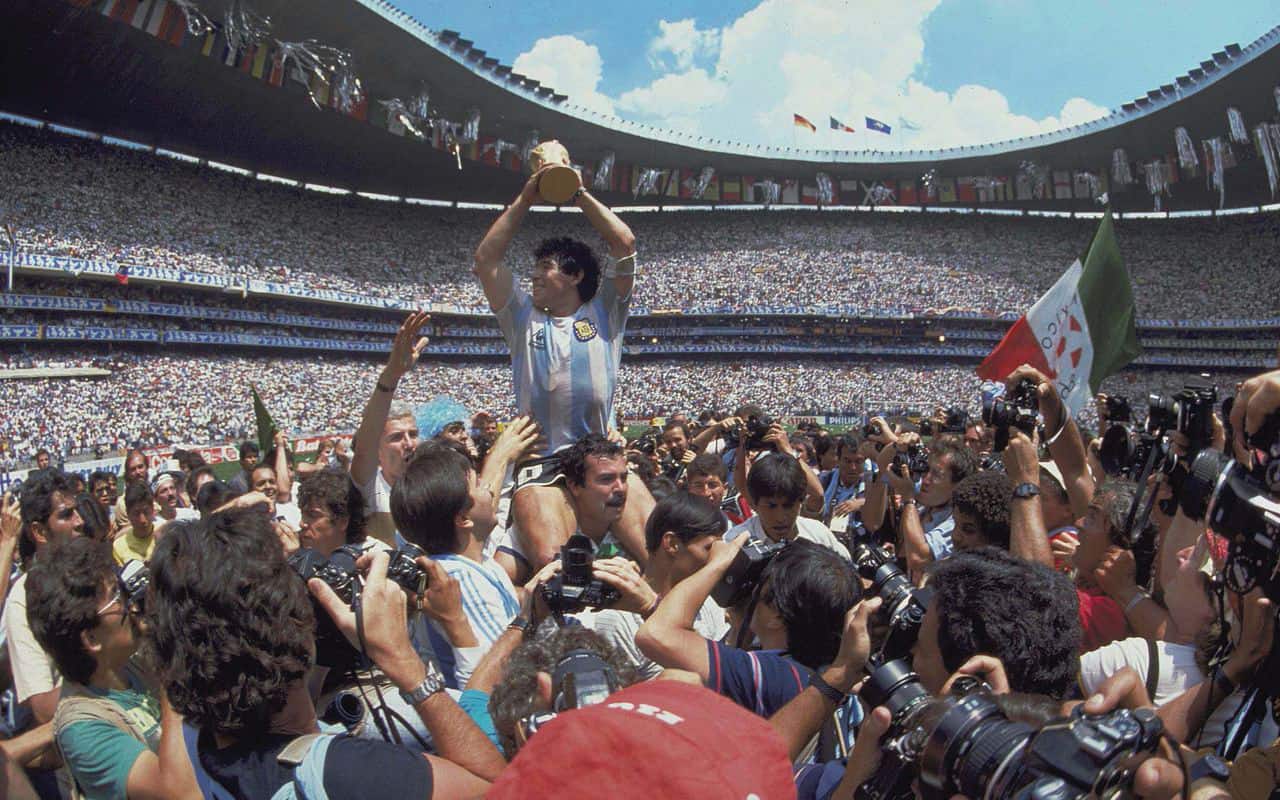 Being the new player to the European football scene, one would assume Mardona would struggle adjusting to the more structured European system; wrong, Mardona became FC Barcelona's leading scorer, insuring that they won the Copa del Rey, and Copa La Liga.
Despite Maradona's undeniable greatness in the game, controversy accompanied his larger-than-life persona. The juxtaposition of greatness and controversy characterized the looming shadows in his life, and it was famously evident at the 1986 World Cup (his second World Cup). Argentina swept through the tournament with a nearly flawless run, and earned their place in the finals against England. This game was a battle of two styles: England's discipline and concrete discipline, versus the creativity and innovation of the South American side. This was the face-off between England's Gary Lineker and Diego Maradona, two legends who will forever be known in football history. The first half of this World Cup Final was characterized by the rivaling action of aggressive attacks by Argentina and solid defending by the English – making it 0 – 0 at half time.
About ten minutes after the start of the second half, Maradona's famous "hand of God" goal was scored. The fans raged in excitement as it was scored, but the same could not be said about the English, who viewed the "hand of God" goal as nothing short of blatant cheating. Maradona had scored in the most illegal way possible – a hand ball which looked like a header, placed over the goalkeeper, finding its way into the back of the net. The referee deemed it a legitimate goal while the English side erupted with outrage. Since goal review technology was not available in 1986, experts were only able to study what really happened – after the game – and they realized too late that the incorrect call was made during the game.
However, Maradona demonstrated four minutes after the controversial incident that he did not need to cheat in order to win. He dribbled through the entire defense of England and slotted the ball into the goal posts, scoring what would be called " the goal of the century".
A few years after this triumphant victory for Argentina, Maradona's personal struggles became all too evident. He had been a cocaine user since 1982, and by 1984, when he moved to Italy, he was unequivocally addicted. The downfall of a hero of Maradona's magnitude is often a complicated web of destructive forces. He had become involved with the Italian Mafia and the lifestyle involved consistent drug use and sex workers aplenty. As Maradona's addiction intensified, he became dependent on the Giuliano clan for his constant supply of drugs. He was beholden to the dark forces that were systemically destroying his body, and he became a prisoner to a lifestyle that he started unintentionally – without much knowledge of the eventual consequences.
Diego was so determined to continue playing football at the highest level that he became an expert at learning how to pass drug tests and lie detector tests. It didn't always work as the police ratcheted up their surveillance on the most famous man in the world. They tapped his phone while he was involved in negotiations with the Mafia in the early hours of the morning, and charged him with both illegal drug usage and distribution of an illegal substance. After he was convicted of these crimes, his Napoli team suspended him for 15 months. His demise after that became more evident. He was found in Buenos Aires with a copious amount of cocaine and was given a further 14-month suspended sentence but his partying, drugs and sex workers formulated a toxic lifestyle that he was unable to shake off.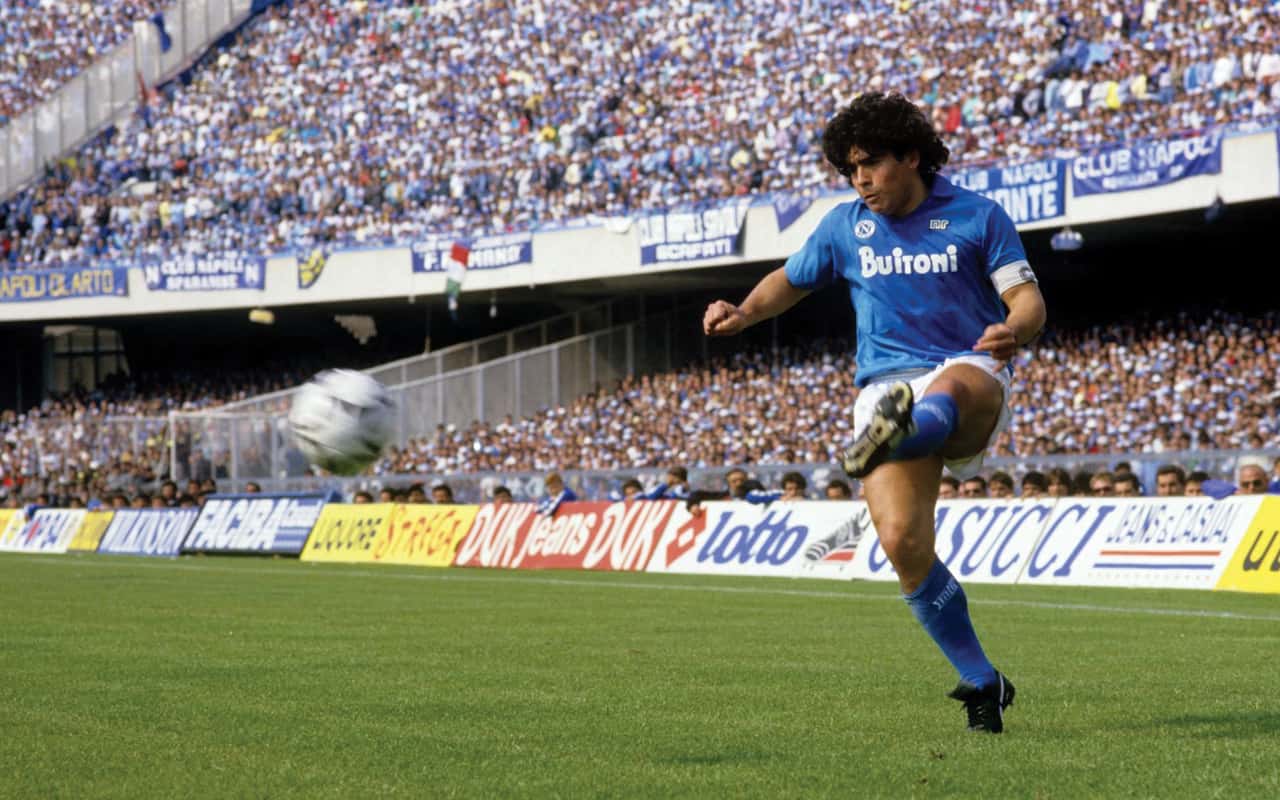 The 1994 World Cup was Diego Maradona's last opportunity to make a real comeback but he did not make it past the group stage as he tested positive for ephedrine and was banned. The incident caused this legend to be banned from international play forever. It was at that pivotal moment that the flawed genius' career hit rock bottom. His spirit was clearly broken as he said, " they have retired me from soccer. I don't think I want another revenge; my soul is broken."
Maradona would play in Argentina till 1997 on small professional teams. For the third time, he failed his drug test and he retired that year and found himself in more legal trouble when he shot a reporter with an air rifle, landing himself in prison for about three years. In1998, Diego again reiterated how broken he was when he said, "Do you know the player I could have been if I didn't take drugs?"
Drugs, alcohol and overeating aged this athletic maestro dramatically. He suffered cocaine-induced heart failure in 2000. A heart attack in 2004 and emergency bypass surgery in 2005 meant that Maradona was spending more time in hospitals than on the football field. Doctors were confident that Maradona would change his lifestyle after these wakeup calls, but they were proved wrong when he was hospitalized yet again in 2007 for hepatitis.
At the 2018 World Cup, Maradona collapsed towards the end of the Argentina vs Nigeria game. Doctors found a heart murmur that day, and two years later, he passed on November 25, 2020, after his fatal heart attack.
The grand tragedy surrounding Diego Maradona is – how much more of his genius might the world have seen – had he led a drug-free, healthy life? Talent that is as great as his inspires mesmerizing awe, and watching his slow destruction was painful to watch. The truth is, we will never know the true potential of this flawed genius. Fellow South American player, Pele, who is in the same league as Maradona, paid this fitting tribute: " I lost a great friend and the world lost a legend. There is still much to be said, but for now, may God give strength to his family members."
Rest In Peace, Diego Armando Maradona.