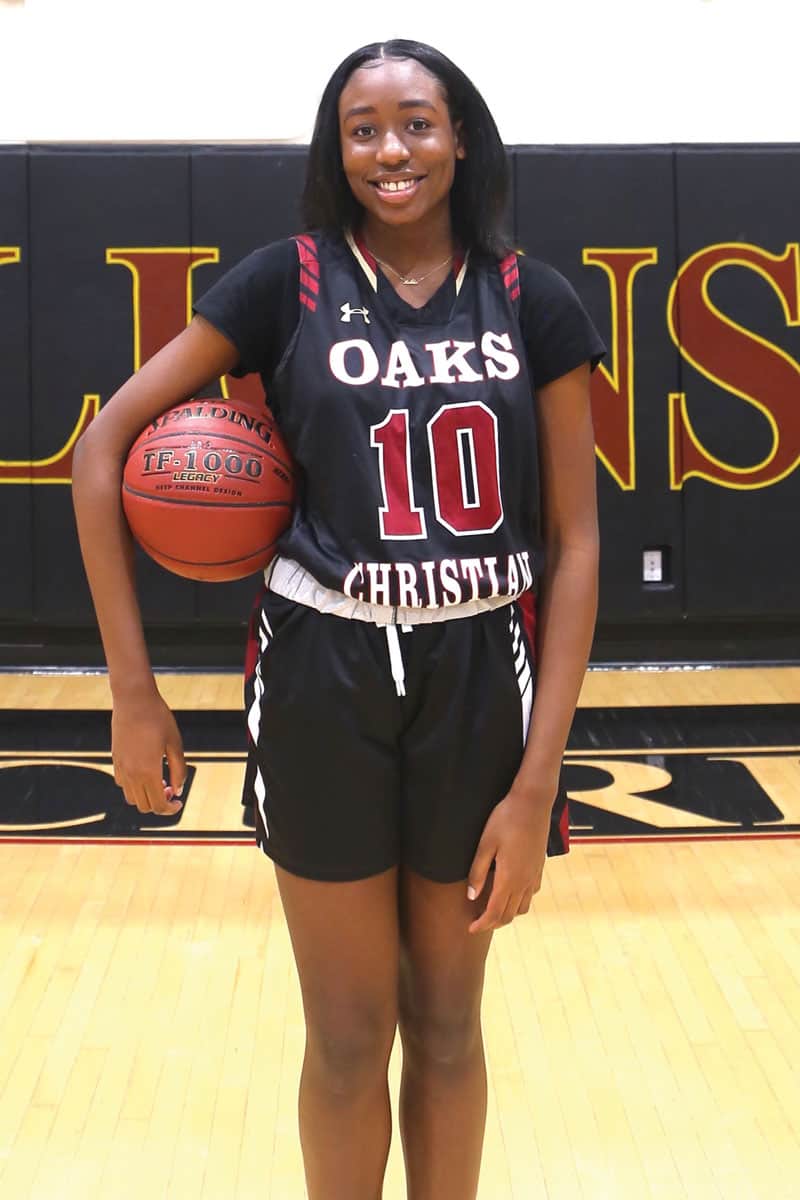 Omamoke Okah
Rookie of the Year
Interview by Taylor Moore
14-year-old Omamoke Okah is already 6 foot 3 inches tall and is turning out to be one of the most exciting rising stars at Oaks Christian School. Already playing on the Girls Varsity Basketball team under the leadership of coach Taylor Lilly Wilde, Omamoke won "Rookie of the Year" and together with the Oaks Girls Basketball team – made it to the Quarter Finals of CIF Division 2A Southern Section. They won the Viewpoint tournament Championship in December 2019, and Omamoke was selected to "ALL TOURNAMENT TEAM". Oaks Christian School won the Marmonte league Basketball Championship 2019-2020 season, and Omamoke was selected to First Team Marmonte League and First Team All Ventura County. The super talented player is currently averaging 14.6 points and 15.3 rebounds in her games.
Omamoke has also exceled at club level. She transitioned from GBL Travel ball team to California Storm under the leadership of coach George Quintero where she won several tournaments including the NIKE Elite Youth Basketball League (EYBL) Tournament 16 Nationals in Chicago. Omamoke's team also made it to the 2019 West Regional Finals for the Junior NBA tournament in California.
Omamoke was privileged to have been mentored by Kobe Bryant on numerous occasions. His death has had a deep effect on her, and she's determined to carry his legacy forward as she sets her sights on the WNBA.
Q: What does it feel like to be born with a huge athletic gift? Does it sometimes feel like a lot of pressure or do you enjoy that pressure?
Omamoke: To be born with such an incredible gift is amazing and it doesn't feel like that much pressure, because you have people that uplift you on occasions when you need it the most on the team.  Other people help you along the way so you know what's right, and what you have to do for the good of the team as well as the game.
Q: Are there any negative effects?
Omamoke: I think negative effects are that certain people come to you and ask you questions about your future and maybe expect you to have it all figured out and you don't really have the answer to it.  I just give them the best answer that I can.
Q: When did you start to take a real interest in basketball and why?
Omamoke: I started to take a real interest in basketball when my older brother started to play basketball.  I watched him playing games in the gym and realized I wanted to play.  The minute I picked up the basketball, I fell in love with it, and the game. I wanted to be like my brother, but now I realize I play because I don't want to be like anyone else, I just want to be me. Originally I knew I wanted to play a sport and be a part of something, and I realized very quickly that basketball was just the sport for me.
Q: Who are current players in the NBA and WNBA that you watch and learn from?
Omamoke: I have a WNBA player that I have learned a lot from. Elizabeth "Liz" Cambage is a professional basketball player who plays for the Las Vegas Aces.  Her position is center, and I love watching her skills on the court. She uses something called a drop step which I love doing, and I love doing the up and under moves and also hook shots. I began to watch her closely. I love how she dominates other teams while she's on the court. I really try to use those same skills in the games that I play.
Q: Recently you were a critical player in Oaks Christian School's success in the girls basketball team making it to the CIF Championship. Was that a moment when you felt a great sense of achievement as their rookie Freshman center?
Omamoke: I was so happy and thought it was incredible when I was chosen as Rookie as a Freshman.  It truly is an honor and also a challenge knowing my teammate, Taylor, who is a Senior, is leaving the team. I know I have to live up to expectations to help carry the team like she did.  I had an amazing year playing with Taylor and learned a lot. I really had fun with her and I was amazed that we made it to the CIF Championships. It showed me that with hard work, teamwork and coming together as a team, anything is possible.
Q: You will continue to play through the summer for the AAU Club team, the Cal Storm, and then next season at OCHS, your responsibility as a player intensifies with Taylor going off to college. Are you looking forward to that challenge?
Omamoke: I am ready and looking forward to that challenge because I know it's my time to be a leader on the team, along with other upperclassmen that are ahead of me. I want to be a leader both with and actions. A great leader unites the team, and helps it to grow
Q: Kobe Bryant's death impacted you greatly because he has given you advice and mentored you in basketball.  What are the valued lessons you've learned from Kobe?
Omamoke: I have learned many things from Kobe.  One time after a game, Kobe said to me, "If you don't believe in yourself, no one is going to do it for you." I thought that was a really valuable piece of advice from Kobe. It's so important that I step up and play with heart and do something great so I can inspire not only myself, but also others. Kobe was saying that it's important to play for yourself and nobody else.
Q: Where do you think basketball is going to take you?
Omamoke: My dream ever since I picked up a basketball is to play professionally beyond college. I have always looked to the future and hope to show off my skills even more as I develop them over the years, and inspire others to do the same.
Q: How has your faith in God played a role in your life?
Omamoke: My faith has brought me to do amazing things not only in basketball but in life.  It has helped push me to believe in myself even when I thought I couldn't accomplish certain things. It's given me strength when I was down, like getting this award; I remember when I didn't think I could even do something like this and now, here I am.  My faith in God has inspired me to push harder and accomplish even greater things in life and in basketball.
Q: What is your favorite relaxation activity?
Omamoke: Chilling while listening to music, and then I grab my paint brush and paint.
Q: What's your favorite food dish?
Omamoke: Definitely pasta and meatballs
Q: When you blow out your next birthday candles what will be your wish?
Omamoke: To make it to the McDonald's  all American while I am in high school and become a Jordan brand classic player.
Q: Favorite Movie?
Omamoke: Coraline
Q: Favorite Artist?
Omamoke: Chance the Rapper
Q: How will you honor Kobe Bryant's legacy?
Omamoke: By striving every day to be greater than I was yesterday.