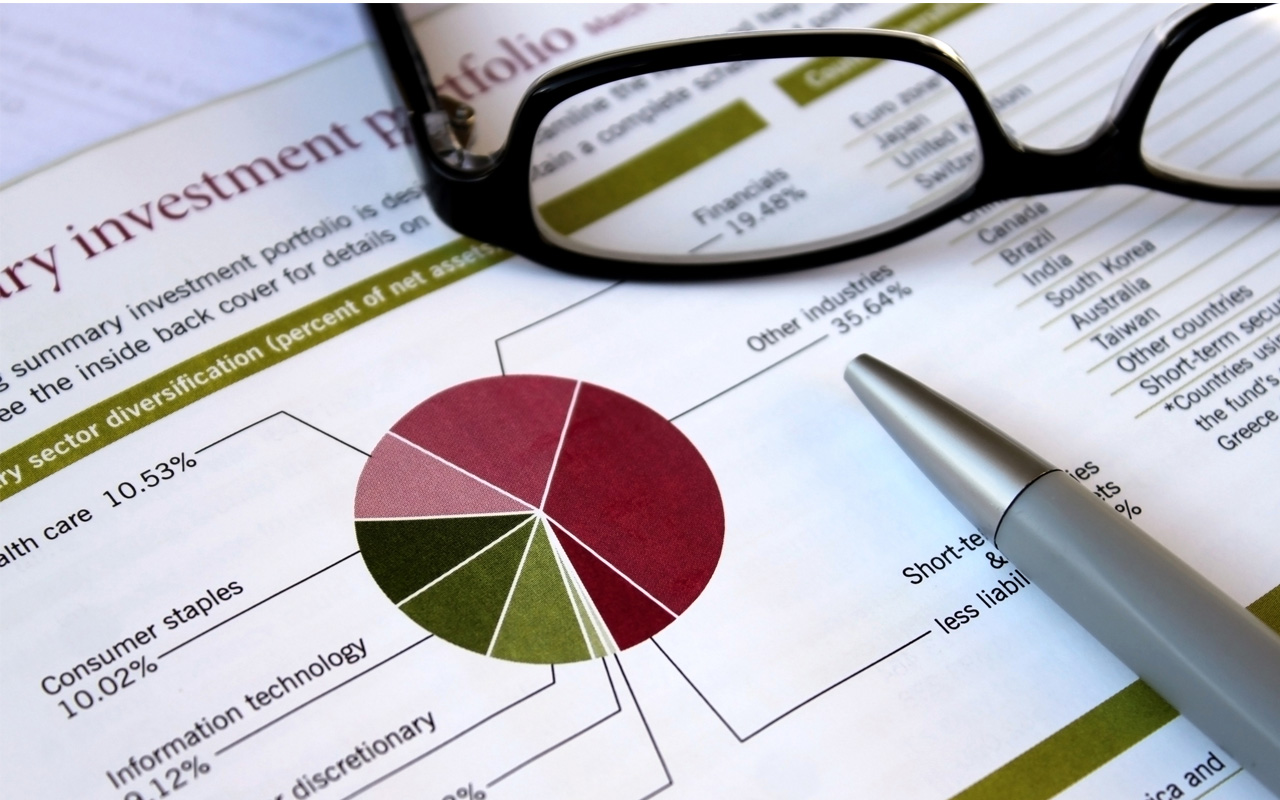 In finance, a portfolio is a collection of investments.[1] The term portfolio refers to any combination of financial assets. Portfolios may be held by individual investors or managed by financial professionals, hedge funds, banks, and other financial institutions.[2] The monetary value of each asset may influence the risk/reward ratio of the portfolio.[3]
Asset allocation is the implementation of an investment strategy that attempts to balance risk versus reward by adjusting the percentage of each asset. It is designed according to the investor's risk tolerance, time frame and investment objectives.[4] Many financial experts argue that asset allocation is an important factor in determining returns for an investment portfolio.[4]
Asset classes
An asset class is a group of economic resources sharing similar characteristics, such as riskiness and return. There are many types of assets that may or may not be included in an asset allocation strategy.[5] Here are 10 types of assets classes.
Traditional assets
1. Stocks: value, dividend, growth, or sector-specific; large-cap versus mid-cap, small-cap or micro-cap; domestic, foreign, emerging or frontier markets.[6]

2. Bonds/Fixed Income: investment-grade or high-yield bonds; government or corporate bonds; short-term, intermediate, long-term; domestic, foreign.[7]
3. Cash – checking/deposit account, money market fund.[8]
Alternative assets
4. Commodities: precious metals, nonferrous metals, agriculture, energy.[9]

5. Real Estate: commercial or residential, REITs.[10]

6. Collectibles: art, coins, stamps. [11]

7. Insurance products: annuity, life settlements, catastrophe bonds, personal life insurance products.[12]

8. Derivatives: options, collateralized debt, and futures.[13]

9. Currency: dollars ($), euros (€), rupee (₹), yen (¥), pounds sterling (£).[14]

10. Venture capital/Private equity: private funds to startups, early-stage, emerging companies, leveraged buyouts, growth capital, distressed investments.[15] [16]
Allocation strategy
There are several types of asset allocation strategies based on investment goals, risk tolerance, time frames and diversification. The 4 common forms of asset allocation are: strategic, dynamic, tactical, and core-satellite.[17]
Strategic asset allocation
An asset mix that seeks to provide the optimal balance between expected risk and return for a long-term investment horizon.[18]
Dynamic asset allocation
Similar to strategic asset allocation in that portfolios are built by allocating to an asset mix that seeks to provide the optimal balance between expected risk and return for a long-term investment horizon.[19]
Tactical asset allocation
An active approach that tries to position a portfolio into those assets, sectors, or individual stocks that show the most potential for perceived gains.[20]
Core-satellite asset allocation
A hybrid asset allocation that contains a "core" strategic element making up the most significant portion of the portfolio, while applying a dynamic or tactical "satellite" strategy that makes up a smaller part of the portfolio.[21]
At Ironcrest Capital Management, we strive to make sure that everyone we work with has a strong understanding of their investments. Having a good approach and focus on the most important factors before investing is key. Let us help you make the right decisions. If your current investing approach isn't working, reach out to us so we can help.
Copyright © 2022 Ironcrest Capital Management – All Rights Reserved. Ray DiBartolomeo is Pres­ident & Chief Compliance Officer at Ironcrest Capital Management LLC. Ironcrest Capital Man­agement LLC is a Registered Investment Adviser. Advisory services are only offered to clients or prospective clients where Ironcrest Capital Management LLC and its representatives are properly licensed or exempt from licensure. This piece is solely for informational purposes and may not be a complete description of financial planning services offered. If you have questions about our services or the content discussed herein, please contact us. Past performance is no guarantee of future returns. Investing involves risk and possible loss of principal capital. Any indices referenced for comparison are unmanaged, do not incur fees and expenses and cannot be invested in directly. Past performance is no guarantee of future results. No advice may be rendered by Ironcrest Capital Management LLC unless a client service agreement is in place.
1. Investopedia (2003-11-25). "Portfolio". Investopedia. Archived from the original on 2018-04-20. Retrieved 2018-04-19. 2. Markowitz, H.M. (March 1952). "Portfolio Selection". The Journal of Finance 7 (1): 77-91. 3. Hatemi-J, A.; El-Khatib, Y. (2015). "Portfolio selection: An alternative approach". Economics Letters. 4. "Asset Allocation Definition". Investopedia. Retrieved 27 June 2011. 5. International Accounting Standard (IAS) 32.11. 6. "Stock Definition". Investopedia. Retrieved 25 February 2012. 7. Harper, Douglas. "bond". Online Etymology Dictionary. Retrieved 2017-07-23. 8. "Cash". Merriam-Webster. Retrieved 2017-08-20. 9. "Commodity definition". Merriam-Webster Dictionary. Retrieved 30 July 2018. 10. "Real estate": Oxford English Dictionary online: Retrieved September 18, 2011. 11. "Collectable". TheFreeDictionary.com. Retrieved August 19, 2013. 12. "The Industry Handbook: The Insurance Industry". Investopedia. 7 January 2004. Archived from the original on 7 September 2018. Retrieved 28 November 2018. 13. Office of the Comptroller of the Currency, U.S. Department of Treasury. Retrieved February 15, 2013. 14. "Currency". The Free Dictionary. "currency […] 1. Money in any form when in actual use as a medium of exchange, especially circulating paper money." 15. Schmitt, Antje; Rosing, Kathrin; Zhang, Stephen X.; Leatherbee, Michael (September 21, 2017). Entrepreneurship Theory and Practice. 16. Investments in private equity An Introduction to Private Equity, including differences in terminology. Archived 5 January 2016 at the Wayback Machine. 17. "Asset Allocation Definition". Investopedia. Retrieved 27 June 2011. 18. Idzorek, Thomas M., "Strategic Asset Allocation and Commodities", Ibbotson Associates, March 27, 2006, Morningstar, Inc. 19. Blitz, David and Van Vliet, Pim, "Global Tactical Cross-Asset Allocation: Applying Value and Momentum Across Asset Classes", The Journal of Portfolio Management, Fall 2008, pp. 23–28. 20. Faber, Mebane T., "A Quantitative Approach to Tactical Asset Allocation", The Journal of Wealth Management, Spring 2007. 21. Singleton, J. Clay, Core-Satellite Portfolio Management: A Modern Approach for Professionally Managed Funds, McGraw-Hill 2004