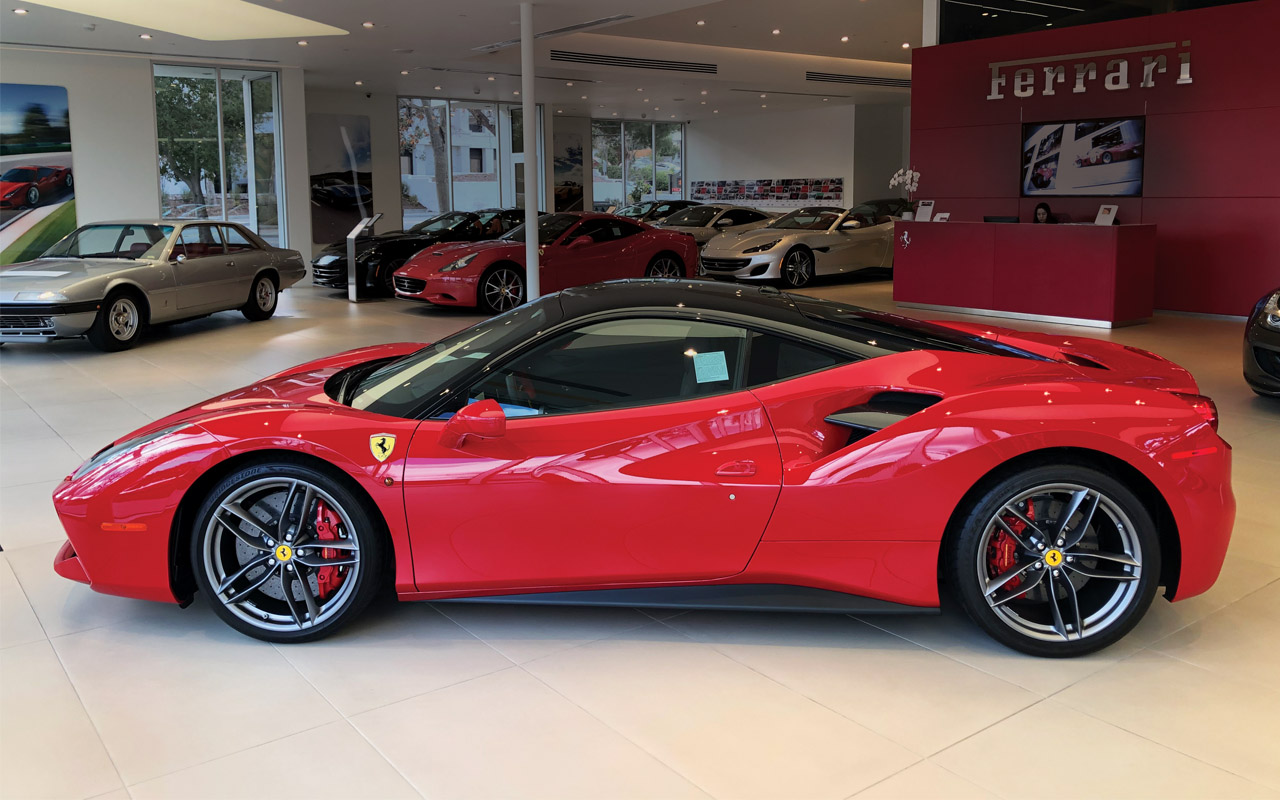 Ferrari Westlake opened its glass-walled show place four years ago. For reasons I cannot explain — even to myself — I had not seen it. Giacomo Mattioli, founder and CEO of the Mattioli Automotive Group, had created it to fill the gap between his three Ferrari dealerships in the greater Los Angeles area and his destination store in Silicon Valley. He had moved from the Ferrari North America legal department through dealer development to ownership of Ferrari Beverly Hills, which he has developed into the largest grossing Ferrari dealership in North America. Ferrari Westlake is now a destination Ferrari store with all nine Malibu canyons between PCH and Mulholland only minutes away. My recent brief visit reignited a Ferrari passion I had permitted to cool for too long. Within a few dozen steps I was flooded with memories of California dreams, Ferrari Owners Club friends, the Monterey Historics and Maranello.
My dad was quiet. College was not giving either of us enough value for his investment. I explained there was an opportunity to drive to California with a high school friend and I had agreed to share expenses — and use my car. The Los Angeles world of cars would be my new home. I would be leaving the following Monday. That morning he handed me an envelope containing safety-net cash and said, "You'll be fine." High praise from a man who left Texas for a job in Pennsylvania at the age of 17. I was 19, it was 1961. My reason, as I often explained through succeeding years, was cars. That was never precisely correct. It was Ferraris. Through high school I had assembled a small library on that subject and had yet to see one. Finally, I did and often.
Upon returning from the West Pacific hysteria in 1968, we sold my wife's much-loved Alfa Romeo Giulia Super and bought our first Ferrari, a 250 GTE family car, bought a house in Redondo Beach for $29,500 and joined the Ferrari Owners Club.
After a couple years of Ferrari Club hill climbs and track days in the Alfa 1750 GTV that replaced the GTE as a Petersen Publishing commuter, Ed Niles, early member of the L.A. club, offered me his 1953 Ferrari 166MM to enter in the recently established Monterey Historic Automobile Races.  And my California dream had surpassed my imagination. Other Ferraris were offered for club events while I designed and wrote stories for Motor Trend, Vintage Racer, then Road & Track. I found myself an established member of the vintage road racing scene when David Love, co-founder of the San Francisco CSRG (Classic Sports Car Racing Group) offered his 250 Testa Rossa for a Laguna Seca club event. I wrote what I was thinking — and David continued to enjoy seeing his car in action:
Ferrari's "Song of the Twelve" reverberated off the concrete wall at the exit of turn eleven and filled the little canyon that contains Laguna Seca Raceway. The legendary Italian aria filled my helmet, too, as the 250 Testa Rossa sang a 6000-rev crescendo. I pushed in the clutch and slid the heavy steel gearlever through its gate to select the next chorus. I saw it as an historical move. Far more serious practitioners had made the same move better and for more important reasons in this car's history. I was no more than a lucky interloper in a remarkable place. Driving any Ferrari puts you in contact with a brief vital chord of history, but a Testa Rossa carries the soul of the classic Ferrari.
In the mean time, Road & Track and Automobile magazine augmented my fantasy and put me in places beyond dreaming, including Italy and Ferrari and Pista di Fiorano — often.
And beyond imagining … The technical briefing was winding down. A dozen American journalists were asking questions, the depth of which suggested the knowledge/ experience of the source. We were in a half-lit room watching and listening and interrogating the bright young engineering talent of Ferrari's future for over an hour. The room was softly lit by sunlight making its way through the translucent drapes across the window-wall in front of us. Dr. Emelio Anchisi, then the Director of Ferrari North America, was looking anxious and mentioned the time to the presenters. Suddenly the door to our right opened and was held open by Piero Lardi Ferrari and in walked his dad. The wizened old gentleman was wearing his signature sunglasses, but they were not opaque. His eyes were visible through the grey tint. The room filled with soft chatter and fell silent as Dr. Anchisi helped Ferrari into his chair. Never Enzo Ferrari, for most of his business life, he was Ferrari. 
The room remained silent…for several uncomfortable minutes. Ferrari spoke quietly in a small, almost tenor voice. Dr. Anchisi explained, "Mr. Ferrari [just for us] wonders why no one will speak."
I suggested that we were kind of in awe of Mr. Ferrari's presence.
The singular deity of motorsport smiled (he understood English well) and spoke quietly again—in Italian. Anchisi, "Mr. Ferrari says, 'There is no need for that. I am just a country boy who loves cars, like most of you.'"
Still silence. Ferrari speaks. Anchisi advised us, "You may ask any questions you like of Mr. Ferrari and we will translate."
Finally, dumbfounded by the moment, and unable to construct a question about the cars we have been playing with for two days, one of us asked who Mr. Ferrari's favorite driver was.
"Nuvolari." No translation required. He continued with a brief description of why that was so. It included a lifetime of friendship punctuated with periods of driving brilliance that were almost impossible to describe. Dr. Anchisi tried, using Ferrari's words, and grappled with the emotional phrases.
A few others asked questions that eventually included current levels of technology and the future of the marque that bore the octogenarian's name. Then a prolonged moment of opportunity: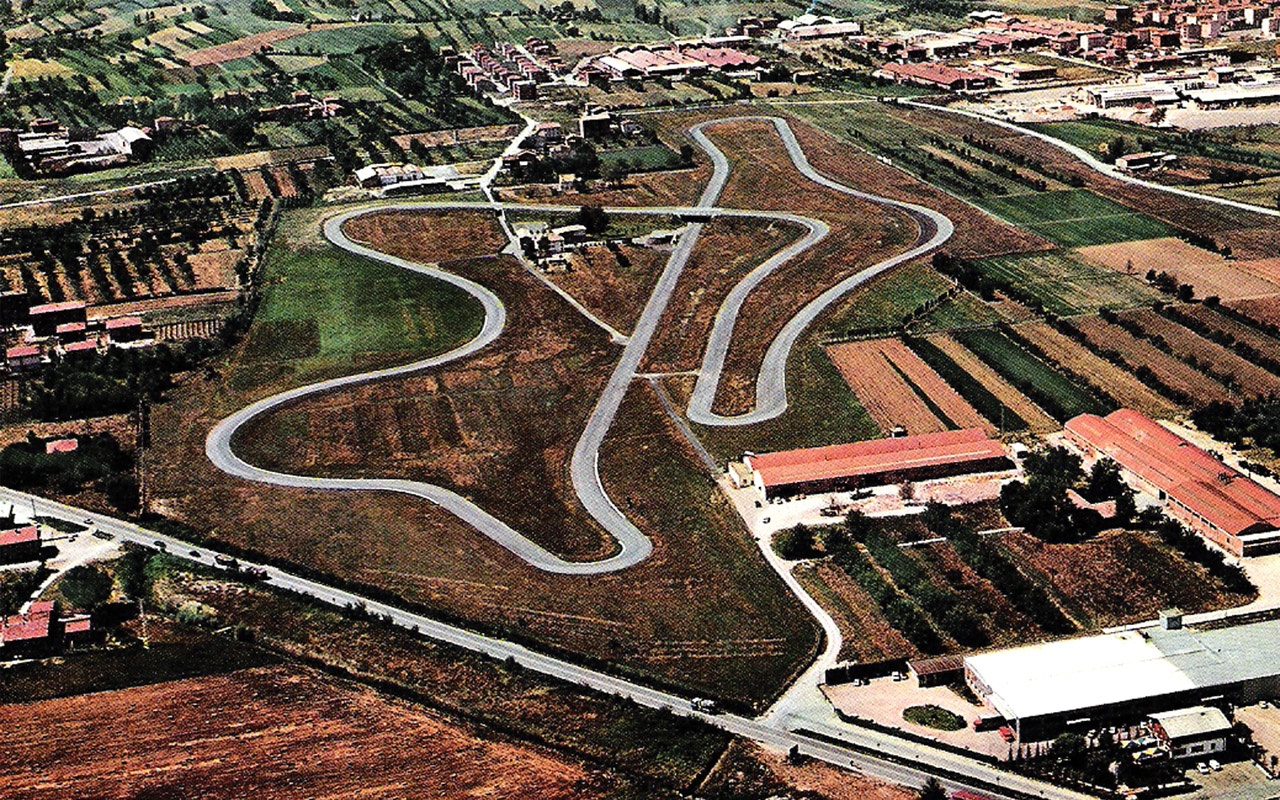 Ferrari began telling a long uninterrupted story, eyes flashing between us and Anchisi, and chuckling periodically. We smiled with him. We are all spellbound by his joy in the telling, but only a few of us understand what was being said.
Ferrari began telling a long uninterrupted story, eyes flashing between us and Anchisi, and chuckling periodically. We smiled with him. We are all spellbound by his joy in the telling, but only a few of us understand what was being said.
Ferrari suggested that Anchisi start something about our nation's upcoming election that would result in a dialogue with the journalists. Anchisi told us that he asked who would be the next president of the United States. Then Ferrari told a story (through Anchisi)…
"When Mr. Stevenson [Adlai] was a candidate for the nomination for the presidency he came here on a Sunday with a lady and another customer. They visited briefly and were taken around to see the factory [by Mr. Ferrari]. And then I took them in my car to the highway where there were two cars waiting for them.  So, Mr. Stevenson told me, 'Please thank Mr. Ferrari for his kindness, for allowing me to visit his factory.' I said, 'Well, look, I am Mr. Ferrari.' Then, Mr. Stevenson asked me, 'Explain to me why, you, who has never been to the United States, are more famous in the States than me who is living there and running for office?' "  Mr. Ferrari answered: " 'I don't know that, but then how did you get the nomination for the presidency?' Stevenson said, 'Now this is a totally different story and we don't want to talk about it.'"
Ferrari began laughing heartily and we all joined in. He had enjoyed the memory of that story as much as entertaining us with it. 
Another question brought up a Ferrari favorite.
Ferrari commenced telling the story through Anchisi: "The story of the prancing horse is simple and fascinating. The prancing horse was painted on the body of the fighter of Francisco Baracca, the heroic flyer of Montello (the finest air worriers), who was shot down during World War I. When in 1923, I won on the first track event in the Savio (The Savio was the name of the track, the ring [an open road circuit]), I met Count Enrico Baracca, the father of the hero of the fliers. From that meeting there was another meeting with the mother, Countess Paolina. Countess Paolina wanted to tell me, 'Ferrari, put on your racing cars the prancing horse of my son. It will be the lucky sign for you.' I still have the picture of Francisco Baracca with the dedication to me by his parents, who gave me the prancing horse symbol. The prancing horse was and remains black. What I added was the yellow color background that is the Modena color."
Our time was up. Half an hour to touch lives, to alter perceptions. The legendary curmudgeon – who gloried in making the mighty wait for his audience – had thoroughly enjoyed entertaining a small group of journalists from his largest market. He was obviously able to assume the character necessary for his best advantage. We loved it.
My fifth and last trip to Maranello and Fiorano was to drive the F50. I loved it. It is a Ferrari sports car. Here is a piece of my published review in Automobile magazine.
he F50 door probably weighs less than the wallet of its buyer. It opens a long space and makes entry easy. I reach over and grip the fences on either side of the driver's seat and let myself down between them. Connolly hides over the seat except for a breathable fabric center section. Nothing else is upholstered. Carbon fiber and rubber mats are the interior textures. I'd love the opportunity to do a cross-country test in here. But for now, it's just five laps of Pista di Fiorano. 
First turn the key a quarter-turn to the start position. Nothing. Turn it another quarter-turn and still nothing. Push it in like the old Ferrari twelves. Nothing. Assume a really dumb expression and look up at Dario Benuzzi, who is smiling because he has the best job in the world, Ferrari test driver.
"Push button," he says.
Look down under the key and there it is, a start button. Push. Boom. Go. It is not easy to begin a lap of Fiorano in Ferrari's fastest road car feeling foolish. But one does what one must.
Engaging the twin-disc clutch is expectedly smooth. The compact Formula 1-derived V-12 has been tamed and produces torque right from idle. Its racing volume of 3.5 liters is up to 4.7, and its rev limiter has moved from 14,000 to 8,750 rpm. Its power and torque curves are softer and a bit more forgiving. I select second at about 5,000 revs thinking about turn one. Third gear gets me to the left-right combination, which is better in second. Snick. Geez. That's light. Ferrari's shiny steel shifter gate has required a conscious effort to negotiate since it reached road cars in the mid-Sixties. The effort was exacerbated by cold, heavy gear lube. Then came multi-weight gear oil in the 512TR, which helped, but now this nearly Grand Prix car has the lightest action yet. There is a heat exchanger that heats the gearbox oil with engine coolant because the coolant heats more quickly; then when the car is being worked hard the coolant also keeps the gear oil from overheating. Simple and effective, like many other concepts in the F50.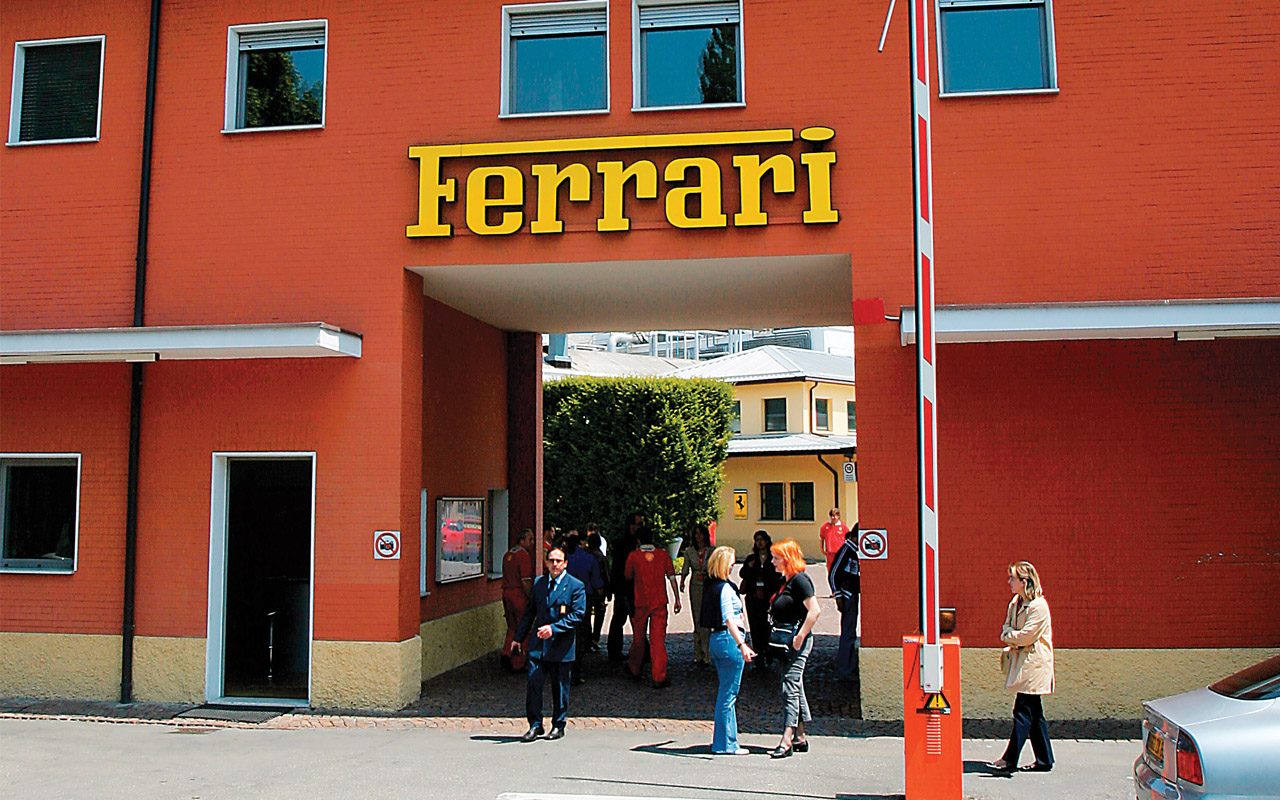 Walking out of Ferrari Westlake, my Ferrari fire blazing and looking forward to an afternoon full of hours of memories, I make myself a promise to return when I can.
Feed power as the track curves around the skid-pad and brace for the big power surge, but there is nothing explosive about the delivery. In spite of being a 287-cubic-inch, 60-valve F1 V-12 that produces 513 bhp at 8,500 rpm, power is delivered smoothly from off-idle to peak revs. No surprises. The brief technical presentation that stressed the creation of a safe, forgiving supercar becomes clearer on the racetrack, where Ferrari wants its owners to play.
The right turn that leads onto the overpass arrives quickly. Brakes; too hard, too soon! Power into the corner and up onto the overpass. I remember climbing into the Testarossa some years ago after Benuzzi had done laps and having the brake pedal bang flat on the floor. Then the 512TR press briefing, when the car was able to do ten laps of Fiorano without brake fade. Now, the F50 has racing brakes. They are so huge, progressive, and effective, with Brembo four-piston calipers on 14-inch and 13.2-inch vented and cross-drilled rotors, power assist and ABS were deemed unnecessary. And the pedal set is adjustable to the owner's shoe size. "Let's make this the most user-friendly supercar ever", they said.
Across the overpass and into the off-camber right that leads back down to pit level with revs too low in third gear. Trying to carry speed introduces the much-discussed understeer; a contrived safety feature. Even so, I am pressed against the deep sidewall of the snug-fitting seat by the high limits of the huge Goodyear Eagle F1 GS-Fiorano tires.
Power on, descending the hill and across to the second hairpin. Second gear delivers wheelspin at the exit. I love the fast combination of sweepers across the back of the circuit. Into third as we gather speed for the fast left. The understeer becomes a bother and I lift to get the front to bite. Benuzzi uses full power here and balances the car with the tail detached. I don't. Then, a couple of laps later, I do, too. This is a very confidence-inspiring car. When it all goes wrong, just lift a millimeter and it all comes back. Niki Lauda was the development driver, and he spent hours creating the F50's forgiving manner. It is set up so that a skilled amateur can use its limits on a track or on a road he knows well and always be able to lift and gather it back up before it gets expensive.
Fast in fourth toward the big 180-degree turn at the end of the rear section. Ferrari engineers spent months developing the airflow patterns both under and over the body. A surprising benefit was the reduction of turbulence in the open cockpit, which is better than a coupe with the windows open.
Hard braking and down to second again. Later this time and full power at the apex. Eight thousand revs down the pit straight. You can feel the engine. It is attached directly to the tub like the 1990 F1 car upon which the F50 is based. The tub is made of a complex aerospace blend of carbon fiber, Kevlar, and Nomex. It is strong, of course. It weighs only 225 pounds and has a torsional rigidity of 25,677 pounds-feet per degree, but its most remarkable success is in the absorption of vibration. It gives you the impression of driving a racing car on the street, but the hard metallic buzz that affects your focus in a racing car is reduced to a little more than a therapeutic hum here. The impression is intended, but this is a reasonably civilized sports car.
here is noise though, a sensational Ferrari V-12 noise. The stainless steel exhaust plumbs two routes through the muffler boxes. One creates the big flat sound that will be familiar to drivers of Boxers and early Testarossas, but when the revs climb with full throttle, the pressure finds a more convenient route around the primary baffles. The new route raises the pitch a couple octaves and multiplies the decibels to match. Think 330P3, not 250GTO. By the time I pass the pits and complete the lap I am in fourth, filling Fiorano with the wail of a modern Ferrari racing car.
uccessive laps feel more comfortable. The car is genuinely pleasant to drive. This is not a 333SP with better upholstery. It is a road car created from a Formula 1 car of several generations back. It was Ferrari heir Piero Lardi Ferrari's dream with Ferrari president Luca Cordero di Montezemolo's blessing. The earliest Ferraris could be driven to the circuit and raced. Remove the fenders and they were Grand Prix cars. This one can't but it loves running at its impressive limits. The old man would approve the spirit of F50. Piero knows; we do too.
Walking out of Ferrari Westlake, my Ferrari fire blazing and looking forward to an afternoon full of hours of memories, I make myself a promise to return when I can. The big glass treasure box next to the 101 is worth a visit, if for no other reason than to fire your own lust and promise to create your own Ferrari memories; every treasured memory-maker in the windows is for sale.