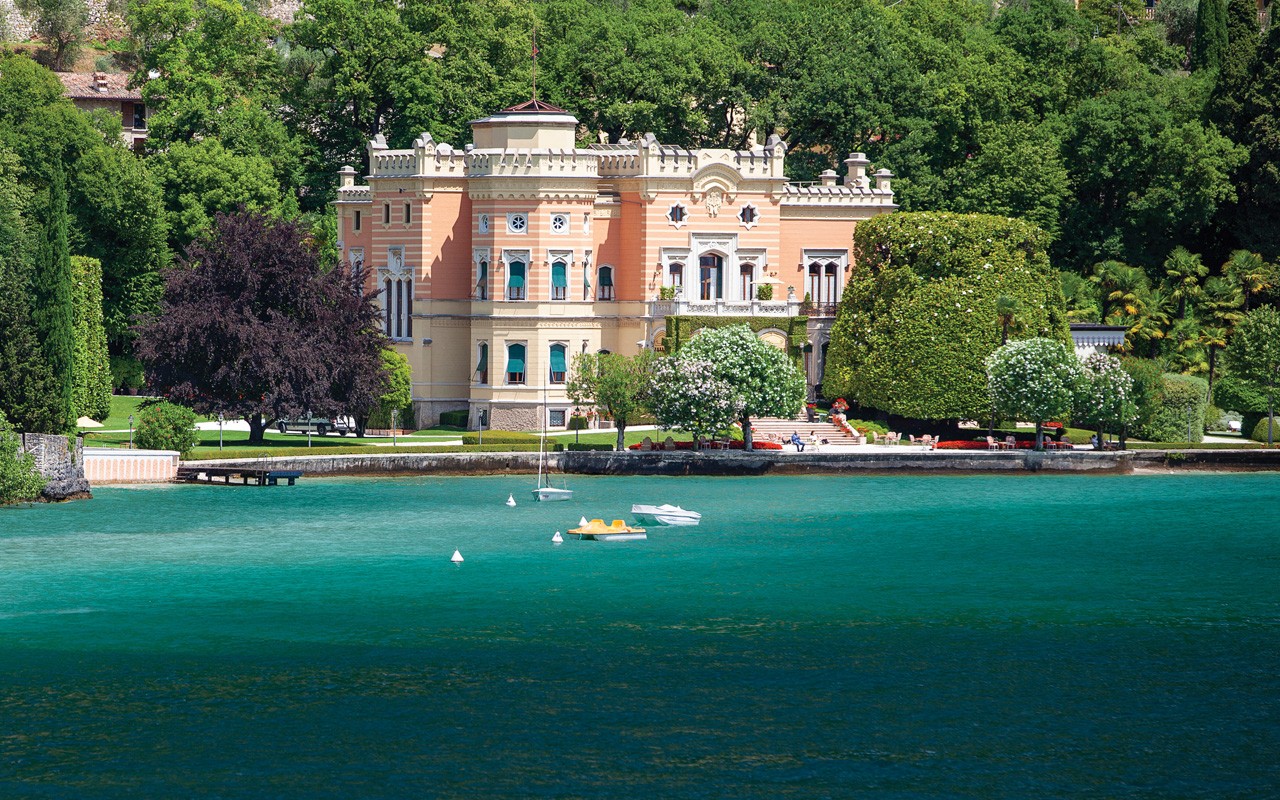 For travelers visiting Gargnano (also called Monte Gargano, a mountainous promontory jutting into the Adriatic Sea from the east coast of Italy), Grand Hotel a Villa Feltrinelli is an excellent choice for rest and rejuvenation. Well-known for its romantic environment and proximity to great restaurants and attractions, Villa Feltrinelli makes it easy to enjoy the best of Gargnano.
This exclusive villa overlooking Lake Garda is set in impeccably kept grounds and offers outstanding service and Michelin-starred cuisine to match. The rooms are elegant and cozy with the living areas seemingly melting into one, and meals are served anywhere on the property. A stay feels like a visit to a friend's elegant country home.
Set within the villa or the hotel's grounds, the sophisticated, old-world rooms and cottages are all individually decorated. All offer Wi-Fi, and grand bathrooms with heated marble floors. Some have frescoed ceilings, or Venetian mirrors and chandeliers.
Amenities include breakfast and parking. There's a refined restaurant and a bar, as well as a spa and an outdoor pool. The lakefront gardens are gorgeous, shaded by olive, ancient oak and magnolia trees, and home to a 19th-century tiered lemon garden. You'll find an inviting outdoor heated swimming pool, a croquet green and a regeneration lounge where massages and facials are carried out using all-natural skincare products. With a staff ratio of 3:1, service is seamless. There is sun cream by the pool; complimentary wine in the rooms and free laundry service, Freshly picked flowers from the garden are handed to guests upon arrival and you'll be given lemons from the grove to take home. Staff can organize anything and everything for guests, including trips around Lake Garda in the villa's water limousines, to cooking classes.
Given the close proximity of popular landmarks, such as Chiesa di S. Matteo a Muslone (0.9 mi) and Chiesa dei SS. Martiri (1.6 mi), guests can easily experience some of Gargnano's most well-known attractions. Some of the restaurants that are a short walk away include Ristorante La Tortuga (0.5 mi), Trattoria San Martino – Le 3 Oche (0.6 mi), and Ristorante "Al Miralago" da Carlo e Ilaria (0.5 mi). Don't forget to check out some of the popular architectural buildings, such as Palazzo Bettoni and Chiesa di S. Francesco.
Villa Feltrinelli is only a 14-minute walk from the center of Gargnano, and 13 km from Heller Garden in the town of Gardone Riviera.
It is immensely private, undeniably beautiful, incredibly well kept, and simply feels special.