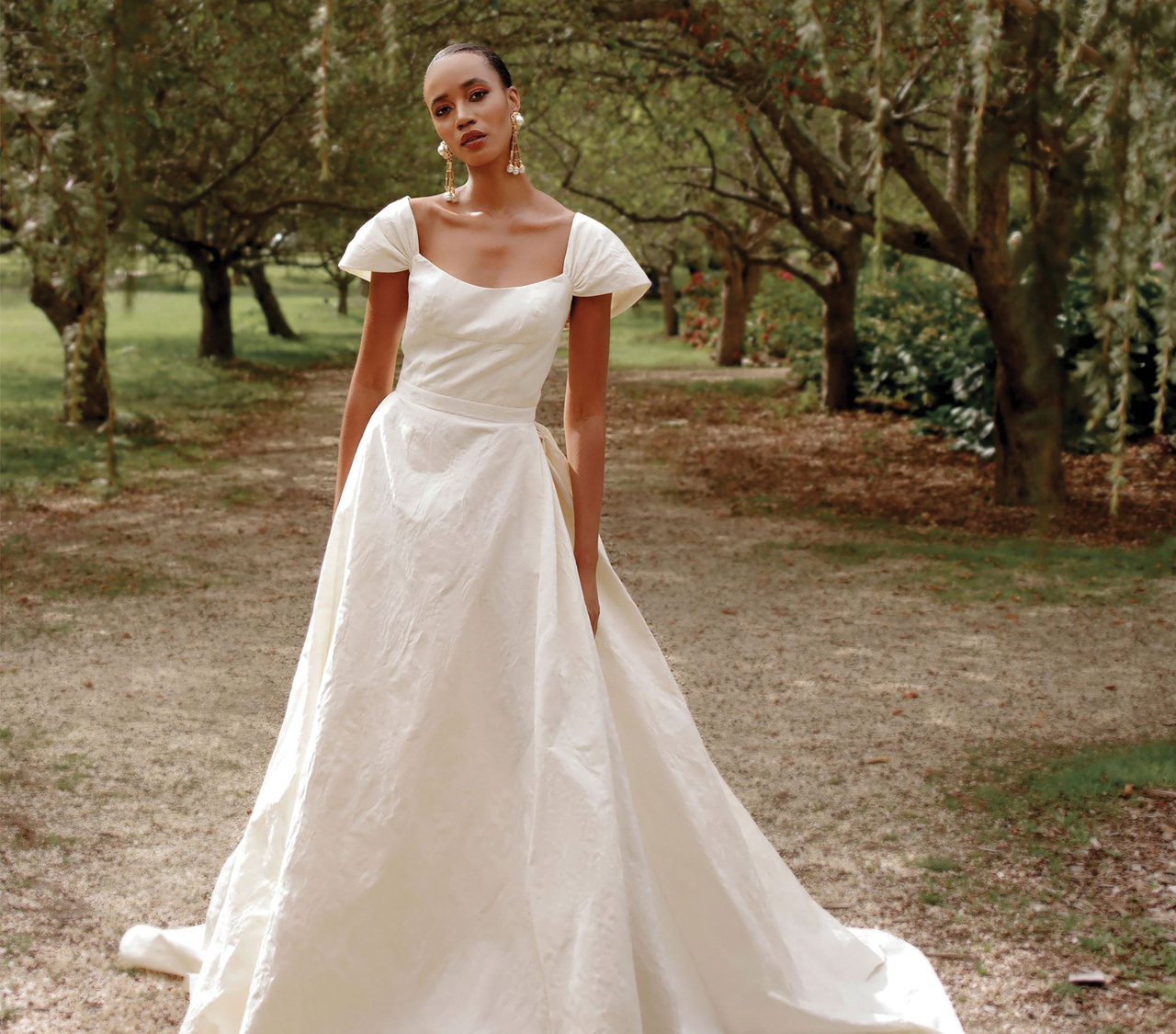 I stepped into 2021 like everybody else – pasty, cranky, exhausted, and awfully disappointed in my fellow human beings. I wanted out of everything. Out of depression, of the endless online interaction, of the suffocating pandemic rut, and out-out, as in nature, outdoors, free. I watched the news with manic inertia, hoping for a breakout with every breaking news promise. Not much happened. One day, though, I felt a flashing breeze of excitement and it was coming from (where else but) fashion.
Watching the Inauguration ceremony, I was struck by the powerful choices made by all the significant women in attendance, from present and past first ladies to VP and VIPs. It was the perfect clearness prevailing over the perfect storm, at once a breakout and a breakthrough. Eyeing Jill Biden's ocean-blue attire, I wondered what message it was sending out, directly and invisibly. Sure, a lot was written on the subject in the weeks that followed. About the message of "trust, confidence and stability" – much needed at the historic moment; about Dr. Biden's growing inclination to support emerging American designers; and about the designer herself, Alexandra O'Neill of NYC-based luxury eveningwear line Markarian. But nobody asked my question. Inspired by the Phantom Thread movie and the 'Never cursed' blessing stitched in lavender thread that designer Reynold Woodcock slips into the linings of the dresses he makes, I wondered if Alexandra O'Neill had sewn any phantom thread into Jill Biden's attire and if so, what did it say. Was it a message of hope, of restored decency and normality? I had to find out, so that's how this interview happened.
Alexandra O'Neill (nicknamed by close ones Ali) is the epitome of a modern-day couturier, being worn by high-profile celebrities such as Kate Hudson, Felicity Jones, Kerry Washington, Laura Dern, Priyanka Chopra, Thandie Newton, Andie MacDowell, and many more. She is self-taught, however, having learned the basics from her grandma GiGi when she was just 10 years old. I caught up with the openly-declared romantic talent right amid the NY Fashion Week.
WML: Thanks so much for being with us today, during the hectic Fashion Week in New York. I think we are safe to say that 2021 has started on the right foot for you – with designing a custom look for incoming First Lady Jill Biden, and the most pleasant surprise to see Jill Biden choosing it for President Biden's inauguration. Now that enough ink spilled on the subject and the emotional dust has settled, how do you look at the experience in retrospect?
Alexandra O'Neill: It's been an incredible experience, a thrilling emotional rollercoaster. The outpouring of well wishes and congratulations was beyond anything I could ever imagine.
WML: When I watched the Inauguration and saw Dr. Biden's attire, I asked myself – remember the movie Phantom Thread – if you had sewn a message into the hem of Dr. Biden's dress. And, if so, what would the message be?
Ali: It's so strange that you ask this. Because we did sew a phantom thread into the attire – we sewed 46 into the lapel of the coat (for Joe Biden becoming the 46th U.S. president), embroidered in the matching color. We didn't tell anybody we would be doing it, just popped it there to mark the moment for good – the most challenging power transfer in recent American history.
WML: How do you see the special relationship between fashion and power? What's the best way for a woman to convey through her style the idea of strength, substance, power – be it professional or political?
Ali: I think that women, in general, have always been judged by how they look and not by what they do or who they are, and this has changed only in the last few years. Now, people get to see beyond just the looks, to what is on the inside. That's why I think that women in power should wear what they feel makes them confident, emboldened, and truthful.
WML: With 2020 being such a difficult year, anticlimactic at best and downright demoralizing at worst, a year of introspection as much as one of frustration, of economic and social turmoil – is fashion still relevant in 2021?
Ali: First of all, many people indeed perceive fashion as unimportant, a frivolous preoccupation with dresses and fads, but we should understand that fashion is a huge industry, one that employs hundreds of millions of workers globally, ultimately supporting hundreds of millions of livelihoods. Second of all, for me, fashion has always been an escape, something that I've always loved doing, something that is aspirational. Fashion is an art form, worthy to create and watch. Also, fashion is something that brings us comfort – look at us now, all cuddled indoors in comfy sweats and loungewear, and taking pleasure in it despite the whole context. Fashion will always have a place in our lives.
WML: Many industry specialists say that fashion is becoming less trend-driven and more individual. Fashion is getting personal, they say. What's your take on this?
Ali: It's true. I think that people are moving away from the idea of fast fashion and having to consume as much fashion as possible, following impersonal seasonal trends – that is simply exhausting and not sustainable. For us, at Markarian, it's a bit different, as we work made-to-order for the client to reduce waste, so people leave with something valuable that is individually theirs. They feel more comfortable this way, feeling they invest in something that represents them – beautifully made, long-lasting personalized pieces. And I think that this interests people much more now than fast fashion.
WML: What was your inspiration for the Markarian Spring-Summer 2021 Collection?
Ali: Like everybody else these days, we've tried to figure out what our business should be in this current climate and adapt. I'm not a daily wear designer, I create beautiful party pieces (if I may say so about myself) and bridal is a big part of our business. So we leaned into the bridal for the SS 2021, as people would still have weddings – of course not the big lavish ones, but zoomed in ones, backyard intimate weddings, small ceremonies with their families and closest friends only –and they still want something memorable to mark the moment; so bridal is major in our summer collection.
WML: There is an air of true joy that defines your Spring-Summer 2021 collection – a loose inspiration from the '80s, with a softer touch that speaks to the enduring appeal of a great party dress, whether it's floral or classic.
Ali: I truly believe that fashion is transformative; when you put something on it can really change your mood. So we wanted the collection to be something to look forward to, to get excited about, and to bring joy into your life. I wanted people to be able to picture themselves going out to dinner dressed like this, having slumber parties, and just feeling happy.
WML: How about your approach to Markarian Fall-Winter 2021-22? People rarely think that the designs they buy in September or December have been created a year before.
Ali: In fashion, we are constantly living in the future. For fall-winter I always tend to go a little bit darker and more streamlined. I followed the idea of comfort, with a pajama-style in pieces made of a really beautiful flowered jacquard with a little sheen to it, with design touches and accessories to bring them on the fancier side. The idea is to feel always put together and chic, still cozy and warm – in cashmere or sustainable mohair. I think that a lot of people, mostly everybody, are trained to live in comfort by now, especially since they've been hanging at home a lot this last year, and I don't think that this mentality or need for comfort will change anytime soon. I wanted the FW collection to respond to how we live our lives now while allowing people to choose separate pieces and wear them in a way that expresses best their individuality.
WML: In three words, please define your personal style.
Ali: I grew up in Colorado, so I'm a jeans and white T-shirt kind of girl. If I want to dress up, then I wear one of my styles – selfishly, I create what I'd like to wear; Markarian is for me. Everything I make for Markarian is something I'd like to wear myself. Ever since I was a kid, I've always been a Disney princess at heart, and how I think and feel about designing clothes is coming from this. So, I have a dual personality when it comes to my personal style – I'd describe it as whimsical, practical, and comfortable – which is definitely a contradiction.
WML: How do you get along with the overpowering digital?
Ali: I'm not a computer person, but even before the pandemic our world has been a digital one. In a way, it made things easier, curbing down the running around everywhere. It's easier for people worldwide, being able to see everything that happens in fashion in the comfort of their own home, but what is more difficult, I think, is not being able to experience fashion in person, to touch and feel – a fabric, stitching, accessories, colors against the skin. I miss the togetherness, the schmoosing of the industry's traditional events. That's very challenging.
WML: Do you have a word of NY fashion wisdom for our Californian readers?
Ali: It's so interesting to see how location plays a role in people's personal style. New York fashion is so different from LA fashion, or Paris fashion, London or Milan … so I'd just say, wear something that suits your lifestyle and you feel confident in.
WML: Your motto?
Ali: I always say that you cannot make everybody happy. So just do what you do best and stick to that.
WML: It totally worked for you!