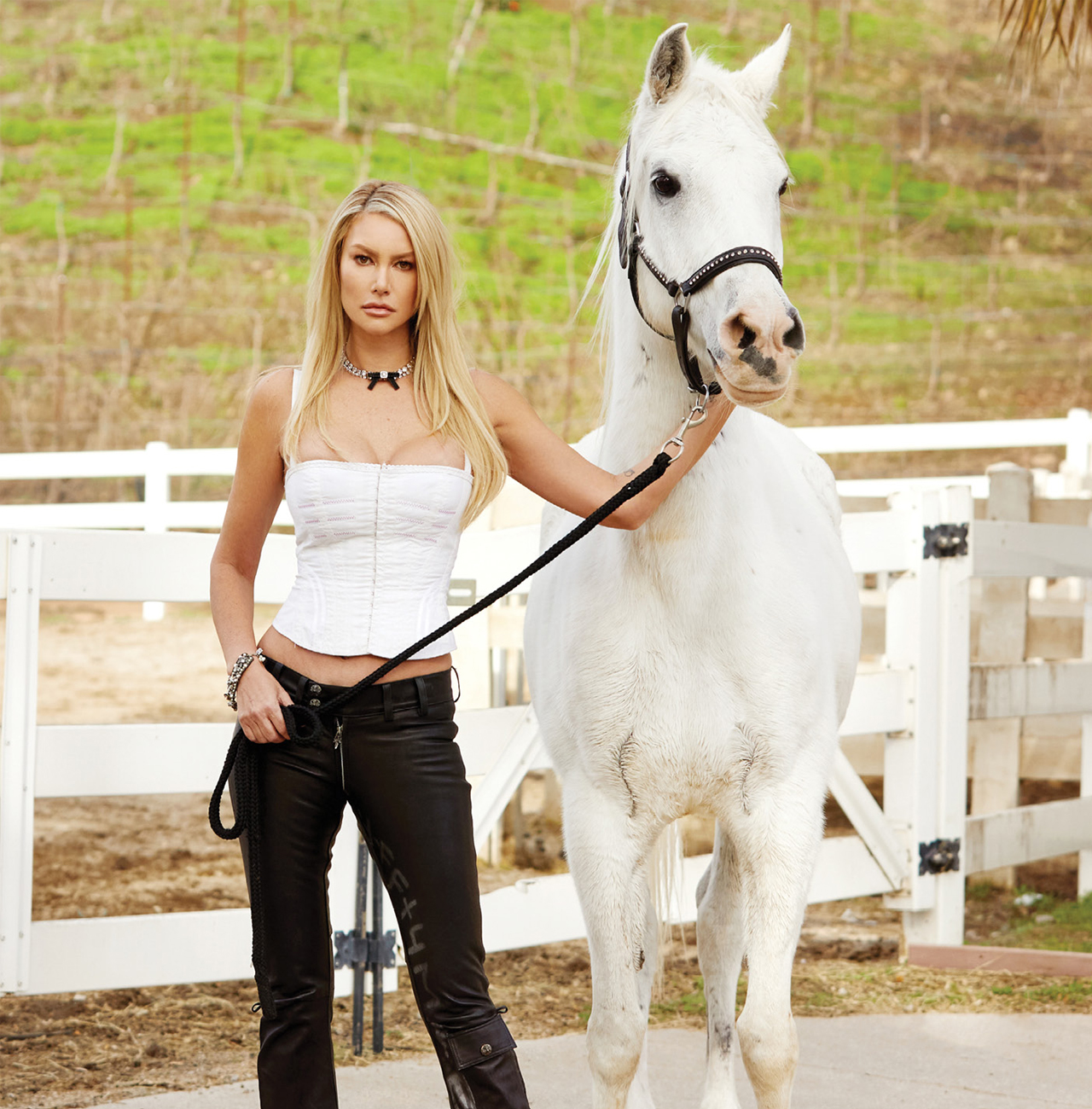 Susan Holmes McKagan radiates the power of human kindness. Her interior soul powerfully combines with her Super Model exterior, and the life she shares with her husband, Duff McKagan, of Guns N' Roses fame, is one of the best marriages in ROCK history. None of this is accidental. As you read on, the vital components of Susan's value system permeate. Her actions match her words, and the quality of life she's achieved reflects her genuine commitment to her rock-solid values.
Our cover shoot day began on the best of notes, thanks to Susan's thoughtfulness. She arrived with carefully packed contributions to our rock-themed story. She has an immense appreciation of gifts that come from the heart, and she immediately explained why the black leather pants she was about to wear for our cover picture have such symbolic and valuable meaning:
"Stephen Sprouse, a cherished friend, hand painted 'Rock On' on my Chrome Hearts custom pants for me and my family – even including their names on it. Inscribed are: 'for Grace, for Mae (our daughters), for Susan, for Duff, ROCK ON' so they're super special and tell a story while also being rock n' roll high fashion too".
"The silver paint that Stephen used is exactly that of his famous Louis Vuitton-style graffiti. In fact, Stephen sent me a postcard – that was our thing back in the 90s – sending each other kitschy cool postcards – and one of them he fashioned extra cool, from a selfie I did on an Instamatic camera at his apartment in New York City. Later, it was turned into a sentimental painting (à la Warhol style – as Stephen was a muse to Mr. Warhol and it was so fitting). This painting is on the cover of my book, The Velvet Rose. I donate a portion of the proceeds from my book to MusiCares – a wonderful charity. And of course, I hold dearly the artistic pants forever. The late, great Stephen Sprouse will always live on in my family's hearts. I feel the same way about Chrome Hearts – also one of the world's most fabulous designers. They too are family to me."
We talk more about Susan's hugely successful book, The Velvet Rose, which was released in 2019. I ask her if the book's fictional character, Scarlet, who embodies much of Susan's own real-life journey in the rock n' roll world, makes the book somewhat autobiographical.
"Oh yes," she says. "I've been told that sometimes, you can tell more about a person's journey through a fictitious novel than an autobiographical one. It's nice that I didn't have to worry about conflict with any loosely based experiences since it is a novel. There were 'no fences' or barriers comparably since it was written in a fiction format. That allowed me to run wild with fun, dynamic, and engaging characters. I penned the book in the first-person narrative, however, so it reads as if it is told through the lead female protagonist's viewpoint – which is rare in a male dominant rock n' roll love story! And yes, of course, I inserted certain elements from my own personal life as an author does."
As for the book's success: it sold out in one day on Amazon and Barnes and Noble. It also received a SCIBA Award.
The love story between Susan Holmes McKagan and Duff McKagan is a great testament to love's enduring power, particularly in a rock n' roll world that is notorious for marital wreckages. I ask Susan to retrace their love story from its inception. They met through mutual friends. The sparks exploded at first sight, and they are still exploding now. I ask her about their successful recipe.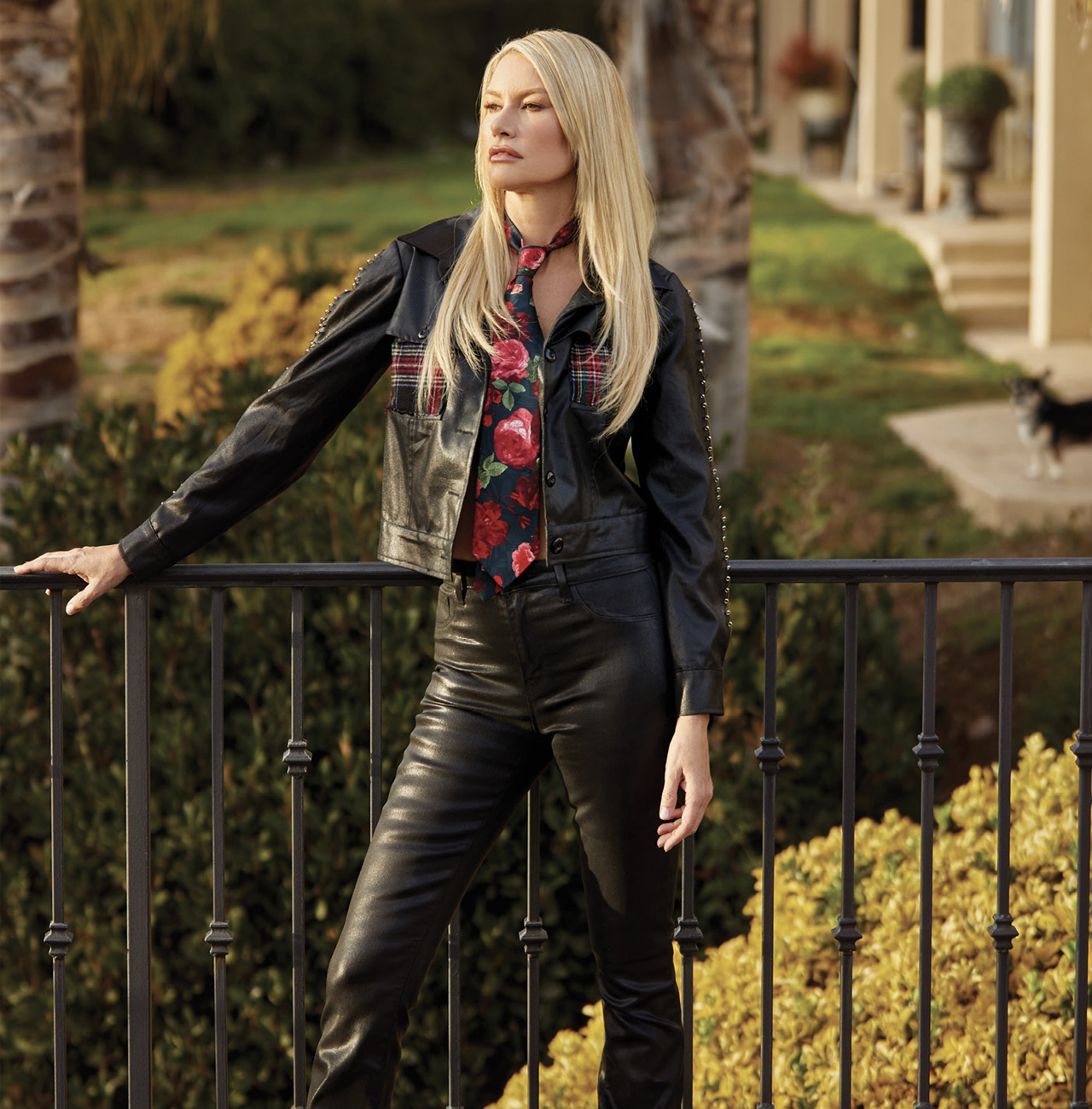 Stephen Sprouse, a cherished friend, custom hand painted 'Rock On' on my Chrome Hearts custom pants for me and my family – even including their names on it. Inscribed are: 'for Grace, for Mae (our daughters), for Susan, for Duff, ROCK ON' so they're super special and tell a story while also being rock n' roll high fashion
"Duff and I met through a mutual friend on a blind date. We are approaching celebrating our 24th wedding anniversary. We keep the sparkle alive by always putting our commitment, enthusiasm, love, and respect for each other at the forefront. We approach our relationship as if we are still a new couple. In other words, we don't take each other for granted. No excuses. We carve out the time and make it happen! We treat our relationship as equally important as we would all other important aspects of our life – be it work, friends or even our favorite passions. We love to travel together, whether it's on tour around the globe, or on our own private holiday. We find that a change of scenery is always a significant way to keep our love and adventure alive."
I press in for more details because a superstar ROCK lifestyle involves a hectic traveling schedule, and groupies following Guns N' Roses across the globe. Susan views that hectic schedule in a realistically balanced way.
"It can be super fun and glamorous. We've been to 50-plus countries in the last three years alone. Phew! But it also consists of a tremendous amount of flying, jet lag, and being away from kids, family/friends, pets, and your own bed."
But Susan raises an interesting point – one that I'd never considered before. Musicians and models have very similar lifestyles. The successful ones travel constantly so when Susan and Duff came together, they simply joined their parallel lives – seamlessly.
"I think there is much truth to the affinity and lifestyles that musicians and models share," she says. "We're both so used to constant travel and living similar lives so it all works."
Susan's career exploded from its inception. She enjoyed and continues to enjoy a prolific international modeling career. She appeared on the mega TV show, America's Next Top Model where she was a celebrity guest judge, creative director, and designer. She's graced the covers of VOGUE, Harper's BAZAAR, W magazine, L'Officiel, Glamour, Marie-Claire, WWD, Maxim, Shape, and Cosmopolitan. She has appeared in beauty campaigns for Rene Guinot (photographed by the esteemed Mario Testino) and Revlon (Pamela Hanson). And of course, her most recent campaign for high fashion lingerie brand Agent Provocateur. Her successes span over vastly greater territory.
"I get to wear many hats," she says gratefully. "I'm a wife, mother to two wonderful daughters, model, Harvard student, Sirius XM host, and now, best-selling author! While the hardcover edition of my book The Velvet Rose was published and released in 2019 (right before Covid hit), I am now ramping up for the paperback release and its book tour soon."
I ask Susan for more details on her graduate studies at Harvard.
"I've completed a course at Harvard (graduate-level), and thus far, I've never studied so hard in my entire life! It has exponentially sharpened my writing skills and appreciation for some of the most inspiring Pulitzer Prize-winning authors we embraced and carefully studied."
Susan's gene pool reflects the adage that the apple doesn't fall far from the tree. Her doctorate father is thrice a Fulbright Scholar, and her mother was an English teacher and reading specialist for the San Diego County Office of Education. Her talents and skills are making contributions in many spheres.
"I co-host with Duff a Sirius XM show called 'Three Chords and The Truth' where we play the music that depicts the truth in rock n' roll. It premieres every Friday and re-airs every day thereafter. You can listen to it in your car, tv or download the Sirius app to hear whenever you like. It's also being picked up in other countries for our latest contracts."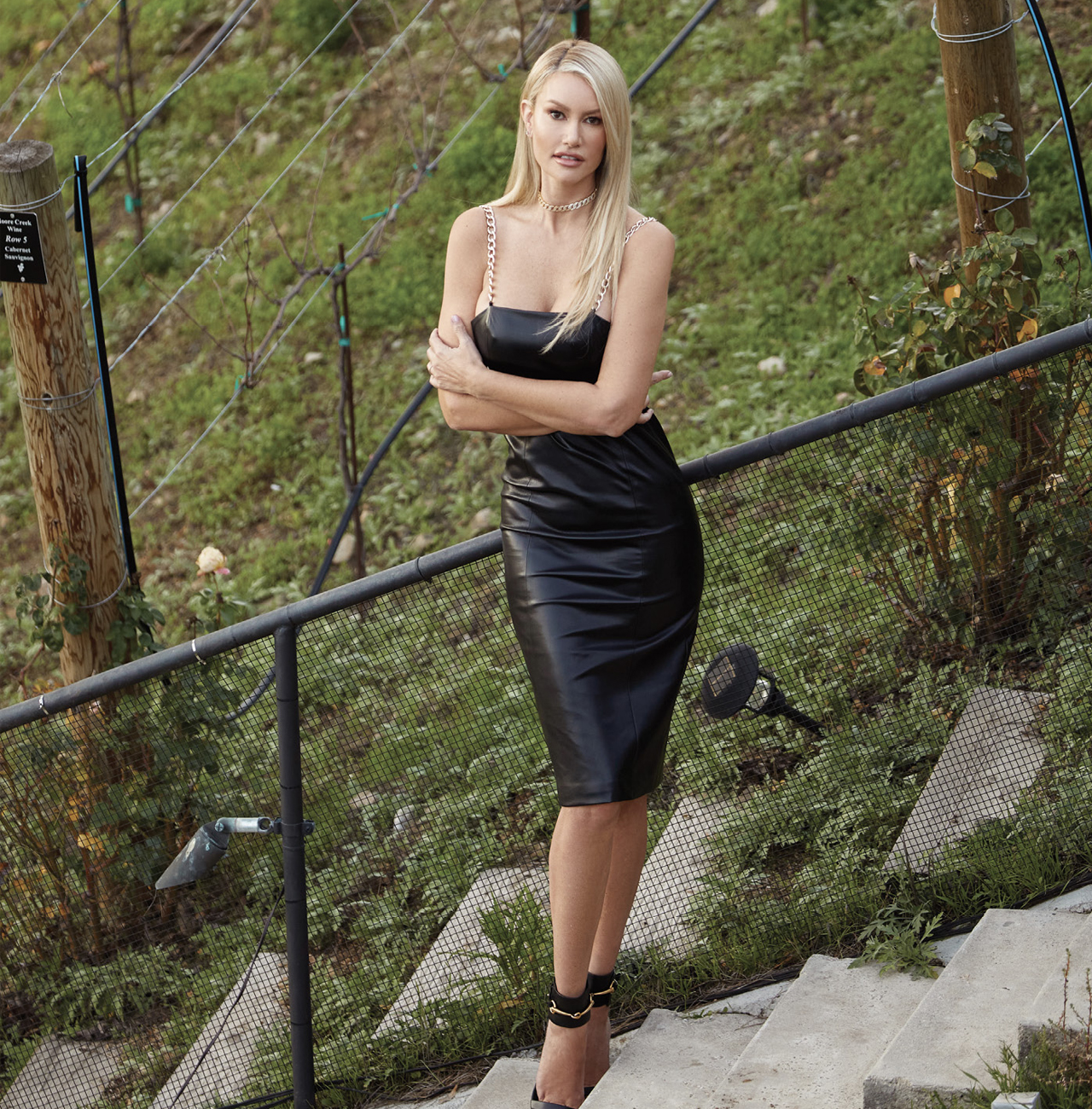 I get to wear many hats. I'm a wife, mother to two wonderful daughters, model, Harvard student, Sirius XM host, and now, best-selling author
There is nothing that Susan does mediocrely. She's a super achiever in the best sense of the word. Her quest is always to accomplish a task with a huge amount of passion, knowledge, and effort. That same diligence is currently being applied to the family's home.
"I have been working diligently on our 1927 English Tudor home for the past three and half years. I've been decorating it and now with superstar interior designer/architect Nicolo Bini for an upcoming major shoot."
We chat more about Susan's charitable endeavors. She's a dedicated supporter of MusiCares, a 501©3 charity founded by the Recording Academy in 1989 to safeguard the well-being of all music people through direct financial grant programs, networks of support resources, and tailored crisis relief efforts.
"Being that I travel so much, and my schedule is all over the place," Susan explains, "it's difficult for me to navigate charitable work (i.e., being on a board of a particular charity), so, this is one way of my being able to give back to such an important cause. MusiCares has genuinely helped personal friends and many people who give so much to the world with their music. They generously offer preventive, emergency, and recovery programs. They offer a safety net that includes counseling and support for those battling addiction, to HIV/Aids to Parkinson's disease."
Susan's altruism continues to be evident as she explains her latest activity.
"I recently had the pleasure of choreographing, and teaching models walking the runway for a wonderful nonprofit event for children with disabilities for United Cerebral Palsy."
The apple and tree adage is reflected in Susan's and Duff's daughters, Grace and Mae. I ask Susan for an update on their activities and accomplishments.
Grace (25) is continuing her education in college. She also completed her teaching certification for yoga. She is touring (she recently played both the prestigious Reading and Leeds Festivals in the UK) and writing consistently. Mae (22) just graduated with a double major at Parsons School of Design/The New School in NYC. She has already launched her own 'Mae McKagan' collection and both girls model frequently too."
Susan and I discuss the importance of priorities as we accrue wisdom from life experience. She offers this perspective with deep conviction.
"Health is wealth. Sleep is extremely important. Exercise often for both the mental and physical benefits. Education! Always continue learning new things! I am currently enrolled at Harvard University where I completed and received an A in my Feature Writing graduate-level first course."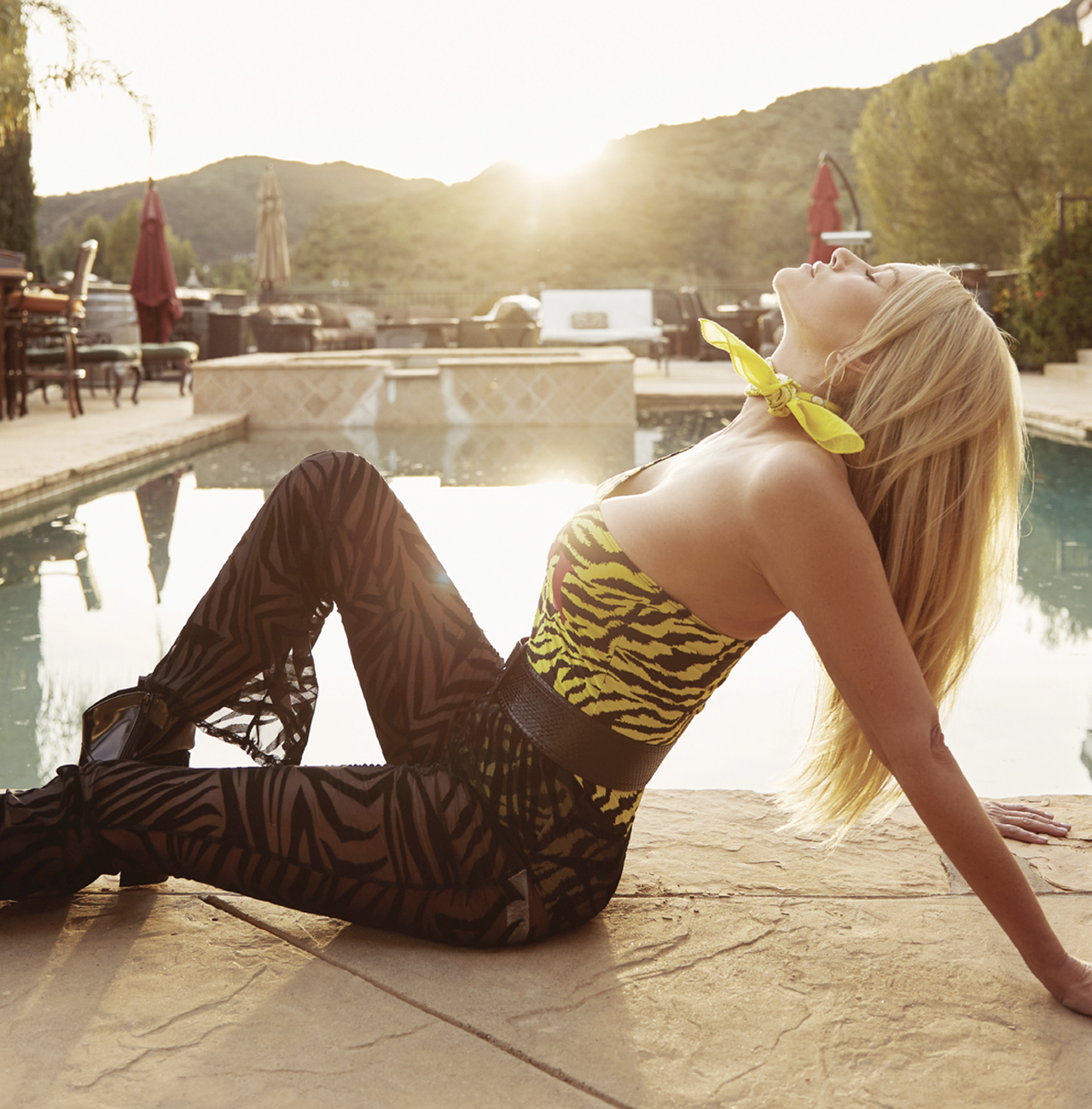 I co-host with Duff a Sirius XM show called 'Three Chords and The Truth' where we play the music that depicts the truth in rock n' roll. It premieres every Friday and re-airs every day thereafter
She continues with her top priority list: "Family comes first, and friends are very important. I'm a firm believer in giving back to society and being around positive people and uplifting energy. Being kind to animals and surrounded by nature is so important, and maintaining a creative outlet is good for the soul."
Susan's body is strong and resilient. I ask her how she maintains that strength.
"Thank you so much," she says graciously. "I stretch, breathe, work out, and mix it up. The tactic is to prevent complacency in the muscles by shocking them a bit. One day I'll go for a nice hike and another day, do some weight training or workout videos. I also love the outdoors, so a nice swim, biking, or horseback riding is great too."
As for Susan's earnest wishes for the rest of the 2020 decade, she replies thoughtfully.
"I think we all learned a lot about each other during the global pandemic. Every day is a blessing. I guess, the positive takeaway was to slow down and take more care of ourselves and others. We only have ourselves and one planet earth so we better take care of it and each other."
We move away from philosophical questions to action. I ask Susan about the parts of the world that had the deepest impressions on her in the last 5 years.
"I am lucky to have visited so many extraordinary places in the last five years from going back to my old stomping grounds in Paris (where I lived for eight years), and London is always one of my faves. Some recent standout travels for me are Iceland (The Blue Lagoon), to my very favorite on African Safari, which I highly recommend for anyone who has not had the pleasure to experience as of yet!"
The last time I interviewed Susan, she mentioned that her personal favorite songs from Duff are 'Wasted Heart' and 'Sweet Child of Mine'. I ask her if there are any updates.
"Duff is quite a songwriter," she replies. "Nobel laureate, Bob Dylan, recently wrote how Duff's song 'Chip Away' from his recent solo record called Tenderness "has profound meaning for me." Dylan also says he hails it as "a great song" when he was recently interviewed regarding his thoughts on "the philosophy of modern song". Duff has also co-written songs recently for Iggy Pop, Ozzy Osbourne (Duff won his second Grammy Award, this one from his co-writing and playing on this Best Rock Record 2023), Daryl of Run DMC, and of course Guns N' Roses."
Food brings families together in such a fundamentally joyous way. Susan agrees.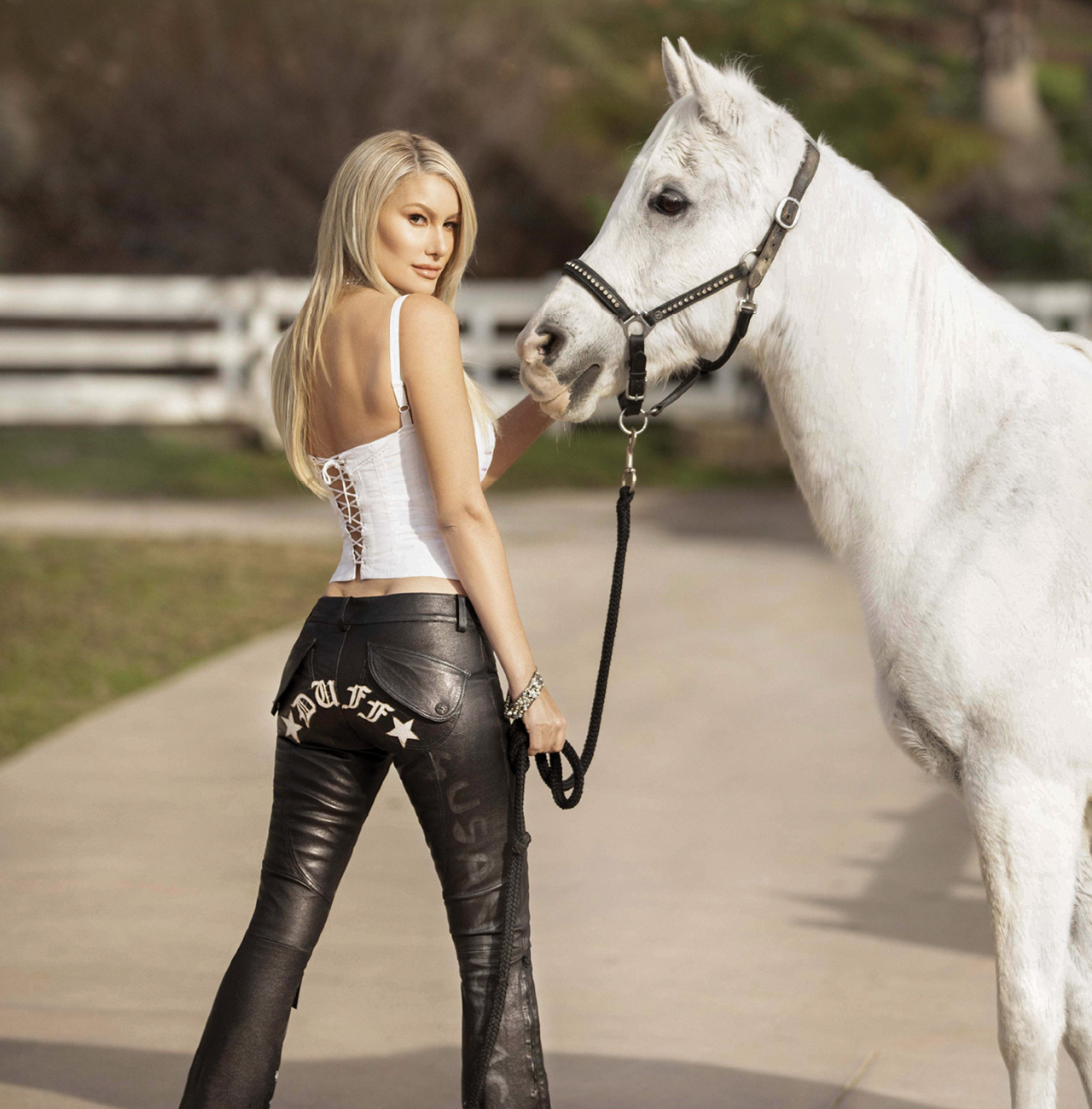 "Both my daughters are excellent cooks and one of my favorite things is when we all get together and cook a dish of our liking at home for Thanksgiving dinner."
The day after our cover shoot took place, Susan jetted off to Maui on vacation. Her set of organizational skills was strongly evident as she completed one task to perfection – and then caught another flight. A few days later, I asked her about the family's attraction to Maui and she supplied the organic response that I had come to know about her.
"We have loved coming to Hawaii over the years," she says. "It's such a relaxing and gorgeous place. We love it so much that we treated ourselves and bought a place right on the ocean. We love to come here and see our local friends, eat fabulous local food and of course, swim in that stunning ocean. This time we watched the whales spouting all week. It was a thrill."
There is so much to be learned from Susan's life journey. She could have become caught up in the traps of fame, ego, and wealth. Instead, she has chosen to prioritize relationships and love. Her healing grounds are with nature. Even the family's home is rooted in substance. Susan's project is about restoring it to its full historical significance. Architectural brilliance lives on for generations.
Susan concludes by offering this powerfully wise quote:
"Exterior beauty, without the depth of a kind soul, is merely decoration," she says.
She continues: "Work hard and be nice to people. I believe in good karma and always being the best you."
The ROCK metaphor features strongly in Susan Holmes McKagan's life. Her Rock n' Roll world stands on a foundation of solid values and unshakeable rock, and her journey continues one song after another – with a good heart driving it.
https://www.instagram.com/susanholmesmckagan
Our gratitude goes out to IconicFocus Models NYC.